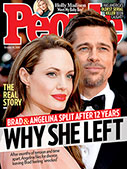 This Week's Issue!
People Top 5
LAST UPDATE: Tuesday February 10, 2015 01:10PM EST
PEOPLE Top 5 are the most-viewed stories on the site over the past three days, updated every 60 minutes
Picks and Pans: Tv
Me and My Remote
BY TOM GLIATTO
DRAMA
The shows in the Law & Order franchise have a special endearing quality: a lived-in ugliness. The sets tend to feel either dirty or recently wiped down with an industrial-strength cleanser. Most of the characters look a little like that too, even Christopher Meloni. It's the grimy patina that comes of the experience of working in New York City's justice system.
Now Law & Order creator Dick Wolf has decided to spruce things up. He's lowering the median staff age. Conviction is Law by way of Grey's Anatomy. It's an ensemble drama about young district attorneys—sexy young district attorneys—nailing down cases in Manhattan. The show does start off with a senior D.A., but he's shoved into the afterlife. Ciao, old dude. That leaves the office to be run by Stephanie March from Special Victims Unit. She's attractively icy and wears glasses she must have stolen from Lisa Loeb. The show has a sheen that's distinctive from Law—young, exfoliated skin reflects light better from waxed court floors—and promises to be more fun than In Justice, airing on ABC. The pilot episode goes off without a hitch. But without much heat, either. Everyone needs to bed everyone else pronto.
Meanwhile, Wolf plans another series for NBC called Power, about young legal eagles in Hollywood. That's the place with the pools and nubile bodies.
[




]
FOX (Sundays, 9:30 p.m. ET)
COMEDY
You can't go home again, and yet stupid people insist on doing it anyway. Nate Stahlings (Josh Dean), just done with college, moves back to a small town and in with his folks (Loretta Fox and Allan Havey). Having reinserted himself into an emotional vacuum—the parents don't seem pleased at his return—Nate is left gasping for air. He works at an Aussie-themed restaurant, and his best friend is a party-loving loser from high school named Mark Dove. Dove, big, dumb and happy, is well played by Dave Sheridan. He's like a side of beef that keeps slamming into the lesser cuts in the butcher's locker. FYI: The show, which premieres March 1 and then returns March 12, is partly improvised, a stunt used to richer effect on ABC's upcoming Sons & Daughters.
[




]
>From this cast? My money's on actor Anson Mount as Deputy District Attorney Jim Steele. Mount, who has done a lot of TV (including a cameo in a Lost flashback) and some movies (Crossroads with
Britney Spears
), is crisp and forceful, able to stare down one and all with his chiseled, steely face. He's like a good-looking human version of a Phillips screwdriver. He has some of the grit of the older Law & Order luminaries.
>The Apprentice (NBC, Feb. 27, 9 p.m. ET) Mr. Trump returns, on Mondays. This go-round expect boardroom visits from Donald Jr. and Ivanka.
Project Runway (Bravo, March 1, 10 p.m. ET) Home visits with the three finalists. Chez Santino—what a magical phrase!
Independent Spirit Awards (IFC, March 4, 5 p.m. ET) The non-Oscars, although there's overlap, including actress Felicity Huffman (Transamerica) and actor Heath Ledger (Brokeback Mountain).
Little People, Big World (TLC, March 4, 8 p.m. ET) Twenty-part documentary series about Matt and Amy Roloff—both 4 feet tall—their four children and their 34-acre farm in Oregon.
NAACP Image Awards (FOX, March 3, 8 p.m. ET) Cuba Gooding Jr. hosts the 37th event.
Kanye West
and
Mariah Carey
are up for awards; Carlos Santana enters the Hall of Fame.
>SOUNDS OFF
This year her pre-Oscars special airs four nights before the big event, after the March 1 Lost.
WHAT DIFFERENCE DID THE MOVE MAKE?
I didn't have to be so Academy-centered, although we do the opening from the Kodak Theatre, where—it just so happens—my outfit matches the chairs and the background. I blend in!
WHO SAT DOWN TO BE GRILLED THIS TIME?
Patrick Dempsey
,
Matthew McConaughey
,
Mariah Carey
and
George Clooney
. It's a great show.
YOU GOT DEMPSEY TO OPEN UP ABOUT HIS BATTLE WITH DYSLEXIA?
He doesn't do cold readings. He tries to get the script in advance so that he can memorize it. He told me, "It made me who I am today. I've never given up."
>The Olympics
POINTS OFF Ratings weren't so hot for the first week of NBC's Winter Olympics from Torino, a.k.a. Turin—one night's were the lowest since at least 1988. The network is at a disadvantage, not being able to broadcast events live because of the time difference. Even though every sport looked as if the slightest slip would result in an airlifted gurney, viewers preferred the thrills on Grey's Anatomy. It's hard to top Christina Ricci panicking over a bomb.
THE ITALIAN CRAWL What a long, long opening-night pageant in the Olympic Stadium. Parts looked like a Vegas floor show staged in the fire pit below Saruman's Dark Tower. I did like the jocular dancing trees.
THIS SPORTING LIFE NBC's bio segments on key athletes were slick visual packages, but the narration tended to mush: "Meet Lindsey Kildow," began the story of the U.S. skier, "sweet Midwesterner, focused competitor."
SOARING MOMENTS The network's camera work was excellent, and just about any event had suspense and beauty. Favorite: American athlete Johnny Weir's figure skating. For once I understood what a skater was trying to express choreographically. Flamboyant yet literal-minded, Weir dressed in a swan costume and, to Saint-Saëns's The Swan, skated like one. He all but honked.
NBC (Fridays, 10 p.m. ET)
Advertisement
Treat Yourself! 4 Preview Issues
The most buzzed about stars this minute!