People Top 5
LAST UPDATE: Tuesday February 10, 2015 01:10PM EST
PEOPLE Top 5 are the most-viewed stories on the site over the past three days, updated every 60 minutes
Picks and Pans: Music
Ne-Yo
REVIEWED BY CHUCK ARNOLD
ALT-ROCK
Take the Clash, the English Beat and Dexy's Midnight Runners and throw them in a high-speed blender with Franz Ferdinand, Bloc Party and Kaiser Chiefs, and you've got Hard-Fi, the latest British dance-punk outfit to crash the U.S. pop scene. This quartet's full-length debut (which follows last year's Cash Machine EP) has already hit No. 1 in the U.K., where it has spawned a string of hit singles. One of those, "Hard to Beat," is just that, an impossibly catchy, ska-tinged '80s throwback that you can just imagine Molly Ringwald twirling to back in the day. Elsewhere, the bitter kiss-off "Better Do Better" deepens the reggae groove, while "Living for the Weekend" is a synth-pop party anthem imbued with the group's working-class-bloke sensibility. No such escapism, though, on "Middle Eastern Holiday," which, propelled by its driving rhythms, shifts the scene to the front lines of the Iraq War: "A package deal to the sun, everything is inclusive/ Where bullet holes scar the minarets/ Smoke on the horizon a beautiful sunset." With the song's stance and sound, they evoke the Clash's combative rock.
[




]
DOWNLOAD THIS: "Hard to Beat"
Ghetto Classics
CRITIC'S CHOICE
R&B
From the title of his third album, which follows platinum releases Ghetto Love and Still Ghetto, to the white pimp-daddy hat he rocks on the CD cover, Jaheim shows much love for the street. The New Brunswick, N.J., native brings a distinct ghetto realness to these romantic tales from the hood. "I love you 'cause you're from the streets," he professes on "Masterpiece," while on "125th" he rhapsodizes about a "shorty" he spots waiting, hand on hip, at a subway stop. To give a little more hip-hop cred to his slices of urban life, Jaheim recruits rappers Jadakiss and Styles P for guest spots. Mostly, though, this disc has more of a classic-soul vibe, with lush production that recalls the '70s Sound of Philadelphia and nods to everyone from the Delfonics to Harold Melvin & the Blue Notes. There's a little bit of Teddy Pendergrass in Jaheim's delivery too, but he mostly comes across as a ghetto-fabulous Luther Vandross.
[




]
DOWNLOAD THIS: "Daddy Thing"
Out of the Ashes
REVIEWED BY RALPH NOVAK
COUNTRY
Although she hasn't released a country album in 21 years, Waylon Jennings' widow Jessi Colter has clearly not lost her delicately bluesy touch. She sounds better, less tentative than she did in her "I'm Not Lisa" days during the height of the Willie & Waylon "outlaw" craze. Helmed by the wily pop producer Don Was, with Colter accompanying herself on piano on most tracks, Out of the Ashes relies heavily on the gospel influences that are apparent in the singer's style. She even sings the church-choir standby "His Eye Is on the Sparrow" as well as "Please Carry Me Home," a hymn inspired by The Passion of the Christ, which she cowrote with son Shooter Jennings. Her earthier, Bonnie Raittesque new sound comes across best, though, on the bluesy "You Can Pick 'Em," while the honky-tonkish "Velvet and Steel" shows that, at 62, she's still got some kick left in her. Colter's late husband can be heard on "Out of the Rain," his previously unreleased vocal embellishing of the Tony Joe White song done in a fresh-sounding way that seems more loving than morbid. But this is Colter's comeback party, and it is a most welcome homecoming.
[




]
DOWNLOAD THIS: "Velvet and Steel"
The Life Pursuit
REVIEWED BY CHRIS STRAUSS
ALT-POP
What's a love song without a few gardening references? On the infectious ditty "Another Sunny Day," Belle and Sebastian frontman Stuart Murdoch informs his paramour that "you were digging plants, I dug you" and then works the phrase "herbaceous border" into the next verse. Such witty wordplay is nothing new for the Scottish indie-pop collective, although they've eased up on the precious cheekiness of their early work. Belle and Sebastian's breezy and fetching melodies are still evident on "Funny Little Frog," which details Murdoch's obsession with an imaginary girlfriend, and "For the Price of a Cup of Tea," which calls to mind David Bowie's "Young Americans." While The Life Pursuit isn't as cohesive as 2003's outstanding Dear Catastrophe Waitress, it has a lot of high points and only a few lows ("Dress Up in You" and "Mornington Crescent"). And really, isn't that how life should be?
[




]
DOWNLOAD THIS: "Another Sunny Day"
All the Way
POP/R&B
After all the people who have covered her signature song "At Last" over the years, it's only fitting that Etta James remake her own favorite tunes, as the 68-year-old blues belter does on this collection of pop and R&B nuggets. Unfortunately, this hit-and-miss hodgepodge won't win you over all the way. Though James should be applauded for not going the traditional standards route (with the exception of the jazzy title cut), her husky voice doesn't always match the material. Her version of R. Kelly's "I Believe I Can Fly" falls flat, while her rendition of "Somewhere" is just plain out there. But James hits her stride on Johnny "Guitar" Watson's "Strung Out" and successfully puts her bluesy stamp on Prince's "Purple Rain."
[




]
DOWNLOAD THIS: "Purple Rain"
For information on where to find our Download This picks, go to www.people.com/downloadthis
>LENNY KRAVITZ unleashes his inner club kid on "Breathe," a pulsating dance track available only at absolutkravitz.com.
BITTER:SWEET, an electronic pop duo taking inspiration from spy-movie themes, plays "The Mating Game" on its sexy debut single at napster.com.
RYE COALITION, a Jersey hard-rock band, rips it up on the Dave Grohl-cowritten "Gone with the Windshield," a Web-only track at iTunes.com.
JOHN LEGEND (right), not resting on his recent three Grammy wins, smoothly covers the Isley Brothers' "Hello It's Me," as heard on the R&B star's Gap commercial, at iTunes.
>SOUNDS OFF
After writing songs for everyone from Mary J. Blige to Chris Brown and Mario, Ne-Yo (real name: Shaffer C. Smith), 26, has released his own R&B debut, In My Own Words, featuring the Top 10 hit "So Sick."
ON HOW HE GOT HIS NAME It's a reference to the name [of the
Keanu Reeves
character Neo] from the movie The Matrix. A friend of mine named Big D gave it to me. He said that I see music the way Neo sees the Matrix. I wasn't really sure what he meant, but I liked it. It was something that stuck to me.
ON THE INSPIRATION FOR "SO SICK" The song is a true story about the first girl I fell in love with and how I screwed that relationship up. I was 18, and I basically let my friends convince me to cheat on her. I told her, and she declared her undying hate for me and left me. I was a ball of emotion for five months. Writing this song was really therapeutic and it helped me get over it.
ON HEARING HIS SONGS ON THE RADIO I'm always in the same place: in my car on the 405 freeway [in L.A.] in traffic. I'll jump out of my car, run three or four cars up the way and knock on someone's window: "Hey, turn to [Power] 106 and listen to my song!" I'm not lying. I'm surprised I haven't gotten shot yet.
ON STEPPING OUT FROM BEHIND THE SCENES It took some getting used to. I didn't need the spotlight or the fame. Not being able to go to the movies by myself is tough. I went to see King Kong and I got kicked out of the theater for causing a scene. I didn't even get to see the movie.
Stars of CCTV
Advertisement
Today's Photos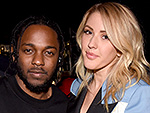 Treat Yourself! 4 Preview Issues
The most buzzed about stars this minute!