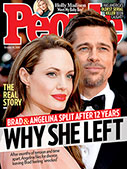 This Week's Issue!
People Top 5
LAST UPDATE: Tuesday February 10, 2015 01:10PM EST
PEOPLE Top 5 are the most-viewed stories on the site over the past three days, updated every 60 minutes
Picks and Pans: Books
Mattie Stepanek
REVIEWED BY POPE BROCK
THRILLER
Unfortunately for the heroine of this breathless thriller, Judge Cate Fante of the U.S. district court in Philadelphia, she can't judge her way out of a paper bag. In court she's either popping off or unprepared; she's a lousy judge of men, and toward the end she tangles with a murderous perp. In her spare time she has a secret sex life, and on weeknights she regularly babysits for her best friend's disabled 3-year-old. Not a very plausible character if you stop to think about it, but who has time? Veteran suspense machine Lisa Scottoline piles on the fights, flights, revelations and reversals at such blinding speed that the reader is virtually paintballed into enjoying the ride. Connoisseurs of depth may not go for this one, but if a good roller-coaster is what you want, step up and have your ticket punched.




by Stephen McCauley
REVIEWED BY FRANCINE PROSE
CRITIC'S CHOICE
NOVEL
Tired of the brief, impersonal erotic encounters that he arranges over the Internet, Boston real estate agent William Collins—the hero of McCauley's funny and affecting new novel
Alternatives to Sex
—wishes that his life contained something slightly more meaningful than meeting strange men in hotel rooms, showing pricey properties and compulsively cleaning his apartment. Things slowly begin to change when he meets Charlotte and Samuel, an attractive, apparently happy couple who want to leave the leafy suburbs for the city and who imagine, as so many people do, that real estate might offer the key to solving their emotional problems. In the process of learning the truth about his two new friends, the restless William manages to unlock the secrets of his own heart. As always, McCauley, whose previous novels include
The Object of My Affection
, offers a series of lively and trenchant character portraits and a shrewd, appealing commentary on contemporary manners and morals.




by Michael D'Orso
REVIEWED BY ANDREW ABRAHAMS
NONFICTION
In this rich and often poignant look at an Alaskan bush village and its beloved high school basketball team, D'Orso trains a reporter's eye on Fort Yukon and the Athabascan Gwich'in natives struggling to survive on the brutal, frigid fringe of American culture. The specter of alcoholism and suicide haunts Native Alaskans, and Fort Yukon is no exception. But every year the town rallies around its Eagles boys squad, an undersized but quick team saddled with the expectations of ex-star players, usually fathers and uncles who demand nothing short of the state play-offs from old-school coach Dave Bridges. Traveling to away games in other remote towns usually means a plane ride in a 19-seat Beech twin prop, but the state forbids flying when the temp is less than 40 below zero. D'Orso ingratiates himself with the villagers and gains their trust, not easy in an airtight community deeply suspicious of outsiders. He writes with a deep, warm familiarity with his surroundings and almost never interjects himself into the story. Don't think of this as just a Hoosiers in the tundra. It's a heartfelt homage to a proud, indigenous people who hope to soar with their Eagles, a fleeting escape from lives often battered by more than the Arctic winds.




STRANGE BUT TRUE by John Searles Philip Chase would rather write poetry, but he can't escape the kitchen at the Olive Garden or his crazy mother. Then a girl turns up pregnant. Who's your daddy?
THE JAMES DEANS by Reed Farrel Coleman Brooklyn PI Moe Prager traces a killer to Boca, but finds only Publix rugelach.
THE TYPHOON LOVER by Sujata Massey An antiques dealer is trapped in a house with her ex. Atmosphere you can cut with a Ginsu.
Hemingway's Cats
Carlene Fredericka Brennen's volume shows Papa Hemingway with the companions he called "love sponges"—from F. Puss in Paris to the six-toed critters whose descendants populate his old Key West, Fla., home.
Hemingway (left, with Friendless's Brother in Cuba, 1952) said that his cat—who actually was a she—"had many sorrows and occasional ecstasies."
"A cat has absolute emotional honesty. Male or female, a cat will show you how it feels about you," Hemingway told his brother Leicester. Corn-on-the-cob fancier Cristóbal (right, dining à deux in Cuba, 1958) showed little interest in other cats and became a devoted companion to the novelist.
Hemingway's youngest son Gregory (at near left, holding Boise; older son Patrick is at far left) urged him to adopt the energetic kitten. Boise "would become Ernest's dear and closest cat friend, whom he would come to call Brother," writes Brennen. When Boise died, Hemingway buried him near his house in Cuba.
Scrubs'
Angela Nissel
A consulting producer for NBC's sitcom, Nissel, 31, is author of
The Broke Diaries
, about being a penniless student; and
Mixed
, about life in the multiracial lane (both optioned by
Halle Berry
). Thoughts on the latter:
• "Mixed people have a sense about other mixed people that's like gaydar. I have a friend who's biracial, and white people compliment her on her tan; black or mixed people can tell she's partly black."
• "White people try to test you out: They ask you how your parents met, or they say, 'Are you Puerto Rican?' They want to know how to talk to you. I've gotten cursed out by old ladies in L.A. who think I'm Mexican but I can't speak Spanish."
• Nissel taped a speed-dating segment on
The Tyra Banks Show
(to air April 27) in which a Black. White. makeup team made her look, yes, black, then white—with eye-opening results. In a 10-minute chat when she was "white," one black man "spoke very properly and told me he'd gone to white schools all his life." When she was "black," he relaxed and said he dated only black women because there was no "stuff" involved.
LEGACY OF HOPE
Jeni Stepanek, 46, who has muscular dystrophy, lost all four children, including Mattie, author of the poetry series
Heartsongs
, to the disease. She has edited a new volume of Mattie's work,
Just Peace
.
Since Mattie died in '04 at 13, Jeni says, "I'm trying to embrace life the way he did." Though physically weaker, "I feel his strength with me," says Mattie's mom.
by Lisa Scottoline
Advertisement
Treat Yourself! 4 Preview Issues
The most buzzed about stars this minute!