People Top 5
LAST UPDATE: Tuesday February 10, 2015 01:10PM EST
PEOPLE Top 5 are the most-viewed stories on the site over the past three days, updated every 60 minutes
Picks and Pans: Books
Lean on Me
REVIEWED BY LISA KAY GREISSINGER
CRITIC'S CHOICE
NOVEL
In Once Upon a Day, Tucker, the author of
Shout Down the Moon
, examines the perversity of love and the capricious nature of life's unfolding. Set in contemporary Missouri and New Mexico and in the Southern California of the '70s and '80s, her interwoven story of four members of a shattered family turns on an episode of violence that changes everyone.
Believing that their mother is dead, Dorothea, 23, and older brother Jimmy, 25, are kept in virtual lockdown by their eccentric father, a former film mogul, on an estate filled with books, music and luxury. But nothing can shield Jimmy from his violent nightmares or stop the anxiety attacks that plague Dorothea. Two years after Jimmy flies the coop to seek answers about his mother's death, his sister goes to find him when their father becomes ill.
Her search takes her to St. Louis, where she meets Stephen, a cab driver with a mysterious past. With him as her guide, she begins to uncover the truth about her brother and her mother. But Dorothea also learns a truth of a different sort: that although a life can be broken by events of a single day, a day can also bring the opportunity for redemption and forgiveness. In her latest, Tucker's graceful prose and well-crafted characters create a compelling odyssey of transfiguration.




by Jennifer Solow
REVIEWED BY NATALIE DANFORD
NOVEL
Jillian Siegel steals—and former advertising exec Solow steals the show with this energetic debut about longing for material and immaterial things. When Jillian's uncle owned a famed Manhattan department store, life was grand. But her family of "shopping and eating Jews" lost the store in a takeover. Now Jillian's lost her job and her boyfriend, while her beloved uncle has Parkinson's disease, so she begins self-medicating—not with drugs but with theft. Eventually Jillian joins a sophisticated shoplifting ring and her booty escalates from lip balm to a $1,570 "peasant blouse." Solow's achievement lies in her subtle portrayal of Jillian's motivation for stealing, and in demonstrating how all the pretty objects in the world will never fill the emotional hole at her core.




by Cynthia Carr
REVIEWED BY ANDREW ABRAHAMS
NONFICTION
"Much of this story is about shame," writes Carr in her exhaustive investigation of the savage beating and lynching of two black teens in her father's hometown of Marion, Ind., in 1930. And it is her own dark connection to Marion's racist past that drives the narrative: Her father discovers her grandfather Earl's Ku Klux Klan membership card in a safe deposit box after his death. Carr's succinct, reportorial style draws out witnesses of the event and the raw hatred of current Klan members, but the heart of the story is all her own: "I wasn't just a journalist—I was in it and of it," she writes.




by Christopher Andersen
REVIEWED BY MOIRA BAILEY
BIOGRAPHY
Readers who can't get enough of Streisand will lap up this lightweight, unauthorized overview from ex-PEOPLE editor Andersen, a veteran celeb biographer. At 400-plus jam-packed pages, he doesn't stint on the eye-opening anecdotes, beginning with her 1998 wedding to James Brolin. With helicopters buzzing her Malibu estate, the bride's nit-picking: "Perrier. Not Pellegrino ... Now," she tells a waiter. Andersen brings out the hankies when he examines her Brooklyn beginnings and the loss of her father (who died when Barbra was a toddler). He revisits her career as she heads toward her rendezvous with Oscar before she's 30. The author also dishes about her liaisons with Prince Charles and Don Johnson. The sheer bulk of material—Streisand turns 64 on April 24—is a bit daunting. But could a slimmer volume do justice to a woman whose name is synonymous with the word diva1?




Chick Lit
How Opal Mehta Got Kissed, Got Wild, and Got a Life
by Kaavya Viswanathan
In her hilarious debut, the Harvard sophomore (above) spins a tale about an ambitious teen angling to get into college. Breezy dialogue and pop-culture references give snap to this charming tale.
Jane Austen in Scarsdale
by Paula Marantz Cohen
Inspired by Austen's Persuasion, Cohen's tale focuses on a high school administrator confronted by a love she once rejected. Smart and funny, it's a gem.
Un-Bridaled
by Eileen Rendahl
Chloe Sachs runs out on her wedding—and ends up finding herself. A surprisingly moving, engrossing read.
Dave Holloway
In an interview about his new book, Dave Holloway opens up about the family's emotional reaction to the loss of his daughter Natalee, 18, on Aruba on May 30, 2005. "We all know she's probably gone," he says. "I've gotten used to the idea, but that doesn't make it any easier."
WHY WRITE THIS BOOK NOW? I tried to channel [my grief] into something constructive. The more I wrote, the more I felt like I was doing something positive.
WERE YOU WORRIED ABOUT CALLING THE ARUBAN GOVERNMENT CORRUPT? When I first started, I wasn't sure I wanted to say anything. But as time went on, I got more angry and decided I was going to say what needed to be said.
WHAT HAVE PEOPLE FOUND SURPRISING ABOUT THE BOOK? A lot of people didn't realize everything that our family had gone through the past year. I think this story helps remind people that we've been grieving at the loss of our daughter while we're dealing with police corruption.
HOW IS YOUR FAMILY? We're even closer. I tried to delve into it with [Natalee's brother] Matt, 17, but he didn't want to talk about it. He seems to be taking it okay, but you never know.
WHAT HAVE YOU LEARNED IN THE PAST YEAR? I've learned that people serve a purpose in life. If Natalee is not with us, maybe she's been a warning to other parents and other girls. Her life has made a difference, and that's comforting.
Nancy Davis
An MS patient for 14 years, Davis, 47 and the daughter of the late Hollywood financier Marvin Davis, has written a memoir with advice on coping with serious illness.
GETTING THE NEWS I was numb in my fingers after a ski accident; I thought it was from the injury. That's when they discovered the MS.
TELLING THE KIDS In 1992 my sons were 6, 8 and 10. I've always told them as much as they could understand. I don't think they saw me as sickly. Now they help with my fund-raiser, Race to Erase MS.
HEAL THYSELF? I surprise my doctors with my good health. I was told to go to bed in 1992, but I kept skiing and working out. Attitude is so important; I don't like depression. And giving back [through her MS research foundation, Center Without Walls] has helped me.
STRESS LESS After I was diagnosed, I realized I had to end my marriage, which wasn't working. Now I'm married to a great guy. We have twins, and I wouldn't have had them if I didn't think I would live to see them grow up.
by Lisa Tucker
Advertisement
Today's Photos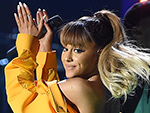 Treat Yourself! 4 Preview Issues
The most buzzed about stars this minute!