People Top 5
LAST UPDATE: Tuesday February 10, 2015 01:10PM EST
PEOPLE Top 5 are the most-viewed stories on the site over the past three days, updated every 60 minutes
Picks and Pans: Music
Spotlight on ...
Todd Smith
REVIEWED BY CHUCK ARNOLD
RAP
My 12th album launch/Now everything is carte blanche," announces LL Cool J at the beginning of his new CD (which takes its title from his given name, James Todd Smith). Indeed, if anyone in rap should have carte blanche to do whatever he wants, it's LL, who's still doin' it and doin' it and doin' it well 21 years after bursting onto the hip-hop scene as a 17-year-old with "I Can't Live Without My Radio." (Just to put his improbable longevity in perspective, Jay-Z, who retired from the mike after 2003's
The Black Album
and is now president of LL's label, Def Jam, began his recording career in 1996.) Like the elder statesman he is, Uncle L takes his liberties here, enlisting guest artists for all but one song (the Latin-spiced groupie come-on "#1 Fan"). And it is a testament to how much respect LL commands that he brings in such heavy hitters as Mary J. Blige, Jamie Foxx and
Jennifer Lopez
. Lopez, who previously collaborated with LL on the 2003 hit "All I Have," makes a sexy sidekick on the first single, "Control Myself," with its frenetic electro groove including a sample from Afrika Bambaataa and The Soulsonic Force's 1983 classic "Looking for the Perfect Beat." Mostly, LL's guests add a distinct R&B flavor to tracks like the Ginuwine-assisted "Ooh Wee," one of many female-friendly jams. But on the hardest cut, the blistering "What You Want," he proves up to the battle with emcee Freeway. Even when LL gets spiritual and calls for "less fake rappers and more real pastors" on "We're Gonna Make It," featuring gospel stars Mary Mary, he's still the very definition of cool.




DOWNLOAD THIS: "Control Myself"
Supernature
ELECTRONICA
Imagine Kylie Minogue with cooler beats and a darker side, and you've got Alison Goldfrapp—the otherworldly siren who fronts this British duo. On the group's third album, Goldfrapp makes supernatural sounds that seem to come from some alternate universe where electronica, Euro pop and new wave peacefully coexist. From pulsating dance tracks like the sexy "Ride a White Horse" and the '80s synth-pop throwback "Number 1" to lushly atmospheric cuts such as "Let It Take You," Goldfrapp creates music for both clubbing and chilling.




DOWNLOAD THIS: "Ride a White Horse"
Daniel Powter
POP
Daniel Powter's self-titled debut makes a great case for downloading singles: There is nothing here remotely as good as "Bad Day," the peppy slice of piano pop that's become a No. 1 hit. While "Bad Day" may be catchy enough to overcome its trite lyrics ("Tell me your blue skies fade to gray/Tell me your passion's gone away") and by-the-book hooks, the rest of this disc isn't as fortunate. The Canadian singer-songwriter's keyboard-driven songs, such as "Jimmy Gets High," come off like pale imitations of Elton John, and his faux-soul delivery will leave you hankering for Gavin DeGraw.




DOWNLOAD THIS: "Bad Day"
VAN MORRISON
Pay the Devil
WILLIE NELSON
You Don't Know Me: The Songs of Cindy Walker
REVIEWED BY HOLLY GLEASON
At this point in their careers, Willie Nelson, 72, and Van Morrison, 60, have just about done it all, from reggae to skiffle. For their latest releases, these two timeless vocalists—the Texas Buddha and the Belfast Cowboy—turn to the classicism of country covers.
For Nelson, it means saluting Cindy Walker, a fellow East Texan whose elegant, old-style songs defined Bob Wills, Ernest Tubb, Gene Autry and Eddy Arnold. Bathing in pools of Buddy Emmons's tear-drop steel guitar and Johnny Gimble's fiddle lines, Nelson turns the neon down low, draws the emotional nuance close and crafts a heartfelt tribute to western swing's version of Hoagy Carmichael with his tender take on "You Don't Know Me," brave yet vulnerable "Not That I Care" and good-timey "Cherokee Maiden."
On
Pay the Devil
, Morrison draws on songs associated with Hank Williams, Webb Pierce, Patsy Cline, George Jones and Conway Twitty. With some bawdy blues (Big Joe Turner's "Don't You Make Me High") and a few originals that fit right in, Morrison hasn't sounded this engaged in years. On his graceful reading of Emmylou Harris's signature "'Til I Gain Control Again," Morrison sounds like warmed molasses to Nelson's añejo tequila. Like Nelson, though, Morrison exhales melodies and drapes over lyrics as if they're part of his DNA.
Pay the Devil:




You Don't Know Me:




For information on where to find our Download This picks, go to www.people.com/downloadthis
Prince,
3121
Prince's latest offers plenty to make you go crazy all over again. The ferocious funk of "Black Sweat" and the classic '80s sound of "Lolita" make the best one-two punch he's had since "Gett Off" and "Cream."
Kris Kristofferson,
This Old Road
Kristofferson lets the years show, wrinkles and all, on this raw, Botox-free set, his first album of new material in 11 years. The scraggly-voiced Highwayman brings an emotional immediacy to the spare, intimate settings.
Pink,
I'm Not Dead
A reinvigorated Pink brings back the pop-rock punch of
M!ssundaztood
and shows that she's still the chick with the most attitude. But the biggest surprise is her folkie turn on the powerful protest song "Dear Mr. President."
Alan Jackson, Precious Memories
On this homey gospel collection, Jackson passionately renders familiar hymns like "What a Friend We Have in Jesus" and "How Great Thou Art" without indulging in any pop-singer histrionics.
Kids' Music
When I was channeling the fairy voice in yet another round of "Little Bunny Foo Foo," I knew it was time for some new kids' tunes. The goal: music that children and parents can enjoy.
KIDZ BOP 9 The latest edition of this wildly popular series features unidentified tween singers chirping recent hits like Mariah's "We Belong Together" and Green Day's "Wake Me Up When September Ends." With cleaned-up lyrics and familiar beats, it's kiddie karaoke that will unleash your child's inner pop star. Best for: The not-quite-ready-for-TRL set
DIEGO, DORA & FRIENDS' ANIMAL JAMBOREE Dinner won't be ready for another 20 minutes and the kids are getting snappier than caged crocs. No problem: Pop in this danceable collection of critter-related tunes sung by Nickelodeon's hit characters and—voilà!—it'll be feeding time before they know it. Best for: Little kids letting off steam
JUSTIN ROBERTS, MELTDOWN! The best kids' music manages to be on-your-feet fun and laugh-out-loud funny. This release from pop-rocker Roberts does just that, with groovy rhythms and clever, spot-on lyrics in songs like "My Brother Did It" and "Taking Off My Training Wheels." The best track is the title tune, a hilarious ode to that most unpleasant tactic, the tantrum. Bonus points for the Modern English shout-out: "I'd stop the world and melt down with you." Best for: "Turn off the TV!" time
HIGH SCHOOL MUSICAL SOUNDTRACK Remember singing "Summer Nights" into a hairbrush? Well, this Disney Channel flick is Generation IM's
Grease
, and the soundtrack has sold more than 2 million copies. No mystery why: It's got a tween-baiting mix of swoony love songs and catchy hip-shakers. Best for: Saturday-night slumber parties
REGGAE PLAYGROUND You know a kids' CD is a winner when you're bopping to it in the minivan—and the car seats are empty. This Caribbean-inflected collection is that kind of CD, and best of all, it should appeal to younger tykes and their older sibs. Break out the pineapple chunks and you've got an instant trip to the islands. Best for: Family jammin'
WE ARE ... THE LAURIE BERKNER BAND Moms love Berkner. Moms need their lattes. Which is why the cheery singer's partnership with Starbucks—this new DVD/CD of her hits is one of the chain's current picks—is the most mom-pleasing match since mac 'n' cheese. The DVD showcases videos similar to Berkner's on kids' channel Noggin. And the music is as singable as ever—if you're really lucky, it might even distract the children long enough for you to sip that latte. Best for: Pre-K sing-alongs
Advertisement
Today's Photos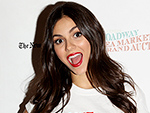 Treat Yourself! 4 Preview Issues
The most buzzed about stars this minute!