Archive Page - 12/1/12 39 years, 2,079 covers and 53,260 stories from PEOPLE magazine's history for you to enjoy
On Newsstands Now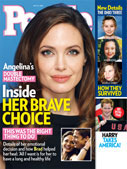 Angelina: Inside Her Brave Choice

New Details on the Ohio Three

Prince Harry Takes America!
Pick up your copy on newsstands
Click here for instant access to the Digital Magazine
People Top 5
LAST UPDATE: Monday May 20, 2013 12:10PM EDT
PEOPLE Top 5 are the most-viewed stories on the site over the past three days, updated every 60 minutes
Picks and Pans: Movies
Supersize This!
Anne Hathaway
, Meryl Streep, Adrian Grenier, Simon Baker, Stanley Tucci, Emily Blunt
BY LEAH ROZEN
COMEDY
Speak softly but carry a really big handbag. That is the maxim by which elite editor-in-chief Miranda Priestly (Streep) rules over Runway magazine, the leading fashion bible. Barely raising her voice above a chilly whisper, she issues a litany of commands to Andy Sachs (Hathaway; see story page 75), her frightened new assistant, then adds, "That's all," dismissing Andy with withering finality.
Devil
, based on a roman à clef by Lauren Weisberger (who once toiled for Vogue editor Anna Wintour) and directed with a light touch by David Frankel (HBO's Entourage), is a snazzy treat. Like the magazines it lampoons, there's not much substance but what's there is pleasingly packaged. If, as architect Mies van der Rohe once said, "God is in the details," then so is the devil, or at least Streep's version. Using her voice, that fabulously expressive face and telling body language, she brings an almost tragic dimension to this bouncy workplace comedy. Miranda may endlessly torment Andy, but Streep gives her enough depth that you can—almost—understand and even sympathize with her. Hathaway, who has the dewy loveliness and spunk of a young Audrey Hepburn, holds her own with Streep, quite a feat. (PG-13)
[STARS 3]
Amy Sedaris, Deborah Rush, Stephen Colbert
COMEDY
Like fellow funnywoman Carol Burnett, Amy Sedaris has a face made of rubber. And like Burnett, she gives it a workout, stretching it mightily, all in pursuit of laughs. She gets 'em, big time, in
Strangers with Candy
, though she goes to brazen lengths to score comic points.
Strangers
is a prequel to Sedaris's cult hit Comedy Central series of the same name (1999-2000). In the movie, Jerri Blank (Sedaris), a 47-year-old ex-hooker and ex-junkie, decides to return to high school after prison. "I'm starting right where I left off," she says. Once there, she gets crushes on boys and girls alike, reenacts the running of the bulls at Pamplona for gym class and clashes with authority figures (including Colbert and A-list guest stars such as
Sarah Jessica Parker
).
Like
Napoleon Dynamite
, this off-kilter high school comedy won't strike everyone as being funny, but fans of Sedaris—my hand is raised—are in for a goofball goodie. (R)
[STARS 2.5]
Watch for a breakout turn by British actress Emily Blunt, 23, as Miranda's snooty senior assistant. Her inspiration? "I thought of people I personally felt were excruciating and exaggerated them."
>In
Strangers with Candy
she's an ex-junkie who goes back to high school. In real life actress-comedian Amy Sedaris's time at Raleigh, N.C.'s Sanderson High wasn't that off-the-wall—but it was decidedly quirky. The Class of '80 alum, 45, explains how she made it through:
PLAYING DRESS-UP I like disguise kits and playing make-believe. When people were coming to my home for the first time, I used to pretend I was my mom. I would get into makeup, the wig, the outfit, the heels. They had no idea it was me. That's pretty amazing for 14. Either they were really stupid or I was really good.
SECOND IS BEST [On the track team] I usually came in second. I was never No. 1. I always like second place. I don't reach for the highest star, I reach for the one underneath it. That's why I like playing misfits and losers.
STAY IN SUMMER SCHOOL I went to summer school every summer. I wasn't a very good student. Stuff like chemistry, biology and algebra, I thought, "They'll probably give me a D because I took my summer and did this."
PARTY HARDLY I worked the prom, I didn't go to the prom. I'd much rather work a party than go to a party. Give me a job, where I can say, "Sorry, gotta go deliver these drinks." It's more fun for me.
The Matador
($28.95) A dissolute hitman (Pierce Brosnan) forms an unlikely friendship with a nice-guy salesman (Greg Kinnear) in an exuberant dark comedy. Extras: Deleted scenes, plus convivial commentary from the stars and director-writer Richard Shepard. (R) Movie: [STARS 3] Extras: [STARS 3]
The Great New Wonderful
A year after 9/11, disparate New Yorkers carry on with their lives, but tensions simmer below the surface in this slight, underdramatized story. Tony Shalhoub and Maggie Gyllenhaal star. (R) [STARS 2]
Who Killed the Electric Car?
Tom Hanks, Mel Gibson, Peter Horton and Alexandra Paul were all happy drivers of the EV1, a spiffy electric car that General Motors launched in California in 1996 and then, a few years later, pulled. This crusading documentary offers a fascinating look at the reasons why. (PG) [STARS 2.5]
BLOCKBUSTERS GO IMAX
IMAX isn't just for space walkers, deep sea dwellers and rainforest critters anymore.
Superman Returns
is the latest Hollywood film to simultaneously screen in conventional theaters and the extra-large format once best known for nature documentaries.
Apollo 13
was the first blockbuster to hit the very big screen in 2002, but IMAX struck its most sizable box-office jackpot with a 3-D version of 2004's
The Polar Express
, which grossed over $45 million domestically in two releases. What's the draw? "With bigger TV screens, video games and DVDs, the public wants something different to get off the couch," IMAX co-CEO Richard Gelfond says. For
Superman
, IMAX audiences will put on glasses to view four 3-D scenes totaling 20 minutes, including a rescue sequence with a plummeting plane.
Who will be next to fight evil in 3-D?
Harry Potter and the Order of the Phoenix
, due in 2007, will likely have 3-D segments, insiders say, and execs are mulling the idea for
Spider-Man 3
. And IMAX has three animated 3-D films on tap later this year:
The Ant Bully
,
Open Season
and
Happy Feet
. Then there's the wish list. "I think you'll see some rereleases in 3-D," Gelfond says. "My personal favorite would be
Indiana Jones
. Or
E.T.
"
Advertisement
Treat Yourself! 4 Preview Issues
The most buzzed about stars this minute!