People Top 5
LAST UPDATE: Tuesday February 10, 2015 01:10PM EST
PEOPLE Top 5 are the most-viewed stories on the site over the past three days, updated every 60 minutes
So in Love
A Year After the Girl Next Door Wed Her Motorcycle Man, Sandra Bullock & Jesse James Are One of Hollywood's Happiest Couples
Sandra Bullock
and Jesse James decided to expand their family. So in addition to celebrating quietly in Bullock's adopted hometown of Austin—to mark the occasion, Walton's, a local florist, decorated her lakefront property with glass lanterns, hydrangeas, roses and lilies—they adopted Bebe, a one-eyed Chihuahua they took in from a Long Beach, Calif., animal shelter. The pooch joins a menagerie of seven dogs (including Poppy, a three-legged mutt). "Jesse's got a soft heart. He picks animals with issues, and that takes someone special," says Sylvia Gyimesi of Best Buddies Rescue in Long Beach, where the couple found both Bebe and Poppy. "Too many people are always looking for the perfect pet, but they're the type who don't get caught up in how the dog looks."
Then again, this is a couple who often defy first impressions themselves: He's a tattooed biker who likes pedicures and bakes flaky homemade almond tarts. She's a reported $17-million-per-movie star who's learned to "catch air"—fly off bumps—on her off-road dirt bike. A year after their glam-meets-grit nuptials near Santa Barbara, the union between Hollywood's
Miss Congeniality
and
Monster Garage
's Mr. Don't-Mess-with-Me is proving to be as solid as one of James's welded-steel choppers—with a surprisingly domestic bent. Whether burning rubber in Long Beach or cuddling over a shared scoop at their favorite Austin ice-cream parlor, Bullock, who turns 42 on July 26, and James, 37, are "the perfect match," says Long Beach Vice Mayor Bonnie Lowenthal, who has known James for years. "He sees the potential in people and works to give them the same opportunities he's had. She's a down-to-earth person who has the same concern that Jesse does." As James told PEOPLE in May, "She pushes me to be a better person.... It really does make me feel like I'm Superman."
His Wonder Woman is feeling pretty invincible these days too. At their wedding last year, "She seemed as happy as you can get," says Bullock's friend, writer-director Marc Lawrence. Speaking to her pal about her husband's December trip to Iraq for a Discovery Channel special, says Lawrence, "She was talking about him with enormous affection."
A career-focused woman who once thought of marriage as "a death sentence"—as she told
Vanity Fair
—Bullock herself is a bit surprised by her change in outlook. "I feel empowered in a weird way," she said. "I can say I'm going to stay home, cut flowers, cook and bake a cake, and tomorrow I'm going to go back to the evil empire.... I've always been able to go back and forth—I just didn't allow myself to do it."
Credit the guy with the "Pay Up Sucker" tattoo on his palm and the unabashed admiration for Martha Stewart ("I'm this weird perfectionist, and she's that way too") for bringing out his wife's inner domestic diva. A 6′3″ ex-bouncer whose great-grandfather's cousin was the notorious outlaw, James—who found fame as the host of the Discovery Channel hit
Monster Garage
—was revved by Bullock's no-nonsense charm when she visited his West Coast Choppers motorcycle shop with her godson in 2003. Before Bullock had even returned to her production company office, James had called to inquire about her dating status. But despite the attraction, "I took my time and got to know her and did it right, and it was a great courtship," he says.
If skeptics doubted their odd-couple matchup—"Did you lose a bet?" David Letterman jokingly asked Bullock in June—the pair quickly discovered they clicked. Their youths may play like something out of
The Breakfast Club
—the Rebel and the Cheerleader—but both emerged with the same relentless drive: James used his gifts as a welder and his smarts as a businessman to create his West Coast Choppers empire, while Bullock's breakout role in 1994's
Speed
transformed her into a superstar. What's more, they share an allergy to phoniness. "Sandy has a great bull detector—always has," says Lawrence. "She wouldn't be with anyone who wasn't the real thing."
Like his beloved pit bull Cisco, James's snarl hides a puppyish sweetness. In his hometown of Long Beach, he has used his West Coast Choppers shop to help the community, spreading the wealth from his $60,000-and-up custom bikes and offering jobs to clients at a neighboring homeless shelter—a generosity matched by Bullock, who has written million-dollar checks to tsunami and Katrina relief efforts.
Why do they work as a couple? "I'm as stubborn as he is," Bullock told Letterman. "I will try anything once, as you can see he does all the time." As she put it to the Rev. Dr. Robert Laha, who met the couple while Bullock filmed a scene for her upcoming thriller
Premonition
at his former Shreveport, La., church in May, "She said, 'He's gotten over the wildness and I'm the wild one now!'"
She has also bonded with James's kids Chandler, 12, and Jesse Jr., 9, with first wife Karla James, who live within walking distance of James's oceanfront home near Long Beach. Bullock and James are fixtures at the children's sporting events and at Walt's Wharf in nearby Seal Beach, where the family drops by for chicken fingers. (James also has a daughter, Sunny, 2, with ex-wife Janine Lindemulder.)
For his part, James has made himself at home in Austin, where Bullock owns two houses. The couple lie low when they're in town, visiting hangouts like Amy's Ice Creams, where they acted like giddy teens during a visit. "They took pictures inside our photo booth and giggled," says manager Chelsea Reinschmidt. At one point Bullock grabbed some chalk and scrawled on the shop's blackboard. "She wrote, 'Sandy loves Jesse,' but it was with a heart. They were really, really cute."
With a year of wedded bliss under their belt, will their brood grow beyond Bebe? Speaking about motherhood last year to PEOPLE, Bullock said, "If I'm blessed with that, I hope I am the best version of me that I can possibly be." With her biker guy by her side, she seems well on her way. "If they decide to have kids, those kids will have the most fun and hilarious mother anybody could ever wish for," says Lawrence. "But she wasn't going to get married just to do it. She waited until the right person came along."
Contributors:
Alexis Chiu/Los Angeles,
Tom Cunneff/Los Angeles,
Mary Acoymo/Long Beach,
Shermakaye Bass/Austin.
Advertisement
Today's Photos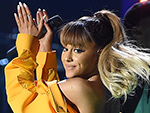 Treat Yourself! 4 Preview Issues
The most buzzed about stars this minute!