People Top 5
LAST UPDATE: Tuesday February 10, 2015 01:10PM EST
PEOPLE Top 5 are the most-viewed stories on the site over the past three days, updated every 60 minutes
Picks and Pans: Music
Carlos Santana Looks Back
Blackout
|




DANCE POP
Her personal life may be a hot mess, but there is plenty of hot music for dancing one's troubles away on
Britney Spears
's new album, her first studio CD since 2003's pre-K-Fed
In the Zone
. (Hey, maybe she was actually researching beats on the party-girl circuit.) "Gimme More," the panting first single, was just a tease, because there are better—if not exactly bolder—tracks, like "Toy Soldier," with its fun simulated snare drums, and the cool, T-Pain-assisted "Hot as Ice" (one of five cuts produced by Timbaland protégé Nate "Danja" Hills). Only two songs, though, really offer any insight into her well-documented struggles: the media-blasting "Piece of Me" and the K-Fed kiss-off "Why Should I Be Sad," which, after 11 cuts of nonstop partying, leaves you facing the melancholy morning after.
DOWNLOAD THIS: "Heaven on Earth," a slice of dance-floor nirvana where Donna Summer meets Kylie Minogue.
Everything Is Fine
|




REVIEWED BY RANDY VEST
COUNTRY
With a deep, rich voice as solid as an oak from his native South Carolina, Josh Turner returns with 12 engaging, diverse songs on his third album. First single "Firecracker" is a mile-a-minute barn burner, while "Another Try," featuring Trisha Yearwood on harmony, is a ballad full of naked emotion. Also in the mix are "The Longer the Waiting (The Sweeter the Kiss)," a Highlands-flavored folk tune complete with mandolin and bagpipes, and a rousing cover of the 1989 George Jones hit "One Woman Man."
DOWNLOAD THIS: "Everything Is Fine," a leisurely paced nod to a contented life.
Smokey Rolls Down Thunder Canyon
|




REVIEWED BY CHRIS STRAUSS
ALT-FOLK
Forget about trying to pigeonhole Devendra Banhart. On his latest, the razor-averse eccentric delves into an array of genres, loosely tying them together with a unique brand of experimental folk. As a complete work, this ambitious disc may be disjointed, but it's also a testament to Banhart's talent that he is able to switch gears so adroitly, whether it's the irresistible funk of "Lover" or the Doors-esque highlight "Tonada Yanomaminista."
In Rainbows
|




CRITIC'S CHOICE
ALT-ROCK
Radiohead is breaking new ground by offering their latest album to download for whatever price you choose to pay, even zilch. (A physical CD, whose pricing has been undetermined, is due in January.) But while the gimmick may have the industry and fans buzzing, it's the music that will keep your attention. Although
In Rainbows
has plenty of the cool, moody atmospherics that Radiohead is famous for—the soulful, sexy ballad "Nude" will totally put you in a dream state—it also finds the band displaying rhythmic flair on the opener, "15 Step," and rocking out U2-style on "Bodysnatchers," the worthiest track.
The Art of Love & War
|




REVIEWED BY IVORY JEFF CLINTON
R&B
On her fourth studio effort, Angie Stone covers the ups and downs of romance with lyrical aplomb and a smooth yet commanding delivery. From the mellow funk of the first single, "Baby," a scorned woman's anthem featuring veteran soul songstress Betty Wright, to the John Legend-assisted ballad "Half a Chance" and the jazz-infused "Make It Last," Stone wisely eschews powerhouse wailing in favor of a more subtle approach that effectively showcases her rich alto. The result is one of the year's strongest R&B albums and a career best for Stone.
DOWNLOAD THIS: "These Are the Reasons," an irresistibly seductive slow jam.
Exclusively on Verizon Wireless. Text PICKS to 8915 for downloads from PEOPLE's Music Reviews.
For more information on where to find our Download This picks, go to PEOPLE.COM/DOWNLOADTHIS
• Instead of the usual hodgepodge, this cohesive companion to the new Steve Carell comedy mostly features music—new and old—by Norwegian singer-songwriter Sondre Lerche.
JOHN FOGERTY
Revival
Fogerty hits the spot with his meat-and-potatoes roots rock on this rousing disc. On songs that sometimes hark back to Creedence Clearwater Revival, the 62-year-old Hall of Famer sure sounds like a rocker reborn.




KEVIN MICHAEL
Kevin Michael
There's nothing here that hasn't been done before by other neo-soul men like Maxwell and Van Hunt. Still, his huge Afro is hardly the only reason this talented newcomer stands out in the crowd.




DEBORAH HARRY
Necessary Evil
The Blondie frontwoman's first solo album since 1993 is an uneven affair, but Harry shows that, at 62, she's still got some of those old Debbie moves on cuts like the rapturous first single "Two Times Blue."




KENNA
Make Sure They See My Face
He's one of music's best-kept secrets—his 2003 debut was sorely overlooked. But with a little help from his producing pals the Neptunes, Kenna continues to put a totally awesome spin on the '80s.




• The pop icon, 64, is back with her first studio disc in five years, Shine, on the new Starbucks label
ON HER RECORDING HIATUS I turned in [2002's] Travelogue and [a label exec] said, "We're just used-car salesmen now, but this is a work of genius, and we don't know what to do with it." I thought, "What am I gonna do? Get worse? I'm outta here!" I'd gotten to hate music. I couldn't listen to the radio. But then Starbucks put out a series of Artist's Choice [CDs] and I said, "Can I do one of those?" I'm making my desert island tape, so I had to figure out, "What did I care about?"
ON HOW SHE SPENT HER BREAK My life came down to being a granny and watching television. I thought, "Uh-oh, is this the rest of my life? Smoking in front of Ted Turner?"
ON HER CANADIAN GETAWAY I go up to my place in [Sechelt, B.C.] and I get so happy washing my dishes. I look out at this beautiful bay and see blue herons flying by. It heals me.
ON PARTYING WITH HER PAL PRINCE He throws big parties that start at midnight. It's like the old after-hours deal, but on a grander scale. We're not in the back room of some Dixieland place in New Orleans; we're in Prince's palace with Hollywood A--listers!
• With a new retrospective,
Ultimate Santana
, the guitar god, 60, reflects on his hits.
"EVIL WAYS" (1969) It's one of our first children. I consider all of my songs to be children. That way when I play them it's like getting a hug from your daughter or son. It's very personal.
"BLACK MAGIC WOMAN" (1970) The first time we played it in Fresno, we knew something was eternal about it. When we were recording it in San Francisco, the phone rang and someone said, "Hey, Miles Davis wants to talk to you." My bandmates were looking at me like, "What's so special about him?" I've been wondering that ever since.
"EVERYBODY'S EVERYTHING" (1971) All I kept picturing was Aretha Franklin for this song. I was inspired. I grew up listening to ladies, and that's who I try to emulate [with] my guitar.
"SMOOTH" (1999) That was the last song that Clive [Davis] presented me for
Supernatural
. I said, "I'm not sure about that song." We recorded at the same time with Rob Thomas, and it only took one take. I got chills.
Advertisement
Today's Photos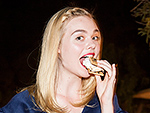 Treat Yourself! 4 Preview Issues
The most buzzed about stars this minute!