People Top 5
LAST UPDATE: Tuesday February 10, 2015 01:10PM EST
PEOPLE Top 5 are the most-viewed stories on the site over the past three days, updated every 60 minutes
Picks and Pans: Music
Catching Up with ... Taylor Dayne
Brave
|




DANCE-POP
As far as dance-pop divas go,
Jennifer Lopez
may never have her
Ray of Light
or
Control
. But she learned enough moves from
Madonna
and Janet—two other singers with limited voices—to usually make her albums guilty pleasures.
Brave
, while hardly daring, is consistently entertaining. Whereas this year's Spanish-language departure,
Como Ama Una Mujer
, got bogged down by too many ballads, the new CD takes the former Fly Girl back to the dance floor, where she belongs. Club-friendly cuts like "Hold It Don't Drop It" and first single "Do It Well"—sampling Tavares and Eddie Kendricks respectively—find the missing link between disco and hip-pop, while the throbbing title tune sounds like a lost Madge track circa 1986.
DOWNLOAD THIS: "Stay Together," a swirling anti-breakup anthem
Still Feels Good
|




COUNTRY-POP
Country purists will probably never love Rascal Flatts; they'll certainly cringe when they hear the trio crooning with Jamie Foxx on "She Goes All the Way," a veritable country slow jam that hurts the cred of both acts. But there are millions of other people—like those who bought last year's multiplatinum
Me and My Gang
—who will be stoked about
Still Feels Good
. From hook- and harmony-laden ballads like "Better Now" to upbeat, uptempo numbers such as "Secret Smile," these boys know how to give today's country-pop fans what they want. But the album's best track, the wistful "Winner at a Losing Game," is also the song that is most likely to score Rascal Flatts some points with purists.
Songs About Girls
|




DANCE/RAP
The leader of the Black Eyed Peas and a sought-after producer for everyone from Mary J. Blige to
Justin Timberlake
, will.i.am has been the mastermind behind some maddeningly catchy tunes. ("My Humps," anyone?) Given those credentials, this solo disc—a loose concept album based on a past relationship—comes as a letdown. Only a serviceable rapper and a decidedly lesser singer, Will just never seems comfortable hogging the spotlight. (Clearly there is a reason why the Peas took off once
Fergie
joined the group.) And instead of working his A-list connections to show off his collaborative skills, he only recruits one major guest (Snoop Dogg on "The Donque Song"). Despite its problems,
Songs
has its moments—the hypnotic "Heartbreaker," the island-flavored "One More Chance," the Peas-style "Make It Funky"—where Will's gift for hooks overrides everything.
DOWNLOAD THIS: "Fantastic," a breezy, Jackson 5-sampling ditty
Exclusively on Verizon Wireless. Text PICKS to 8915 for downloads from PEOPLE's Music Reviews.
For more information on where to find our Download This picks, go to PEOPLE.COM/DOWNLOADTHIS
• To give fans more bang for their buck, matchbox has added six new songs (and pretty good ones, too) along with hits like "Bent" on their new retrospective,
Exile on Mainstream
.
BARRY MANILOW
The Greatest Songs of the Seventies
After covering the '50s and the '60s on his last two CDs, Manilow is in his element—the '70s—on his latest. He brings a definite nostalgia—and cheese factor—to classics like "The Way We Were."




QUEEN LATIFAH
Trav'lin' Light
Latifah, who became a full-fledged singer on 2004's
The Dana Owens Album
, takes another trip down memory lane with a second set of jazz, R&B and pop covers. It's all very respectable but unremarkable.




HARD-FI
Once Upon a Time in the West
There's nothing on the second full-lengther from this British alt-rock quartet that can match last year's "Hard to Beat." Still, their '80s-spiked sounds are fun—if not always fresh—on tunes like "Television."




KEYSHIA COLE
Just Like You
Cole has notched a No. 1 R&B hit with the hip-hop soul jam "Let It Go." But it's ballads like the introspective title cut and a couple of Mary J.-esque midtempo tracks that get to the emotional heart of her second disc.




It was 20 years ago this month that "Tell It to My Heart" hit the charts and transformed her into a late-'80s dance-pop star. Now 45 and the single mother of 5-year-old twins Astaria and Levi, which she had by surrogate, Dayne is plotting a comeback.
ON TAYLOR 20 YEARS AGO When I look at photos and think about outfits I wore and things I did, it feels like lifetimes ago. I don't relate to that girl now, and at times I wonder if I related to that girl even then. I look at her and say, "Was I like Amy Winehouse?" I had this hard exterior, but inside it was always mush.
ON HER NEXT PROJECT I just went in and rerecorded my greatest hits. First people were like, "Oh come on, Taylor, can you still sing like that?" To me, my voice is like wine: It has gotten richer and more textured. But I won't knock what I did [in my 20s]. Some of those notes [I hit] were ridiculous.
ON HAVING KIDS BY SURROGATE Some women love being pregnant, but I didn't need that. The idea of not being in a relationship and carrying a child was not an option because then I wouldn't be viable for a relationship. I didn't feel that any man was going to love me while I was carrying another man's child.
ON RAISING TWINS They share a room, and they have a twin thing happening. I told Astaria that she was a girl and it was time she started thinking about her own room. And she said, "No, I sleep with Levi." Levi was ready for his own space, but she was not having it.
ON TRYING ONLINE DATING I think it's very improbable that no one else like me has done it. Trust me. Chat rooms alone—are you kidding me? I did it very anonymously. I never told them [who I was] up front. Some I couldn't wait to run away from. Some were good. Every scenario was different. This was three years ago, but now I am in a relationship.
ON BRITNEY'S TROUBLES I feel for her. I didn't [get started] until 18, which is when she was almost ready to retire. But only she can repair what is going on with her. Second to the President of the United States, the hardest job in the world is being a pop star.
Advertisement
Today's Photos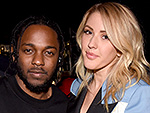 Treat Yourself! 4 Preview Issues
The most buzzed about stars this minute!