People Top 5
LAST UPDATE: Tuesday February 10, 2015 01:10PM EST
PEOPLE Top 5 are the most-viewed stories on the site over the past three days, updated every 60 minutes
Picks and Pans Main: TV
Terry's Daughter Goes Nashville Rachel Bradshaw
SUNDAY, OCT. 7
NEW SERIES!
LIFE IS WILD
8 P.M. | THE CW
Think
The Brady Bunch Goes to Africa
. A veterinarian dad uproots his blended brood (including troubled teen Andrew St. John, left) to live on a South African wildlife reserve. It's filmed on location, with lots of cameos from cuddly (and not so cuddly) critters.
AMERICA'S MOST SMARTEST MODEL
9 P.M. | VH1
Beauties compete to see who's the brainiest of them all. Question #1: What's wrong with this show's title?
MONDAY, OCT. 8
NEW SEASON!
I LOVE NEW YORK 2
9 P.M. | VH1
If at first you don't succeed, try, try again.
Flavor of Love's
Tiffany "New York" Pollard plays bachelorette to 20 new hottie hopefuls, with help from her mother, whose name is Sister (got that?).
NEW SERIES!
WEDNESDAY, OCT. 10
DIRTY SEXY MONEY
10:01 P.M. | ABC
Is there any show with a more accurate title? Peter Krause tries to block the release of a sex tape, plus there's a big ol' catfight during Billy Baldwin's Senate fund-raiser. Meow.
NEW SERIES!
PAGEANT PLACE
10:30 P.M. | MTV
Watch Miss Universe, Miss USA and Miss Teen USA bunk together. Alas, Miss America's not the wacky next-door neighbor.
FRIDAY, OCT. 12
NEW SEASON!
MEN IN TREES
10 P.M. | ABC
The weather outside is frightful when an arctic cyclone hits, leaving Anne Heche stranded outdoors.
SATURDAY, OCT. 13
THE GATHERING
9 P.M. | LIFETIME
It's never good when people go MIA and black crows pop up. Jamie-Lynn Sigler (right) helps Peter Gallagher look for his wife in this spooky four-hour miniseries.
CBS, Tuesdays, 10 p.m. ET |




DRAMA
Since Tony Soprano faded to black, we've been looking for a fresh antihero to take his place. That man just might be Cane's Alex Vega (Jimmy Smits), newly picked to run his adoptive father's South Florida rum and sugar empire. Soapy but not campy, Cane promises several juicy story lines worth squeezing, especially Alex's battle with a rival sugar-business family and its J.R. Ewing-like patriarch. Smits is just as charismatic when he's bonding with his Cuban-American clan as when he's viciously protecting them. He's already ordered the death of one foe and had a Cuban refugee who crossed him shipped home. Tony would be proud.
ABC, Fridays, 9 p.m. ET




DRAMA
Four San Francisco best friends—a homicide detective (Angie Harmon), assistant district attorney (Laura Harris), medical examiner (Paula Newsome) and newspaper crime reporter (Aubrey Dollar)—secretly team up to pool their resources and solve the murder du jour. As a wannabe club member explains, it's "women teaming up to level the playing field in a man's world." Just like the Spice Girls! Ignoring blatant conflicts of interest at every turn—the whole lot, starting with the journalist, should be fired—the women catch up on gossip at crime scenes (My ex is getting remarried!), and when things get really tough, provide comfort with insights like "You killed a man. You wouldn't be human if you didn't feel weird." It's nice to see Harmon back in
Law & Order
mode, but why must she share the spotlight?
ABC, Thursdays, 10 p.m. ET




DRAMA
"Men," groans a cosmetics CEO (Dylan McDermott) after hearing of his pals' latest relationship woes, "we're the new women." That's certainly the case on TV, where each new season's
Sex and the City
clones have begotten
Entourage
-wannabes like this crass nonstarter about four bigwig execs balancing work and play.
Big Shots
stumbles out of the gate with dopey plot lines about a pharmaceuticals CEO (Joshua Malina) juggling his needy wife and needier mistress (are we supposed to empathize?), and McDermott's efforts to squelch a reporter digging into his past indiscretion with a bubbly transvestite hooker. At least the
Entourage
guys are likable lotharios; aside from Michael Vartan, who is crushed to discover his wife was bedding his late boss, these
Big Shots
come up small.
• Hell's Kitchen's fiery star, 40, whips struggling restaurants into shape in FOX's
Kitchen Nightmares
RUDE RESERVATIONISTS We're not booking a flight, we're booking an experience. Engage with the customer.
BAD LIGHTING Restaurants should light the ladies, not the man. It's there to enhance. If she's not feeling sexy because the lights are too bright, you've lost her. Game over!
DIRTY BATHROOMS Go to the bathroom. If it's not immaculate, I can guarantee the length of time my wife wants to spend in the restaurant is cut by one hour.
A WAITSTAFF THAT'S ALL WET If I see a waiter sweating, I'll turn around and go. It means the restaurant is understaffed, out of control and dripping sweat in your salad.
RUSHING PATRONS The customers are king, not cattle.
Her dad is former Pittsburgh Steelers star quarterback Terry Bradshaw—but Rachel Bradshaw is aiming for a different Hall of Fame. The aspiring country star shows off her voice (and her flirting skills too) on the FOX reality series Nashville.
ON COUNTRY MUSIC I grew up in Texas, and country music is my style. My favorite song is George Strait's "Baby Blue." Everyone in my family has blue eyes, so when it played on the radio while in the car, we would all sing it. It's our family song.
ON HER SINGING ROOTS My dad recorded a country album. People are surprised to know that he can sing. I got my singing talent from him.
ON CAST ROMANCES Clint [Moseley] and I had feelings for each other from day one. He's a big flirt.
What's On This Week
Advertisement
Today's Photos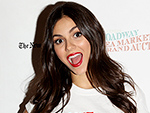 Treat Yourself! 4 Preview Issues
The most buzzed about stars this minute!