People Top 5
LAST UPDATE: Tuesday February 10, 2015 01:10PM EST
PEOPLE Top 5 are the most-viewed stories on the site over the past three days, updated every 60 minutes
Skating Through Sadness
In a New Memoir, the Former Olympic Skating Champ Opens Up About Her Suicidal Depression
The Olympic champ—who minted the Hamill camel spin and launched a hairstyle craze with her distinctive wedge cut—experienced an emotional downward spiral after realizing she had no Plan B. "I thought, naively, that I'd win the Olympics, and life would be set," she says. "It was the first really down, depressed time for me."
The first of many. As she reveals in her new memoir
A Skating Life
, the champion who embodied perkiness has faced a lifelong battle with depression that sometimes left her suicidal. Now living in Baltimore and still skating professionally, the divorced mother of a 19-year-old daughter found that even putting her pain on paper "was completely debilitating." While writing the book last summer, she descended into a deep depression partly precipitated by menopause and other factors. "It was all I could do to shower," she says. She kept going because "I wanted to help people who are going through problems and think 'What's the point?'"
There didn't seem to be one after the Olympics. Hamill returned home to discover she had been dubbed "America's Sweetheart," a title she found "flattering but impossible to live up to." As was her hair. "I'd see these fashion segments about who's wearing the wedge," she says, "and I couldn't figure out how this little nerd of an ice skater could be in those photos."
Switching to pro skating also triggered insecurities. "It was so different than what I was doing for the past 11 years," she says. "I felt inadequate." Her solution? "I ate all the time." By the time she joined the Ice Capades that summer, she had added 15 lbs. to her 5'3" frame, prompting a cast member to remark, "If I have to skate around her, honey, you better call me a cab."
Luckily, Hamill had strong support from actor-boyfriend Dean Paul Martin (son of Rat Packer Dean Martin), whom she still calls the "love of my life." After six years together, the pair tied the knot in '82 only to divorce two years later. Among the reasons for the split: "He knew he couldn't be monogamous and had the decency to say, 'I don't want to be married,'" Hamill says. The breakup drove her to seek therapy, but it took years for her to learn that she suffered from depression. Looking back, "I had bouts when I was younger, but I didn't know what it was," says the Connecticut-bred athlete, whose mom also suffers from the disorder.
Her sorrow deepened when Martin—an active member of the California Air National Guard—died in a plane crash in '87. His death "still haunts me," says Hamill, who keeps a photo of him in her bedroom to this day. But her lowest point came in the mid-'90s, when, on the brink of bankruptcy after buying the failing Ice Capades in '93, she discovered that her second husband, Dr. Kenneth Forsythe, had had two affairs—one with a friend while Hamill was pregnant with their daughter Alexandra and another with Hamill's young Ice Capades stand-in. (Says Forsythe now: "I'm sorry that Dorothy, after all this time, still finds it necessary to bring up negative things.") Hamill says she had suicidal thoughts "several times. I remember making a call to 911. I was tempted to do something crazy. I was shaking uncontrollably and just sort of frantic." So she focused on Alex. "It made me realize," she says, "that I would never do that to her."
These days Hamill, who's in therapy and takes an antidepressant, is much happier. Financially solvent thanks to "great advisers" and her skating gigs, she recently started dating a lawyer she'd rather not identify. "I'm taking it slowly," she says. Alex (who calls her mom "my best friend—I'd never say that if someone asked, but she is") just left for college, so Hamill bought a smaller house and a new Cavalier King Charles Spaniel puppy named Penelope.
New house, new dog, new man—but it's her old passion that still brings the greatest joy. Now training for her Broadway on Ice tour that starts in November, Hamill says she feels "old, creaky, stiff—but good. I won't still be performing 32 years from now, if I live that long. But skating is my peace."
Contributors:
Reported by Kathy Ehrich Dowd/Baltimore.
It was Friday the 13th, but Dorothy Hamill couldn't have been happier. As strains of "The Star-Spangled Banner" filled the 1976 Winter Olympics stadium in Austria, the smiling 19-year-old stood atop the podium with the gold medal for figure skating hanging from her neck. "I was thrilled and proud to be an American," recalls Hamill, now 51. And then came panic. "I thought, 'Now what do I do?'"
Advertisement
Today's Photos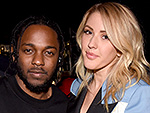 Treat Yourself! 4 Preview Issues
The most buzzed about stars this minute!