People Top 5
LAST UPDATE: Tuesday February 10, 2015 01:10PM EST
PEOPLE Top 5 are the most-viewed stories on the site over the past three days, updated every 60 minutes
A New Faith
Feisty at 40, the Superstar Sounds Off on 15 Years of Big Hits (and Bigger Hair), the YouTube Clip That Almost Made Her Quit, and Why Nothing Comes Between Her and Tim McGraw
Faith Hill
, so when on Sept. 15
Tim McGraw
cut his wife off from her vacuum cleaner and told her to get lost for a few hours, she knew something was up. She passed the time shopping near their suburban Nashville home with their daughter Gracie, 10, while Maggie, 9, went to the zoo and Audrey, 5, played with a friend. When she finally returned, McGraw was packed and ready to go ... somewhere. With instructions to grab her makeup and a camera, Hill climbed in the car with her equally stumped girls while McGraw got behind the wheel. "He wasn't saying anything," says Hill of the drive to the airport. "I was dying."
McGraw managed to stay silent about the surprise he had spent months planning—for his wife's 40th birthday on Sept. 21—for nine hours, but as their private jet started to descend, "He said, 'Guess where we're going,'" recalls Hill. "I said, 'Give us a clue!' And he said, 'Alexander the Great was from there.' And I was like, 'Oh, great, a history question.' I couldn't remember. Then he said, 'The first Olympics,' and I said, 'Rome!' Duh! And then Gracie said, 'Greece!'"
Their touchdown in Athens was only the beginning. McGraw, 40, had booked the famous Onassis yacht, the Christina O, and arranged for 30 or so friends and family members (including her father, Ted Perry, 77, and brothers Wesley, 47, and Steve, 45) to join them. Hill—who was adopted as an infant and later found her birth mother, now deceased, and full biological younger brother Zach, now 37—was thrilled that for the first time, all her brothers were meeting. "She was in heaven," says her childhood pal and fellow cruiser Gaye Knight. "It was the full circle coming together." The only sad note, says Hill, was the absence of her mother, Edna, 71, who had a stroke a few years ago and is unable to travel. "I never thought my father would travel without my mom," she says. "When I saw him I just started bawling. I was like, 'Oh, Daddy,' and he started crying."
For Hill, cruising the Greek islands offered time for reflection on her life and career—the five Grammy wins, the Soul2Soul tour with McGraw that grossed $52 million this summer, and a new CD,
The Hits
, that encapsulates her first 15 years in the business. Though still possessing the kind of beauty that makes women half her age green with envy, "My butt, my best asset in high school," she says with a laugh, "is not as tight as it used to be."
And that's not the only thing Hill is being brutally frank about. The past year, she says, has presented her with challenges that have made her take stock of who she is—and how the public perceives her. Beneath that ex-cheerleader spunk and golden mane, there is a fiery spirit, which might help explain two incidents that turned Hill into an unlikely YouTube sensation: chastising a fan for grabbing her husband's crotch in July and, in what she calls "the worst experience of my life," being publicly criticized after she seemed to be caught on live TV making a face when
Carrie Underwood
beat her to win Female Vocalist of the Year at the CMA awards last November.
Hill says she was just being "goofy" when she mouthed an apparently indignant "What?" and that the full video footage shows her laughing as she walked away. Pals know Hill to be, as actress Rita Wilson says, "playful and witty." But more than 10 million viewers watched YouTube's abbreviated version and, overnight, the sweetheart from Star, Miss., turned into the nation's sorest loser. "It was hell," says Hill. "I was being ripped apart limb by limb. I wanted to quit."
"She was making fun of herself and it came out completely out of context," says her friend, country singer Martina McBride. "She is such a good person, one of the people in the industry who has gone out of her way to support other women. It really hurt her that people would be so quick to think something bad."
It was McBride who called Hill after the CMAs to warn her that she was the gossip of all the parties. Recalls Hill: "The blood just fell from my body and I just started bawling." The first thing she did was call Underwood to resolve the mix-up. The next day she called her manager. "I said, 'I'm done. This is unraveling me.' I'm such a happy, easygoing person," she explains. "To be under that type of scrutiny and to have it be so false, it's like depleting every ounce of respect and character I had. And there was no fighting it. It was so big."
Indeed, all she could do was go on with the show. As she began the Soul2Soul tour in June, the routine of the road, hanging with family members and friends who came and went, was healing. But what drew out her strength, she says, was "my own realization that I was credible, that in the face of all this criticism, I have my fans out there and I can connect with them and they see me as I am."
Like it or not. In Lafayette, La., in July, Hill was underneath the stage while her husband was performing when, she recalls, "He comes down, furious, and says, 'Some lady just grabbed my crotch.' He was p——; he gave her a piece of his mind. So I thought, 'Okay, it's taken care of.'" But when she got on stage, says Hill, "The woman gave me this look, like, 'I just grabbed your husband's privates, and there's nothing you can do about it.' My emotions took over. I was like, 'God, you better hold me on this stage because I'm about to jump off it and get her.'" Instead, she fired a verbal salvo, telling the fan in no uncertain terms to get some class. "I'm all for the girls going crazy and going goo-goo gaga over him," she says. "But when another woman grabs my husband's privates? Hello? I don't think so! Hands off! You know what I'm saying?"
Rita Wilson applauds her for showing her "strong moral core. Because she's famous she's supposed to be polite?" Says singer Lori McKenna, a friend who opened for some shows this summer: "I was like, 'You go, girl!' I was so proud of her." As was her husband, says Hill: "He was like, 'C'mon, bring out the Mississippi! Whooo!' He gets all excited when I get feisty."
Her kids, perhaps, less so. For Hill and McGraw, who grew up in working-class families (he is from Delhi, La.), keeping their girls grounded is key—even, says Hill, if she has to threaten to "wash their mouths out with soap" for saying swear words. "I've never done it," she laughs. But she does have to say "No" a lot: no cell phones, no e-mail accounts, no electric guitars covered in pink glitter (Gracie's dream). "They beg," says Hill. "And we'll say, 'There's no reason you need that.' It's hard. We're not trying to deprive our children, but to instill in them patience, logical thinking and caution."
Still, she does sometimes say "Yes," even to Maggie's request for hip-hop music. "I pick a few songs. She's fine with that. If [the lyrics] say 'damn' she'll sing 'darn,'" says Hill. And though they occasionally "call me out" for swearing, admits Hill, the naughtiest thing they see Mom do is occasionally dive into a bag of barbecue potato chips. "And not the baked kind," Hill clarifies. "The real, funky, get-your-fingers-greasy kind. I have to eat them with this sour cream dip I make."
Until she has to start fretting about drivers' permits ("The worry of your child being on the road, oh my gosh!") Hill is enjoying simple family moments, like gathering in what she calls "Tim's room" on Sundays to watch the Tennessee Titans on TV. "Tim's up and down, yelling at the screen," says Hill. "I get excited along with him, like, 'What? That's a bad call!'—acting like I know what I'm talking about." If she doesn't, she waits for a commercial to find out. "After 11 years of marriage," she says, "I've learned you never ask a question during a replay."
It's her bond with her husband that, by all accounts, keeps Hill on course. The birthday extravaganza he planned for her was, she says, "a dream." Of course, life is not always a fairy tale. "We never have to work to be in love," says Hill. "But sometimes we don't get along and we have to have time apart." Yet one look at them dancing at a Greek disco until 5:30 a.m. on her birthday makes it clear that, as McBride says, "there's definitely still a spark."
More than ever, Hill savors life firefly moments. While on tour, she and Audrey were sitting on the bus late one night, and out of the blue, the 5-year-old said, "Mom, I'm going to know how much I love you even after I die," recalls Hill. "Tears started rolling down my face and I was like, 'Does she know something I don't?' It was so powerful. Forget about all my other problems. They are meaningless."
It is a perspective Hill is determined to keep, though she admits she has to work at keeping thoughts of the CMA debacle at bay; if not, she says, "It would destroy me. I would lose all confidence in everything I do for a living." She does not see that happening. "I have this strength that comes from knowledge," says Hill. Yes, there are moments that give her pause—like when she looks in a mirror and says, "Oh my gosh, I have a lot of wrinkles. It's mostly laugh lines, but it is what it is. And sometimes I see a young, beautiful girl and I think, 'Ouch!'" Still, she isn't contemplating plastic surgery ("I can't say never, but I'm kind of a naturalist," she explains), and she wouldn't give back her years for anything. "It's not complicated to embrace life. You just have to make the choice," she says. "I don't want to sound like a Hallmark card, but to be able to wake up each day with food and shelter, that alone is good. Forget aging and the fact that my butt is becoming a little more familiar with my knees than my tailbone. If you are six feet above ground it's a good day," Hill says. "So give me more!"
Advertisement
Today's Photos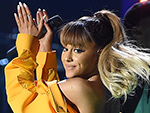 Treat Yourself! 4 Preview Issues
The most buzzed about stars this minute!