People Top 5
LAST UPDATE: Tuesday February 10, 2015 01:10PM EST
PEOPLE Top 5 are the most-viewed stories on the site over the past three days, updated every 60 minutes
Picks and Pans Main: Cook Books
Tips for Holiday Entertaining from ... Alice Waters
REVIEWED BY MICHELLE GREEN
A British Star's Simple Secrets
London chef Jamie Oliver's approach is charmingly inclusive: He asserts that "cooking isn't hard or elitist. It's just about learning little bits ... and trying something different once in a while." Who better, then, to inspire readers who want to celebrate the bounty of the holidays?
Cook with Jamie
offers beautifully shot dishes—a jewellike Fifteen Christmas Salad, a Floating Island that looks like an Ascot hat—to smarten up any table. Add demos on topics (including lobster-killing) guaranteed to make duffers feel like Iron Chefs, throw in the fact that all proceeds go to Oliver's foundation for low-income culinary students, and you've got a cookbook that, like its author, is irresistible.
Nostalgia Cuisine
Here are updated heirloom favorites including Corn Dodgers and Great-Aunt Ellen's Upside-Down Lemon Pudding Cake. Here, too, are the stories surrounding such regional specialties as Benne Wafers, linked for centuries to South Carolina, where slaves were said to have smuggled sesame, or benne, seeds from Africa. A spiral-bound collection compiled by the editors of
Cook's Country
magazine,
America's Best Lost Recipes
includes notes on technique, photo how-tos and a pocket for your own stained recipe cards. If you're hankering for old-fashioned pleasures, look no further.
No-Fuss Winners
Taking a cue, perhaps, from speed demon
Rachael Ray
, domestic goddess and Food Network staple Nigella Lawson has conjured up a voluptuous volume of what she calls "fast food for those who love eating." At 390 pages, it's a Nigella-style feast. Ingredient lists tend to be small but results are definitely impressive: Duck Breasts with Pomegranate and Mint, a showstopper for the holidays, requires only four items. Convenience foods are used judiciously: Frozen peas, soybeans and green beans make her lush Curry in a Hurry a snap. And if you're looking for a miracle, turn to page 98 and consider Nigella's Chocolate Croissants. A package of puff pastry, squares of dark or milk chocolate, and one egg. As the author puts it, "This is child's play." A perfect choice for cooks who would rather sip wine than labor over a hot stove,
Nigella Express
is, as the British say, brilliant.
Comfort Food, Country Style
What do the stars of Nashville's Grand Ole Opry like to eat? In this compilation by Kay West (a PEOPLE contributor), Martina McBride and dozens of others share some favorites.
MARTINA'S BUS STOP WHITE CHILI
• 3-4 boneless, skinless chicken breasts
• Two 14 1/2-oz. cans chicken broth
• 1 1/2 tsp. white pepper
• 1 tsp. garlic powder
• 3 Tbsp. vegetable oil
• Two 15-oz. cans great northern beans
• Two 4 1/2-oz. cans chopped green chilies
• One 10 1/2-oz. can cream of chicken soup
• 3 Tbsp. (or less) jalapeno pepper juice
• 2 Tbsp. minced fresh cilantro
• 1 tsp. salt
Put chicken in glass baking dish, pour in 1 can chicken broth, cover with tinfoil and bake at 350° for an hour. Remove chicken and reserve broth. Cut chicken into small pieces and season with white pepper and garlic powder. Saute chicken in oil in stockpot for 2-3 mins. Add reserved broth and remaining ingredients and bring to a boil. Reduce heat and simmer 30 mins. To serve, cut 6-8 flour tortillas into 1/4-in. strips. Place in serving bowls. Ladle chili on top. Garnish with sour cream and grated mozzarella cheese if desired.
Help for Thanksgiving Novices
Tradition rules in this reassuring volume from Fine Cooking: Notes on brining, trussing and "straight talk on stuffing" accompany recipes for wood-smoked grilled turkey, turkey stock, Turkey Tortilla Soup, turkey Caesar salad ... everything but turkey on white with mayo. And that, of course, is a tradition that needs no improvement.
Treats from New Orleans
Chef at Bayona in New Orleans and a founder of its restaurant Herbsaint, Susan Spicer has traveled widely, and it shows: While she doesn't stint on the crayfish pies or Cajun-style chicken, her
Crescent City Cooking
offers a multicult approach influenced by Mexican, Italian, Caribbean and Asian cooking. Spicer's vibrant entrees include Crispy Smoked Quail Salad with Bourbon-Molasses Dressing as well as Indian-Spiced Turkey Breast with Creamy Red Lentils. Her Mint Julep Ice Cream is pure Deep South, while her Epiphany Lemon Tart is a revelation, just as it would be in a patisserie in France. A lovely melting pot, Crescent City Cooking will keep any food lover happy.
A Travelogue with Recipes
A chef, adventurer and host of PBS's
New Scandinavian Cooking
, Andreas Viestad takes on the countries along the Indian Ocean spice route in a colorful volume alive with the tastes of cumin and chiles, cinnamon and coconut cream. Exploring the cultures linked by the spice trade, he hefts 100-lb. sacks of cardamom in India, samples tamarind in Zimbabwe and comes up with flavorful, streamlined recipes to invigorate jaded cooks. Fruit and vegetable dishes are particularly alluring: Cubeb Pepper Figs Cooked in Red Wine; Persian Rice Pilaf with Saffron and Pomegranates; Pearl Onions with Coriander and Mint—exotic subs for the same-old any time of year.
FESTIVE FINALES
Sweets from a Spago Chef
It's hard to imagine a dessert maker more versatile than Sherry Yard, the executive pastry chef for Wolfgang Puck's empire. Raised in Brooklyn, she has a playful take on sweets reflected in recipes for childhood faves like Girl Scout-style chocolate mint cookies. But don't be fooled: Yard's a player whose 400-page volume packs plenty of glitz. Along with stories about Julia Child,
Julia Roberts
and Chris Rock, Desserts by the Yard offers the secrets of creations including the Chocolate Truffle Tarts with Chocolate Crème Brûlée Diamonds that wowed partygoers after the 75th Oscars. Need a surefire holiday crowd-pleaser? Yard's Triple Silken Pumpkin Pie could bring down the house.
To-Die-For Pies
Celebs love Bubby's restaurant in New York City's Tribeca, but there's nothing haughty about the place; before it expanded, diners had to stumble through the kitchen to get to the bathroom. What New Yorkers crave are Bubby's pies, which are far, far better than anyone's mom ever made. Now, in a volume that captures the charm of their glorified diner, founder Ron Silver and coauthor Jen Bervin share recipes for Sour Cherry Lattice and Key Lime Pies as well as for heartier stuff: a wintry Apple-Roquefort-Bacon Pie, Fried Sweet Potato Pies and Boiled Plum Dumplings. Enlivened with evocative sketches, this is the sort of book that will send avid cooks straight to the stove.
• Peel and cut 4 beets and 3 ripe pears into fine matchsticks.
• Dress in lemon oil dressing [juice of 1 lemon plus 10 Tbsp. extra virgin olive oil makes about 3/4 cup dressing—use just a bit]. Season with sea salt and freshly ground black pepper.
• Crumble 7 oz. feta cheese on top; sprinkle with small mint leaves and sunflower seeds (optional).
• In a new cookbook for beginners, the founder of Berkeley's legendary Chez Panisse advises readers to use locally grown organic ingredients and make every meal a "sensual experience." Here, her take on Nov. 22nd:
WHAT ARE THE BIGGEST PITFALLS FOR THANKSGIVING HOSTS? Taking on all the cooking yourself. Also, expecting everyone to consume a huge amount in one hour. Have a course or two, then take a walk.
EVER HAD A THANKSGIVING DISASTER? I did a crazy thing with a quail inside a wild duck inside a turkey, based on some medieval recipe. It just wasn't flavorful.
YOUR MENU THIS YEAR? A turkey from Heritage Foods; they're raised on organic feed. I'll spit-roast it in my fireplace, have oysters on the half shell, green salad, mince and pumpkin tartlets.
HOW DO YOU KEEP FROM GOING OVERBOARD? I celebrate with friends, all of whom cook. We put on music and clean up afterward.
YOUR SOUNDTRACK? Aretha Franklin. We dance between chores.
This Season's Best Bets
Advertisement
Today's Photos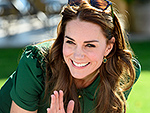 Treat Yourself! 4 Preview Issues
The most buzzed about stars this minute!