People Top 5
LAST UPDATE: Tuesday February 10, 2015 01:10PM EST
PEOPLE Top 5 are the most-viewed stories on the site over the past three days, updated every 60 minutes
The Hot List
These Hollywood Heartthrobs Are Always Scorching, but This Year They Really Turned Up the Heat
Four seasons into
Grey's Anatomy
and his Dr. Shepherd can still make EKGs go haywire, but in real life "defining romance is very tricky," says Dempsey, 41. "It's not just candles and flowers." The father to 9-month-old twins Darby and Sullivan and daughter Talula, 5, has been married to wife Jillian for eight years. The secret to keeping the spark alive? The eyes. Hers. "I was always taken by them," he says. "They're warm, sparkly eyes. That's the most beautiful part of someone."
Clive OWEN
Here's all you need to know about the magnitude of Owen's machismo: His gunslinger in this year's
Shoot 'Em Up
mowed down bad guys while making love. The 43-year-old Brit charmer, who met wife Sarah-Jane Fenton while playing Romeo to her Juliet, is also the new face of Lancôme. Still, "I have never considered myself to be a pretty boy," Owen told IN STYLE.
Denzel WASHINGTON
Whether he's flashing a blinding smile on the cover of a magazine or copping a menacing sneer as a drug lord in
American Gangster
, Washington's intensity always captivates. "I still like acting," the 52-year-old, who's currently starring in and directing the drama
The Great Debaters
, told
Men's Vogue
, "but my passion now is filmmaking. That's where my heart is."
David BECKHAM
It took Beckham's move to Los Angeles to finally get Americans to pay more attention to soccer—or at least the postgame jersey-shedding part. And although he sometimes gets a bad rap in the sexy department for being a bit too fashion-conscious, the 32-year-old husband (to Posh) and father (to Brooklyn, 8, Romeo, 5, and Cruz, 2) would like you to know that it comes from an organically manly place. "I never actually think, 'Okay, next week, I'm going to get a mullet,'" Beckham—who's the new U.S. face for Armani underwear—told
W
magazine. "I just wake up one morning, and I'm bored with my hair and shave it off."
Jake GYLLENHAAL
Yes, he's got that hot-smart guy thing going on, and he sure can rock the scruff when he feels like it, but the real clincher: The guy likes to add a bit of mystery to his love life. When host Ellen DeGeneres recently asked, "Are you single?" Gyllenhaal, 26, simply joked, "I'm the hottest bachelor in America!" Meanwhile, he and
Rendition
costar
Reese Witherspoon
would speed off in their cars for secret dates, and, well, what's sexier than the glow of fresh sparks through smoky tinted windows?
Gerard BUTLER
"In
300
I was going for this idea of a sculpted warrior," says the single Butler, 38. Mission spectacularly accomplished. But even with the killer bod and rugged face, there's something enticingly approachable about the guy, whose fans started up a convention in his honor. "I never thought that fans liked me because of any kind of sexiness," he says. "They like the fact that I am very down to earth. I don't have an ego when it comes to being an actor." Oh yeah, and then there's that Scottish lilt. "People say, 'Oh God, I love your accent, it's beautiful—now can you repeat everything you just said? Because I didn't get a word of it.'"
Brad PITT
Hey guys—who should play you in a movie?' Skinny rocker Tommy Lee: "I want
Brad Pitt
." Funky comic Carrot Top: "
Brad Pitt
." Swiss tennis star Roger Federer: "
Brad Pitt
!" Even former President Clinton?? Nah, Bill said recently of Pitt, 43. "He's way too good-looking."
Javier BARDEM
After seeing that recent shot of him in a leg-locking horizontal clutch with Penélope Cruz on a beach in the Maldives, who could deny the Spaniard is a sex symbol? Well, he could. "It just makes me laugh," says Bardem, 38, who's currently starring in
Love in the Time of Cholera
and
No Country for Old Men
. "Because when I wake up and look in the mirror, I don't see anybody who's a sex symbol. I see a guy who looks like he's been beaten with a baseball bat." But at least Bardem does acknowledge that he has a certain seductive intensity. "Once you start to get older, you have to focus and be passionate about life day after day."
Russell CROWE
This bad boy brought swagger back this year in two cool movies (
3:10 to Yuma
and
American Gangster
), but his softer side smoothed the rough edges. "I love going shopping," Crowe, 43, told
Men's Journal
. "I can pick out the first nine things my wife would like to try on. I'm not bragging; it's fact."
Johnny DEPP
Why is he sexy? For starters, there's his quirky style (he lives in France, dresses like a rock star, is not afraid of a little eyeliner) and his devil-may-care spirit (didn't take a single singing lesson to prepare for his role in the upcoming musical
Sweeney Todd
). Most of all, there's something heart-melting about how gaga he is for his gaggle—daughter Lily-Rose, 8, and son Jack, 5, his kids with longtime girlfriend Vanessa Paradis. He shut down production on
Todd
to be with Lily-Rose while she was hospitalized. "Suddenly you meet your reason to live," Depp, 44, told London's
Daily Mail
about being a father. "They make me happy."
Justin TIMBERLAKE
Last year he brought sexy back; this year he's exchanging some of his bravado for a bit of irresistible charm. At the MTV Video Music Awards he gave major props to young R&B singer Chris Brown, saying he "reminded me how much I'm getting older," and he's been poking fun at himself at almost every stop on his world tour. "My parents instilled in me the mindset of always being humble," the 26-year-old star told London's
Daily Telegraph
, "so I'd like to believe all the teen idol stuff went in one ear and out the other."
Will SMITH
If he were the last man standing, we'd take him. But the 39-year-old actor who plays Earth's probably-only survivor in
I Am Legend
says that's not possible. "Either I'm going to be with Jada," he told
Ebony
, "or I'm going to be dead."
Ben AFFLECK
The brand new Ben is slimmer and altogether sexier. "I'm healthier now than I've ever been," the 35-year-old actor and director told
Parade
. And daughter Violet brings out his soul. "All I want to do is go home, just to be around her again."
Matthew McCONAUGHEY
What's this? A shirt ... with buttons? That's right. Just as the bare-chested poster boy was in danger of overexposure, he's been changing up his game. Now McConaughey, 38, who's got a new love in model Camila Alves, 26, has been seen wearing a shirt, slacks and a fedora in Paris, and—get this—a full-body wet suit while surfing. He's even putting down roots—he has moved out of his Airstream trailer and into a $1.1 million modular Malibu home. Of course, his new gal wouldn't dream of completely extinguishing the seductive essence of Matthew. "She likes roughing it," a source close to McConaughey told PEOPLE. "She doesn't complain when they go hiking for 10 days without clean clothes or a shower."
Advertisement
Today's Photos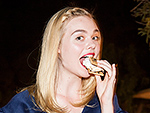 Treat Yourself! 4 Preview Issues
The most buzzed about stars this minute!