People Top 5
LAST UPDATE: Tuesday February 10, 2015 01:10PM EST
PEOPLE Top 5 are the most-viewed stories on the site over the past three days, updated every 60 minutes
Inside Brad Paisley's World
With An 8-Month-Old Son, a Thriving Marriage and a New Dream Home, Brad Paisley Kicks Life into High Gear
Brad Paisley
sure knows how to put on a good show. It's bath time for William Huckleberry Paisley, and the 8-month-old is being treated to another edition of 'The Adventures of King Bonzo,' Brad's very own tall tale of a monarch who gets a royal scrub-down. "The peasants line up outside the castle and await the news of the king's bath," says Paisley. "So I give a play-by-play: 'Ladies and Gentleman, I'm scrubbing his feet!' 'I'm ¾ of the way done!' And then when the king is clean, there's a huge celebration!"
Downstairs by the baby monitor, Paisley's wife, actress Kimberly Williams-Paisley, tunes in. "Bath times are hilarious," she says. "Brad's a great dad. It's really fun to leave him with Huck. No matter what happens, when I ask how it went, the first thing Brad says is, 'Oh, we had a ball.'"
In fact, all of 2007 is turning out to be a blast for Brad. His 6th album, 5th Gear, went gold, producing two No. 1 hits, "Online" and the cheeky "Ticks," and his total album sales topped 10 million. And after three years' work, the finishing touches were added to the Paisley's new 6,500-sq.-ft. log cabin home on their 87-acre estate in Franklin, Tenn.
Of course, nothing beats being an eyewitness to all the milestones the year has held for Huck, born Feb. 22, who's named for Mark Twain's character ("a free thinker," Brad notes) and sports his dad's signature cleft chin. Huck recently learned to crawl ("Look at his knees!" says Kimberly, pointing out the telltale pinkness). "He's a total guy and loves the remote control, so we'd stick the remote down and he'd make his way to it," Brad says. He's also starting to catch onto baby sign language (he understands "milk" and "eat"). And naturally, his dad gave him his first ride on a Caterpillar mini dozer ("Piloting heavy machinery—that's fun for a kid," jokes Brad).
Plus, thanks to his parents' hectic work schedules—Brad, 35, has been crisscrossing the country on his "Bonfires and Amplifiers" tour, and Kimberly, 36, commutes to L.A. to shoot According to Jim—"Huck was in four time zones by the age of 3 months," notes his mom.
But all three of the Paisleys prefer to spend as much time as possible in their new home. Before Huck arrived, "I thought, 'I'm a free spirit—how am I going to give that up?'" says Brad. He confided in his preacher, who told him, "You won't even remember what you gave up—it will be that inconsequential."
Brad smiles. "He's right. The first time you come home and your son sees you and laughs, you forget."
As far as parenting styles go, the couple—who don't have a nanny and who share diaper-changing duties—say they're usually in sync, except for the occasional wardrobe conflict. "We have to compromise on what he wears," says Kimberly, who bought Huck one French outfit with black polka dots and red frills. "Brad made me take that back!" Too "girly."
On one point, there's no dissent: "Both of us are committed to not spoiling him," Brad says. "Everything should be earned and have a purpose." Even the four-bedroom, four-bath design of their home reinforces that pragmatic point of view. "When we have another child, they'll have to share a bathroom," Brad says. Adds Kimberly: "And if we have more than two, they'll share a room." All part of the plan, she says. "It's a big house, but we wanted it to be humble."
So far, Huck seems content with the whole setup, including the company of the couple's Cavalier King Charles spaniel Holler. "Huck's like a happy Buddha," says Kimberly. "He's happy just taking things in."
In fact, the little guy is, on the whole, turning out to be surprisingly fuss-free. "He's easier to handle now," says Brad. "If you put him down with a bucket of toys, he'll amuse himself rather than looking at you for an hour. And that's kind of how it ought to be in life. He'll need to explore a bit, and then if he needs us, we'll be there."
Get the Look
BRAD'S LOG CABIN STYLE
CHANDELIER
Faux 12-antler cascade chandelier by Cast Horn Design, $394.95; blackforestdecor.com
BATHROOM SINK
Handmade whiskey-barrel sink with storage, $1,200; locovaqueros.com
BOOKCASE
Six-shelf E.B. Canoe Bookcase, $1,125; giftedgarden.com
Advertisement
Today's Photos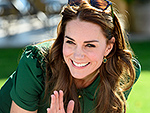 Treat Yourself! 4 Preview Issues
The most buzzed about stars this minute!