People Top 5
LAST UPDATE: Tuesday February 10, 2015 01:10PM EST
PEOPLE Top 5 are the most-viewed stories on the site over the past three days, updated every 60 minutes
Picks and Pans: Movies
'tis the Season to Be ... Bloody! Sweeney Todd




CRITIC'S CHOICE
DRAMA
A brother and sister, having led separate lives for years, suddenly find themselves jointly responsible for their estranged elderly father, who's sinking into dementia. This may sound like the bleakest of premises, but
The Savages
—splendidly acted by a superb cast and subtly written and directed by Tamara Jenkins (
Slums of Beverly Hills
)—is both darkly funny and warmly compassionate. And always, it's very, very human.
Jon Savage (Hoffman) is a drama professor in Buffalo, while younger sister Wendy (Linney) is an aspiring novelist in New York City. When they get a call to come pick up their father (Bosco) in a sunny Arizona retirement village after his longtime girlfriend dies, the two must make some difficult decisions fast. As they cope with placing their dad in a nursing home, Jon and Wendy eventually realize it's time finally to grow up and stop nursing ancient resentments and rivalries.
The movie doesn't prettify the realities of dealing with a parent no longer able to care for himself. But it does manage to capture the fact that, even when life is at its worst, you can still always laugh. And sometimes laughing is all there is to do, as when the father mistakes his new nursing home for a hotel. It's sad and funny, both at the same time, just like this marvelous movie.
Cate Blanchett
, Heath Ledger, Christian Bale, Richard Gere, Michelle Williams | R |




BIO
Throughout his long and successful career (five decades and counting), Bob Dylan has been a chameleon, switching personas and musical styles the way other performers change costumes. He confounded fans by transforming from acoustic folkie to electrified rocker to country singer, and that was just in the 1960s alone. Director-cowriter Todd Haynes (Far from Heaven) tries to pin down who Dylan really is in the fascinating I'm Not There by having six actors portray the musician's different life stages. His Dylans include a black child (Marcus Carl Franklin), Blanchett in drag (her jivey, jittery Dylan is the high point of the film), Bale, Ledger, Gere and Ben Whishaw. But in the end, the troubadour remains as unknowable as ever, which just may be the point.
Mathieu Amalric, Emmanuelle Seigner, Marie-Josée Croze, Max von Sydow | PG-13 |




DRAMA
Jean-Dominique Bauby (Amalric) was a magazine editor and Parisian bon vivant when, at age 43, a massive stroke left him paralyzed. He was able to communicate only by blinking the lid of one eye. In this film based on a memoir he wrote afterward, he struggles to accept his restricted present while remembering his colorful past. Painter-turned-director Julian Schnabel (
Before Night Falls
) is strongest with
Bell's
visuals, evocatively capturing Bauby's newly narrowed view of his visitors and surroundings. The story, while inspiring, plinks at the same strings as other films about overcoming adversity.
The actress and re-gifter (satellite radio, anyone?), 36, unwraps her comedy
This Christmas
.
WHAT DID YOU EAT DURING THE DINNER SCENES? One of those scenes can take an entire day. [Costar] Lauren London and I kept eating corn pudding. Now neither one of us wants to see corn pudding again.
WHAT ARE YOUR HOLIDAY DINNERS LIKE? My sister and I cook. We start the night before, go through two bottles of wine and are up till 2, laughing, cooking and catching up.
DO YOU RE-GIFT LIKE YOUR CHARACTER? If someone else can use a gift more than you can, what's the problem with it?
WHAT'S THE BEST THING YOU'VE RE-GIFTED? A Sirius Satellite Radio. I don't give bad re-gifts.
1 SHE ACES ACCENTS And not just American, though that too counts for this native Australian. Her globe-spanning gab has included English, Irish, Russian and German accents.
2 HER RANGE IS LIMITLESS Equally adept at low comedy (
Bandits
) and high drama (
Babel
), she easily could play either a devil or an angel wearing Prada.
3 OSCAR LOVES HER With one win (for
The Aviator
) and two more nominations, she may yet match Streep's two wins and 12 additional noms.
"I love sharing war stories," says actor-director Favreau, who swapped tales while breaking bread with stars on his TV series
Dinner for Five
, which ran for four years on IFC. Available on DVD Dec. 4 at Amazon.com, Dinner offers Hollywood dish and, in one episode, a few sparks between then-
Daredevil
castmates
Ben Affleck
and
Jennifer Garner
. "I remember my editor asking me, 'Is there anything going on between these two?'" says Favreau. "You could see the chemistry."
• The Oscar nominee, 43, is planning her wedding while her new role generates another round of awards buzz.
ARE YOU OBSESSIVE LIKE YOUR SAVAGES CHARACTER? I can get obsessive about my work. I remember having lots of angst in high school obsessing about others.
CONGRATS ON YOUR ENGAGEMENT TO MARC SCHAUER! ANY WEDDING PLANS YET? It's a very sweet time. We're just figuring out schedules and whether we'll have a wedding or run away and elope.
IT SEEMS LIKE YOUR HAIR COLOR CHANGES WITH EACH NEW ROLE. My mother always gets upset whenever my hair goes dark. She really hates it. And then going from dark to blonde takes a toll. It's amazing that I have a single strand of hair left on my head!
• Let's cut to the chase: One of the holiday's most anticipated films is
Sweeney Todd: The Demon Barber of Fleet Street
. Based on the Broadway musical, it stars
Johnny Depp
as a throat-slitting barber; Helena Bonham Carter plays his partner in crime. Director Tim Burton dished about the film, due out Dec. 21.
JOHNNY HAS NEVER SUNG BEFORE. HOW DID YOU KNOW HE COULD PULL IT OFF? I know him well enough that he just wouldn't say yes if he couldn't do it. But I was pleasantly surprised.
THIS IS YOUR SIXTH FILM WITH HIM. IS THERE ANYTHING HE CAN'T DO? Singing might be his limit. Dancing I'm not so sure about. I've asked him to do a ballet next, and he's not sure about that one. Just kidding!
HOW DID YOU CAST YOUR GIRLFRIEND, HELENA BONHAM CARTER? It's always been a dream of hers. She got more tortured than anybody on this movie, because I didn't want it to come across like, she's my girlfriend so of course she got the job. So I wanted to make sure it was really right, and it was.
SO HOW BLOODY DO THINGS GET ONSCREEN? It's over the top! The character's quite repressed, so it's meant as more of an emotional release than a real thing.
YOU MUST HAVE HAD SO MUCH FUN. Yeah, I like to get in there with my hypodermic needle and squirt. You feel like you're painting.
HOW DID EVERYONE ON SET SHIELD THEMSELVES FROM ALL THE BLOOD? There were all these people in white jumpsuits. It looked like
CSI
!
Philip Seymour Hoffman, Laura Linney, Philip Bosco | R |
Advertisement
Today's Photos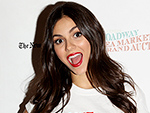 Treat Yourself! 4 Preview Issues
The most buzzed about stars this minute!