People Top 5
LAST UPDATE: Tuesday February 10, 2015 01:10PM EST
PEOPLE Top 5 are the most-viewed stories on the site over the past three days, updated every 60 minutes
The Quaid Twins 'Fighting for Their Lives'
Dennis and Kimberly Quaid Keep Vigil as Their Newborns Struggle to Survive a Devastating Hospital Error That Resulted in an Overdose of Blood Thinner
For Dennis, 53, and Kimberly, 36, it has been one medical nightmare after another. Within a week of being brought home to the Quaids' house in L.A., the twins were hospitalized at Cedars-Sinai due to staph infections—which can occur when common staph bacteria infect the skin, tissue or the bloodstream. At the hospital on Nov. 18, they were allegedly among three patients given 1,000 times the recommended dose of heparin, a drug used to prevent IV catheters from clotting. The dosage was high enough to cause severe bleeding and death if left untreated. (On Nov. 20 a Cedars-Sinai spokeswoman issued a statement apologizing for the "preventable error"; they have since declined further comment.) "The babies are still at the hospital in intensive care," Buffington said on Nov. 27. "We're hoping they get to come home from the hospital, but we don't know how long that will be. Kimberly has gotten to hold them a few times, but they are on monitors and IVs, so it's hard. You have these fragile little kids going through a medical crisis they absolutely did not need to go through."
Also causing concern: the long-term effects to the twins' health may not be known for some time. "They are running all sorts of tests to determine the extent of the damage," says Buffington. "They are trying to understand what it all means."
The dire situation is far different from the joy the Quaids felt when they first learned they were expecting twins. From the start, the babies' very existence has been "a great miracle," as Dennis told PEOPLE in June. Their arrival marked the fulfillment of a long and painful journey: Using their own sperm and eggs, the couple had turned to a third party—a gestational carrier—to carry the babies after Kimberly had suffered five miscarriages in the first two years of their marriage. "I was with her during several of these miscarriages," says Buffington. "She would be so broken for weeks on end because she was losing a part of her."
After "a lot of poking and prodding, a lot of hormones and doctors' appointments and praying," says Buffington, "it became apparent that [pregnancy] wasn't going to work out for [Kimberly]." So the couple retained a gestational carrier, only to have her suffer a miscarriage as well. In the wake of so much heartbreak, Dennis and Kimberly were ecstatic when the pregnancy with Boone and Zoe proved successful. "I'm over the moon," Dennis said in June. "I've wanted more kids [since meeting Kimberly]."
His wife shared the same deep yearning. A former real estate agent, the Austin-reared Kimberly Buffington met Houston native Quaid in 2003 after the two were introduced by a mutual friend at a restaurant in Austin. With their Lone Star roots and a joint passion for the outdoors—they wed at the actor's Montana ranch in 2004—Dennis says he was instantly love struck: "Kimberly is my soulmate."
The new Mrs. Quaid also won approval from 15-year-old Jack, Dennis's son with ex-wife Meg Ryan, 46, with whom he remains on friendly terms. An actor and guitar player like his dad, Jack—who attends high school in Los Angeles and splits his time between his parents—was "thrilled" about the arrival of his new siblings, says Dennis, who hopes to relocate to his wife's hometown with his family when Jack heads off to college in a few years.
For now, though, the new parents are simply doing their best to stay positive while their children fight for survival. "They definitely sound very tired," Kimberly's friend Deedee Woodman says of the Quaids, who have been focusing on the babies and have yet to speak out about their ordeal (nor has there been any public talk of a lawsuit). It's not the first time heparin—commonly used to "flush" IV lines to prevent clots from forming where the tube enters a patient's body—has been involved in hospital error (see box). "Heparin mistakes can be a concern in a hospital that doesn't treat just children" because adult doses are likelier to be on hand and mistakenly administered to kids, says Dr. Christine Ziebold, a clinical assistant professor at the University of Iowa Children's Hospital Division of Infectious Diseases. "Medication error is one of the most common hospital problems," notes Dr. Ziebold. Indeed, there are at least 1.5 million medication errors annually at U.S. hospitals, according to a study by the Institute of Medicine.
Staph infections are also a common ailment among patients. (In 2005 there were 94,000 confirmed life-threatening staph infections.) Buffington says staph was first detected on one of the Quaid twins as a bump near the belly button; the other twin started getting sick soon afterward. "The hospital said, 'This is no big deal, this is a common form of staph and we can knock it out with normal antibiotics,'" says Buffington. Although they are uncertain how the twins contracted the infection in the first place, "most often children acquire staph from their caregivers, from whoever handles them," says Dr. Ziebold. "Staph grows on the skin and often gets transmitted through the hands" through tiny lesions on the infant's skin or through a needle or IV injection site. Or it could have been contracted during birth. Typically such infections are treated with IV antibiotics for an average of 10 days, depending on whether the staph infection has spread to the infant's bloodstream. (That has yet to be determined for the Quaid twins.)
With so much still unknown, the crisis stands in stark contrast to the charmed future the couple had envisioned back in September, when Kimberly had her baby shower in Austin. "They were getting ready for the twins to come," says Woodman. "It was a wonderful time." While the babies' new toys, cribs and blankets go unused in the family's L.A. home, the Quaids are trying to focus on happier times ahead. "We're looking forward to Christmas," says Buffington. "We are going to get an extra big turkey." The twins, he adds, "are strong little fighters. They have beaten the odds to be here, and we're going to do everything we can to make sure they stay here."
Contributors:
Alicia Dennis/Austin,
Howard Breuer/Los Angeles,
Champ Clark/Los Angeles,
Julie Jordan/Los Angeles.
Advertisement
Today's Photos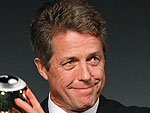 Treat Yourself! 4 Preview Issues
The most buzzed about stars this minute!