People Top 5
LAST UPDATE: Tuesday February 10, 2015 01:10PM EST
PEOPLE Top 5 are the most-viewed stories on the site over the past three days, updated every 60 minutes
Fast Feast
Rachael Ray, Bestselling Author and Lickety-Split Gourmet, Launches a Magazine
Rachael Ray
was working at a gourmet-food store in Albany, N.Y., she noticed that prepared foods sold briskly but the ingredients did not. "I started asking people, 'Why are you willing to pay eight bucks for a pound of lasagna when it costs 20 cents to make?' " she recalls. "Everybody said the same thing: They never learned, they didn't have the time, cooking is too complicated."
Eureka. Ray began offering three-hour classes featuring 30-minute recipes and basic cooking skills. When her classes attracted everyone from Girl Scouts to football players, she landed a local TV gig. Soon after Today called in 2001—"Katie [Couric] wanted to make the turkey chili; I thought it was the coolest day of my life!"—the Food Network offered Ray her own show. And her unpretentious, breezy approach to cooking has been giving reluctant chefs heart—and some serious foodies heartburn—ever since
Today Ray, who describes herself as "grossly underqualified for every job I hold," qualifies as an American phenomenon. In addition to writing cookbooks (her first 11 have sold well over 3.5 million copies), she hosts top-rated shows on the Food Network (30 Minute Meals, $40 a Day, Tasty Travels and Inside Dish), provides the vision for her newly launched bimonthly magazine Every Day with
Rachael Ray
and sells a line of kitchenware. Next fall she'll launch a daytime talk show to be distributed in partnership with
Oprah
Winfrey's production company Harpo. So is she the next Martha Stewart? "It's flattering," says Ray. "But I don't see the similarities."
Like Martha, however, Ray has become big enough to attract critics: One anti-Rachael contingent grouses about her on a Web site, where the group lambastes her "annoying giggles" and her cries of "Delish!" on-air. Ray, 37, is, indeed, recklessly inventive and prone to shortcuts—frequently using boxed stock and frozen vegetables—and she takes nothing for granted, showing viewers how to do even the most basic moves. But shortcuts are a good thing, she says: "This is faster."
On a recent morning, Ray—with a Today shoot and a voice-over session already behind her—is getting ready for a working trip to Las Vegas and Chicago. She's talking on her cell to a DKNY rep who's sending over a selection of clothing. Arriving back home—a cozy Greenwich Village apartment she shares with her husband, entertainment lawyer John Cusimano, 38—she greets her pit bull Isaboo. Although she writes 600 recipes a year, often sleeping only four or five hours a night (Martha Stewart alert!), Ray doesn't seem fatigued. "I've always been a complete junkie for work," she says, "because I'm my mother's child."
Mom Elsa Scuderi, in fact, brought up Ray, Maria, 45, and Manny, 31, in the food business. Formerly the manager of nine restaurants in the Adirondacks region of New York, the divorced Elsa "is the smartest, hardest-working person I've ever come across," Ray says. "My mother didn't like strangers watching her children, so we all were in the restaurants from the time we were born. We did every crap job there was—dishwasher, busgirl."
The hard-work ethic probably has something to do with Ray's lack of pretense. "There's no Rachael on-camera, Rachael off-camera," says Brooke Johnson, president of the Food Network. "She's just got this endless appetite for food, experience and people. People sense that." So much so that strangers feel comfortable approaching her to talk shop and offer recipes. "I've gotten recipes from cabdrivers, sporting-goods salesmen, everybody," says Ray. "I write on my hands all the time."
When she's not working, Ray loves to "sleep and eat and act like a turtle" with Cusimano. Dining out is not her thing. "She doesn't have a lot of patience to sit through a 17-course dinner at a fancy restaurant," he says. Instead, the two cook at home. "Cooking, eating in bed and watching a movie—that's as exciting as it gets around here," he adds.
Watching Ray's shows, however, is considered too exciting. "If she even hears her show on, she screams, 'Turn it off!' " says Cusimano. "I've never watched it, and I never will," says Ray. "If I do, I'm going to become self-conscious and start to care too much about what my hair looks like." And really, what's more important—good hair or a delish recipe for devilish chili cheese dogs? Ray has no doubt: "I'm still a waitress," she says, "trying to serve people what they want."
Jill Smolowe. Liza Hamm in New York City
Back in 1998, when
Advertisement
Today's Photos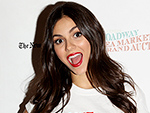 Treat Yourself! 4 Preview Issues
The most buzzed about stars this minute!