People Top 5
LAST UPDATE: Tuesday February 10, 2015 01:10PM EST
PEOPLE Top 5 are the most-viewed stories on the site over the past three days, updated every 60 minutes
Picks and Pans Main: TV
Extras & Ugly Betty's Ashley Jensen
SUNDAY, DEC. 16
SEASON FINALE!
SURVIVOR: CHINA
8 P.M. | CBS
One survivor becomes the $1 million winner, then reunites with the other contestants to reminisce fondly about the glories of backstabbing. The show is back Feb. 7 with a destination yet to be announced.
SEASON FINALE!
DEXTER
9 P.M. | SHOWTIME
Time for one last tango between winsome killer Dexter Morgan (Michael C. Hall) and dark lady Lila (Jaime Murray). She gets that he's into serial murder—what drives her crazy is he's just not that into her.
MONDAY, DEC. 17
FOUR-NIGHT EVENT!
CLASH OF THE CHOIRS
8 P.M. | NBC
Patti LaBelle (left),
Nick Lachey
, Michael Bolton, Kelly Rowland and Blake Shelton each lead an amateur choir from their hometowns in a big live sing-off. That title, though, is probably a little more violent than it needs to be.
DUEL
8 P.M. | ABC
A high-stakes trivia challenge—with a $1.5 million prize at the end—that airs over six nights, through Dec. 23. ESPN's Mike Greenberg is the host.
TUESDAY, DEC. 18
BONES
8 P.M. | FOX
Dr. Brennan's new murder mystery inspires a copycat killer, which means we get to see star Emily Deschanel—as delicately chilly as a snowflake—flutter and melt with concern. Agents Booth and Sully (David Boreanaz and Eddie McClintock) are keen to protect her.
WEDNESDAY, DEC. 19
CRIMINAL MINDS
9 P.M. | CBS
Joe Mantegna's daughter Gina turns up in a guest role on Dad's Top 10 investigative thriller: She plays one of two California teens abducted by.... What is it with TV shows and serial killers anyway? One kid is murdered, and the life of the other hangs in the balance.
FRIDAY, DEC. 21
A HOME FOR THE HOLIDAYS
8 P.M. | CBS
Sheryl Crow
—who became a first-time mom in May when she adopted a newborn boy named Wyatt—is one of the celebrities performing on this inspirational special that highlights real stories of adoption.
E!, Sundays, 10:30 p.m. ET |




NEW SERIES!
REALITY
"This ain't the Huxtables," Snoop Dogg raps in his new reality show. In fact, it's hard to tell
Father Hood
apart from any old family sitcom. Dogg plays soccer with his three kids, tries to get his cholesterol down, vacuums to chill out and scores a cameo from
David Beckham
. What makes the experience a little odd is that Dogg is so laconic and deadpan: He floats through his hectic household like a benign poltergeist. You miss Ozzy Osbourne's pep and bounce.
ABC, Dec. 23, 7 p.m. ET |




FAMILY
Muppets bring out the inner kid in everyone, stars included. This holiday special—Elmo is afraid Santa won't come—strings together playful sing-alongs with Jamie Foxx,
Anne Hathaway
and Jennifer Hudson. The phrase "wreathed in smiles" comes to mind.
HBO, Dec. 16, 9 p.m. ET




COMEDY
One of the best TV satires ever on the rich subject of show-business ego, Ricky Gervais's series about the rise and stall of a British actor wraps with a 90-minute special. Disgusted with his success in a sitcom despised by critics and other actors—Kathy Griffin would feel like
Angelina Jolie
if she spent any time observing his life—Andy Millman hires a new agent to search out classy projects. When the agent recommends instead that he be seen out at clubs partying with eye candy, Andy balks. AGENT: "Do you want to be on the B-list or not?" ANDY: "Yes, but not the hepatitis B-list." This bitter-funny finale boasts the usual cameos by stars having a ball behaving badly. But the whole thing wimps out with a moral uptick that feels smug. Self-loathing and self-love aren't so far apart.
HOT ONLINE SERIES!
Marshall Herskovitz and Edward Zwick, the minds behind
thirtysomething
and the teen classic
My So-Called Life
, address the age group sandwiched between those shows with this online series (www.quarterlife.com), which has been acquired by NBC to be developed for prime time. It's about a small group of friends, not long out of college, trying to launch careers and form the sort of links that take you to another person's heart and not just their Web page. It's not very original—closer to
October Road
than Facebook—but I like the low-tech look and the simple, slow-pulsed pace of the brief chapters.
Quarterlife's
chief problem is the whiny tremulousness of its central consciousness, a blogger named Dylan (Bitsie Tulloch). She seems to have grown up begging for second helpings of gruel.
• The Scottish actress dishes on working on two hit shows, her unusual fashion choices and playing second fiddle to a feline.
EVER BEEN AN EXTRA? In my first TV role, I played "the girl in the betting shop." The character didn't even have a name! There was a Persian cat, and I know it got paid more than I did. Depressing!
AND NOW YOU'RE ON TWO SHOWS. People say, "I love your show!" And I'm thinking, "I don't want to sound arrogant and ask, 'Which one?'" So I wait to hear if they say, "Ricky Gervais is hilarious," or "
Ugly Betty
is so funny!"
YOUR COSTUMES ARE GREAT! ARE YOU FASHION CONSCIOUS? I am, but I've had a few misses. As a teenager in a small Scottish town, I used to wear anything that attracted attention, like shoes that were two sizes too big, just because I liked them. The extreme was a kettle for a handbag! And I used to be anal about doing things like matching my underwear to [my outfits]. But I've kind of loosened up a bit!
What's On This Week
Advertisement
Today's Photos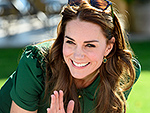 Treat Yourself! 4 Preview Issues
The most buzzed about stars this minute!