People Top 5
LAST UPDATE: Tuesday February 10, 2015 01:10PM EST
PEOPLE Top 5 are the most-viewed stories on the site over the past three days, updated every 60 minutes
Emme's Cancer Battle: 'I Needed to Be Strong'
The Plus-Size Model Opens Up About Her Tough 2007, in Which She Was Diagnosed with Hodgkin's Disease and Split from Her Husband
Sopranos
extras, she said, "Excuse me, gentlemen, but I have an event to get to in an hour and my hair is falling out." Then, pointing to the barber's closely shorn head, she added, "I like your haircut. Would you please give me that?" The barber was stunned. "All of it?" he asked. "Yes," Aronson replied. "All of it!"
The new, super-short hairdo she has sported since then is the least of the changes Aronson, 44, has learned to embrace this past year. Diagnosed last May with stage 2A Hodgkin's disease—a form of lymphoma that is often curable with chemotherapy and radiation—the model soon adopted a holistic lifestyle replete with daily juicing, aromatherapy and a raw foods diet (see box). Then, in early fall, she separated from her husband of 18 years, Phil Aronson, 45, whom she famously helped through a more than two-year battle with depression that included a suicide attempt. Reflecting on these upheavals—and her new life as single mom to daughter Toby, 6—while sitting by the fireplace in her Dutch colonial home, Aronson runs her fingers through her platinum-blonde tufts of hair. "The most important thing I've learned," she says, "is no matter what life throws at you, you can handle it."
Aronson's health problems began in 2003, when she developed a persistent cough and itching so severe it "felt like ants were crawling inside my skin," she says. A pulmonary doctor told her she had asthma, and a dermatologist said it was changing hormones—but her symptoms only grew worse, and by early 2007, "even breathing was becoming a problem," says Aronson. A one-time championship rower, she'd go to spinning class and "all I could think was, 'I just want to go sleep in the corner.' I had no energy whatsoever." Adds longtime friend Amy Fierro: "I'll never forget the day she stood before me and pointed to her chest and said, 'I feel like there is something right in here.' Sure enough, that is exactly where the tumor turned out to be."
When doctors did finally diagnose Hodgkin's, "I was relieved because it confirmed something was really going on. And I was relieved it was treatable," Aronson says. "But I was also really, seriously scared." Compounding her fear was her family history: At only 16, she lost her mother, Sally, then 39, to lung, breast and bone cancer. "I was going to a place my mom had gone," Aronson explains. "And she died."
For the next three days, Aronson kept her diagnosis to herself. She didn't even tell Phil because the couple were about to appear on
Oprah
to promote their book about his depression, Morning Has Broken, and "I didn't want him to feel stressed," she says. "I waited until we were flying home."
Breaking the news to Toby was just as hard. "I needed to be strong for my daughter," Aronson says—but in the end it was Toby, then 5, who helped her mom most. A few days after learning of the cancer, Toby set up a surprise. "She had made a foot bath in our large mixing bowl with Epsom salts and lavender essential oil," Aronson recalls, her voice breaking. "She wanted so badly to give me something nice. Slowly and sweetly she washed my feet with her little hands. And she said, 'Mommy, you are going to be okay. We are going to get through this.'"
Aronson had surgery soon after, during which "they took out 20 huge globs of stuff. One lymph node had a mass the size of a banana." Nearly three months of chemo every two weeks followed, with Emme showing up each time with a different friend ("I had 12 'chemo buddies,'" she says) and
Christina Aguilera
blasting on her iPod. "I'd play her song 'Makes Me Wanna Pray' so friggin' loud, the whole room could hear it!"
Not that anyone complained. "Her positive attitude was infectious," says Aronson's oncologist, Dr. Gregory Mears. "One patient in particular who struggled with anxiety had an amazing response to Emme when she treated him to her aromatherapy."
Although she experienced a few "rough" days, "chemo was like a re-birthing every single time," Aronson says. "I'd go into a shell and be alone and still. There was this constant inner reflection. You get down to brass tacks and start thinking about what matters and what's important. Was I happy?"
The answer turned out to be no—and in October she and Phil quietly separated; they are in the process of filing for divorce. "We've just grown in different directions," she says. Adds Phil, who was his wife's manager and recently cofounded a business dealing with depression in the workplace: "I am thankful for 18 wonderful years with Emme. We're both moving forward."
For Aronson—whose doctor declared her cancer-free in November—that means balancing motherhood while also designing a plus-size clothing line; running her Web site, emmestyle.com; and hitting the lecture circuit to talk about women's health issues. As for dating, "I'm not thinking about that right now," she says—although her good friend, talk show host Montel Williams, thinks Aronson will do just fine when she's ready. "She came to our Christmas party and she looks so hot with short hair, one guy almost dropped his glass," Williams says, adding that Aronson remains "upbeat and positive."
That was certainly true over New Year's, when Aronson took Toby on vacation to Puerto Rico. One afternoon she went for an ocean swim, and as she stared out at the water and sky, "I said to myself, 'This is what it's like to be alive,'" she recalls. "Then I leaned back and yelled out, 'YEEEHAWWWW!!'"
As the world's first plus-size supermodel, Emme Aronson is used to turning heads—but never quite so much as the evening last July when she strutted into Dominick's, a barbershop near her northern New Jersey home. Elbowing her way past a line of goodfellas who looked like they could have been
Advertisement
Today's Photos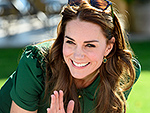 Treat Yourself! 4 Preview Issues
The most buzzed about stars this minute!