People Top 5
LAST UPDATE: Tuesday February 10, 2015 01:10PM EST
PEOPLE Top 5 are the most-viewed stories on the site over the past three days, updated every 60 minutes
Heath and Michelle a Fairy Tale Gone Wrong
He Was a Great Actor and a Doting Father. But in His Final Days Heath Ledger Also Struggled with Drugs and Demons—Which Ultimately Tore Apart the Family That Might Have Saved Him
That sweet life is gone now—replaced by mourners and paparazzi crowding the sidewalk outside the place they once called home. A day after the mysterious death of 28-year-old Heath Ledger on Jan. 22, a distraught Williams—who split from the actor late last year—and her daughter made the sad trip back to Brooklyn. There, Williams, 27, was comforted by her mother, Carla, and other supporters, who tried to shield her from photographers and shuttled in deliveries of food. On Jan. 28 Williams joined Ledger's family, in from Australia, and his former girlfriend, the actress
Naomi Watts
, at a private memorial service in Los Angeles. The service was a prelude to Ledger's funeral, set for early February in his native Perth. "You can't even imagine what Michelle is going through ... she is so heartbroken," says a Williams pal. "It's one thing to lose someone so close to her, but the fact that she lost Matilda's father is crushing. Her family is getting her through this."
Investigators are still awaiting the results of toxicology tests that should show if any of the prescription sleeping aids and antianxiety pills found in Ledger's apartment were a factor in his death. But many who spent time with him in the last months of his life paint a portrait of man whose demons drove him away from the family he loved and into a lonely, nomadic life of insomnia, casual affairs and, according to several sources, serious drug use. These sources tell PEOPLE Ledger was known to use cocaine, and that his behavior ultimately destroyed his relationship with Williams. "Heath's drug use was something that affected them profoundly," says a source close to Williams. "Michelle didn't want their daughter around that. She was very clear that Heath loved his daughter and was a good father." But "she couldn't always rely on him." This conflict over his drug use and its effect on his relationship with his family, says another source, had left Ledger distraught and physically "a mess."
When the couple met on the Calgary set of 2005's
Brokeback Mountain
—Ledger played a closeted gay cowboy and Williams his suffering wife—few would have predicted their relationship would end in such anguish. Strong-willed even as a young teen actress—she filed for emancipation from her parents when she was 15 so she could work longer hours—Williams bonded with Ledger during an early scene in which they crashed while tobogganing down a hill. Williams tore a ligament in her knee, an injury Ledger blamed on himself. After that, "their love just blossomed," says one source. The couple played cards and dined together in their trailers, and Ledger loaded up Williams' iPod with music from his laptop; on days off they swam together at the hotel pool and dined out at local spots. After difficult, emotional scenes, "Heath would wrap her in his arms and say, 'I'm sorry I was rough on you,'" says the source. "He was just very protective."
Soon after filming finished, Williams was pregnant; Matilda was born just before
Brokeback
opened. Rather than set up house in Hollywood, they instead settled in Brooklyn. Ledger raked leaves with neighbors and skateboarded around town in his familiar pink ski hat; Williams shopped for art for Matilda's nursery and threw fund-raisers for a local antidevelopment group. "When Michelle is working, I'm the manny, and when I'm working, she's the nanny," Ledger cheerfully explained in 2006. His family, a blissful Ledger said that year, is "everything to me—the most important thing I do. Before, I felt like I was floating through life, like a ghost; I may not have even existed."
But by early 2006—just as
Brokeback
was being feted during awards season—the relationship seemed strained. "Things had obviously changed," says a source who saw them around that time when they stayed at L.A.'s Chateau Marmont. "They would come out to the patio early in the evening and sit together. Michelle was very attentive to Matilda and Heath seemed distant. He looked fidgety and just didn't seem part of the family. It was as if they were in different worlds." Later, says the source, Williams "would go into the room with the baby. Heath would stay in the garden and lobby for hours."
During those late nights, say sources, Ledger often used cocaine, and his partying became an issue in the relationship. "In the end, there were too many differences," says a friend of the couple's. "She kind of turned her head to those at the beginning, but when Matilda was born was really when she started to reevaluate things." Another friend says the couple wanted to stay together but couldn't find a way to make it work. "I don't think they fell out of love; it was probably tough love on Michelle's part," says the friend. "She was doing what she had to do."
After the split, Williams stayed in Brooklyn while Ledger moved into a $23,000-a-month loft in Manhattan. Initially the breakup was amicable, and they worked out a custody agreement for Matilda. But away from his family, Ledger delved deeper into the party scene, hanging out with
Lindsay Lohan
, model Helena Christensen and
Mary-Kate
Olsen (see box).
But he also doted on his young daughter and reveled in the time they spent together. "She was always on his shoulders," says Michelle Vella, a SoHo designer who has worked with the couple. "You don't see men acting so comfortably with their kids. It was amazing." In the weeks before his death, Ledger furnished a bedroom in his loft that looked like Matilda's room in Brooklyn. She had just grown too big for a crib, so he picked out a toddler bed for her and just before Christmas bought her a big stuffed sheep "so she could lie on it while she watched TV," says Vella. "They came in and bought it together. Matilda picked it out."
Still, Ledger was upset that he didn't get to spend the holidays with his daughter; Williams took her to Sweden, where she was filming a movie, and Ledger flew back to Perth to spend Christmas with his family. After that, Ledger—who had just wrapped an intense role as the Joker in the Batman epic
The Dark Knight
—returned to London to begin work on another movie,
The Imaginarium of Dr. Parnassus
. On Jan. 19, three days before his death, Ledger finished a string of 15-hour days of filming in London. "We all caught colds because we were shooting outside on horrible, damp nights," says his costar, the veteran actor Christopher Plummer. "I think Heath had walking pneumonia." What's more, recalls Plummer, "he was saying all the time, 'Dammit, I can't sleep,' and he was taking all these pills."
When filming wrapped, Ledger flew back to New York. In the 48 hours leading up to his death, he was spotted buying coffee in two of his regular haunts and walking around the neighborhood with his iPod on. He spoke with and made plans to meet friends, including Christensen and Deepak Chopra. "He was a little depressed about not having seen his daughter over the holidays," says Chopra. "He said, 'I'm missing my girl, that's all.' And he mentioned that he hadn't slept and was exhausted."
Worn out from filming and flying and seriously sleep-deprived, Ledger crashed in his bed sometime late on Jan. 21 or early Jan. 22. He never woke up. News of his death reached Williams on the set of her movie
Mammoth
in Trollhättan, Sweden, late on Jan. 22; the director and other crew members sat with her through the night and helped her catch an early flight to New York the next day. Until Ledger's death, Williams seemed to be coping well with their breakup; she had briefly dated director Phil Morrison, and according to sources has lately been seeing
Ryan Gosling
, her costar in a still-to-be-shot indie movie,
Blue Valentine
. "She didn't seem devastated over the breakup," says one friend. "She was going about her business and career. She is sweet and delicate but also strong, like a steel magnolia."
She will have to be, now that she and Matilda are on their own. "Michelle will survive," says the friend. "She has to for her daughter's sake." What makes her pain and sorrow even harder to bear, says the friend, is that Michelle never truly got over her feelings for Heath. "Michelle still loves him. They genuinely loved each other. They loved the life they had together. They were kindred spirits."
Contributors:
K.C. Baker/New York City,
Kathy Ehrich Dowd/New York City,
Lesley Messer/New York City,
Beth Perry/New York City,
Ryan Pienciak/New York City,
Alyssa Shelasky/New York City,
Jeff Slonim/New York City,
Natasha Stoynoff/New York City,
Johnny Dodd/Los Angele.
Advertisement
Today's Photos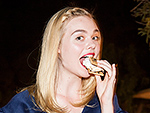 Treat Yourself! 4 Preview Issues
The most buzzed about stars this minute!