People Top 5
LAST UPDATE: Tuesday February 10, 2015 01:10PM EST
PEOPLE Top 5 are the most-viewed stories on the site over the past three days, updated every 60 minutes
Picks and Pans Main: TV
Summer Glau the New Terminator
SUNDAY, FEB. 17
BROTHERS & SISTERS
10 P.M. | ABC
Nora (Sally Field) is let down by Isaac (Danny Glover). He's a political consultant. She's shocked?
KNIGHT RIDER
9 P.M. | NBC
Two-hour retooling of the '80s hit about KITT, the supersmart car, now voiced by Val Kilmer.
MONDAY, FEB. 18
PUSSYCAT DOLLS PRESENT: GIRLICIOUS
9 P.M. | CW
New reality show in search of three sexy girls to form a singing group.
PRISON BREAK
8 P.M. | FOX
Season ender. Michael (Wentworth Miller) has escaped, but someone still behind bars pays.
MY DAD IS BETTER THAN YOUR DAD
8 P.M. | NBC
It's mano-a-mano, papa-a-papa on Mark Burnett's reality contest. Premiere.
TUESDAY, FEB. 19
NIP/TUCK
10 P.M. | FX
Season 5, which found Dr. Troy (Julian McMahon) flopping after a move to L.A., ends in calamity.
WEDNESDAY, FEB. 20
MYTHBUSTERS
9 P.M. | DISCOVERY
The 100th episode tests the ingenious stunts of TV hero
MacGyver
.
COMPANY
CHECK LOCAL LISTINGS | PBS
Sondheim: Brilliant songs and no demon barbers!
FRIDAY, FEB. 22
AMNE$IA
9 P.M. | NBC
Dennis Miller quizzes players about trivia from their lives. Possibly like Moment of Truth minus the shame.
America's Next Top Model
CW, Feb. 20, 8 p.m. ET
Launching its 10th season,
Tyra Banks
's
Top Model
does not disappoint. A winningly silly free-for-all of catfights, fashion and camp, it makes
Project Runway
look like an academic conference. But there are a couple of significant developments: Twiggy is gone from the judges' panel. Replacing her, model Paulina Porizkova sweeps in imperiously and makes merciless assessments of the girls. (She thaws later.) And one contestant, Fatima, has a heartbreaking history: As a child in Somalia, she was genitally mutilated. However, she's as high-handed a diva as any of 'em.
MTV, Thursdays, 10 p.m. ET |




REALITY
Don't expect Mr. Jackson on camera much. He's busy lending his laid-back dawgedness to
American Idol
. His name is in the title here because he's executive producer—and he's done a nice job.
Dance Crew
, hosted by Mario Lopez and with a sympathetic panel of judges that includes J.C. Chasez, is a competition for dance teams who blend all sorts of styles, hip-hop included. The choreography is loose yet intricate, with the performers massing and breaking up with fluid speed. (I attempted to duplicate these steps at home with my cats—the dancers' ease is deceptive.) On the premiere, the most impressive group was Boston-based Status Quo doing a riff on Michael Jackson Thriller zombies. Excellent music, too.
A few episodes into the new season,
Lost
has made it clear that the much-anticipated rescue party is no party at all. The most intriguingly off-kilter of the new arrivals, stumbling around in the jungle after parachuting down from a chopper, is Daniel Faraday, played by Jeremy Davies. The actor, probably best known from
Saving Private Ryan
, has a shifty, squirmy quality that could be runty cunning or just plain shyness—it's hard to decide from one moment to the next whether he's creepy or maybe endearing. Is he a killer? A feckless loser? He's absolutely perfect for
Lost
.
The mother of four—Leo, 4, Beau, 3, and 6-week-old twins Willem and Jesse—pages Jo Frost for help on the ABC series' Feb. 20 episode.
WHY THE PARENTING STRESS? I never adopted a schedule, and having boys was an awakening—the toddlers' energy level is outrageous. I took it as a hint we needed help when our neighbor said, "
Supernanny
is having a casting call and I wondered if you would be interested—no offense!"
WHAT DID YOU LEARN? Mainly getting organized. Jo's pointers helped tremendously when it came time for scheduling naps, playtime, eating and disciplining. They are still acting out, but the difference now is in the way we deal with it.
HAVE THE KIDS BROUGHT YOU CLOSER TO YOUR DAD, BEACH BOY BRIAN WILSON? He invited us over for Christmas Eve dinner. He got to meet the kids. It was just great, really healing.
HE'S COMING TO CBS!
1. IT'S READY FOR PRIME TIME! Showtime viewers have already seen two chilling seasons of this series about a Miami serial killer who preys on other serial killers. Now season 1 begins airing on CBS Feb. 17. Some of the bad words will be edited out, but nothing can diminish this macabre masterpiece.
2. THE IRRESISTIBLE CONCEPT and the twisting, addictive story line. In the first season,
Dexter
goes looking for the "Ice Truck Killer" and keeps his hobby a secret while romancing a nice single mom.
3. MICHAEL C. HALL As Dexter he's sexy. He's sinister. He's strangely sympathetic. And he's putting the bad guys six feet under (usually in several pieces).
Glau, 26, is all geared up about playing a good android on FOX's
Terminator: The Sarah Connor Chronicles
.
YOU DON'T LOOK LETHALLY STRONG. I danced full time, but then I got hurt so I changed to acting. I never imagined doing heavy action roles but I'm loving it! I get teased, though. The first thing my sister said when I was cast was, "Now you've got to come up with a bad-ass catchphrase!"
HOW DID YOU PREP? Terminator boot camp! It's not what people think. [I learned] how to move without having any human tics and tendencies. For me, [the challenge] was sitting down but never crossing my legs or arms. Never adjusting my clothes. A Terminator just wouldn't. We also went to the shooting range.
ARE YOU A GUNSLINGER YET? I'm pretty good! I bought some books [beforehand], because I didn't want the prop guys to think I was just a stupid girl who didn't know how to use [guns]. They're complicated!
What's On This Week
Advertisement
Today's Photos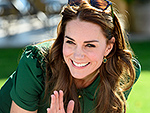 Treat Yourself! 4 Preview Issues
The most buzzed about stars this minute!