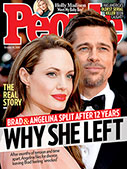 This Week's Issue!
People Top 5
LAST UPDATE: Tuesday February 10, 2015 01:10PM EST
PEOPLE Top 5 are the most-viewed stories on the site over the past three days, updated every 60 minutes
Loving Teeba
A photo of an injured Iraqi girl pierced a couple's heart – now they're raising Teeba until her treatment is complete


Now, a year and a half later, 6-year-old Teeba Furat Fadhil darts around Barbara's suburban Cleveland home on a frigid Tuesday night as Marlowe prepares a roasted-chicken dinner. "I want to help!" shouts Teeba as Marlowe's husband, Tim, sets the table. The scene has become a nightly ritual since Teeba arrived last July with the help of an international aid organization; the plan is for her to stay with the Marlowes for two years while she undergoes a series of reconstructive surgeries. With each passing day, the girl who arrived a shy stranger feels more at home—sleeping alone in her four-poster bed, playing with her Barbie Townhouse and greeting Barbara with hugs and kisses each morning. "I love America," Teeba says. "I love Mama Barbara and Papa Tim." For Barbara, 54—who never had children of her own—the sight of Teeba's tiny fingerprints on the windows and her crayons scattered about Marlowe's once-perfectly-tidy home are the marks of a good deed that has, unexpectedly, yielded a joyous new life. "Tim and I only wanted to help," says Barbara, her eyes filling with tears. "We never expected we'd fall in love."

Now the Marlowes' days have taken on the rhythms of a busy 6-year-old. Barbara, a part-time business-development manager for a construction company, shuttles Teeba to school, arranges for playdates with a neighborhood boy and takes Teeba shopping for jeans and dresses. Tim, 65, who owns a residential cleaning business, watches Teeba at karate, treats her to french fries at McDonald's and is teaching her to play a miniature piano he bought. For her sixth birthday, earlier this month, the Marlowes threw her three parties: one at school, one at home and one at a bowling alley. Every night all three say prayers at Teeba's bedside before turning off the light. Says Tim: "She's very easy to love."

Her care is not as simple. Every week Barbara takes Teeba to Rainbow Babies & Children's Hospital, where her surgeon Dr. Arun Gosain checks the expanders: saline-filled balloons implanted in her neck and back. They will stretch the little girl's skin in preparation for the first of three grafts, a five-hour operation scheduled for late April. Teeba never complains. "I am not going back to Iraq until I have my surgeries," she declares.

That she's even here is something of a miracle. For in September 2003, near Baghdad, insurgents set off a makeshift bomb that instantly killed Teeba's 3-year-old brother Yousef and covered the hands and head of 19-month-old Teeba with second-degree burns. Doctors didn't expect her to live; she spent 40 days in the hospital. Afterward she became withdrawn as she endured insults and stares from onlookers. "Other kids would call me scary," Teeba told Barbara. Or as her grandmother told Barbara: "Even adults used to ask her parents, 'Can't you do something with her face?'"

Barbara's irresistible need to do something, anything, for the little girl changed both of their lives forever. Divorced, she'd married Tim in 1988; the two enjoyed dinners out with friends and impromptu trips to Hilton Head Island. Barbara was also an active volunteer, though she avoided charities involving children, because, she says, "I always wanted kids of my own and it could set me off crying." Still, less than a day after seeing Teeba's picture in the newspaper in July 2006, Barbara found herself picking up the phone and calling the head of pediatrics at Rainbow, asking if they could help the child on page A3 of the Sunday edition of the Plain Dealer. That same day, she tracked down the reporter in Baghdad who had first written about Teeba and asked him to contact her family; Barbara then followed up with the Palestine Children's Relief Fund in Kent, Ohio, which helped secure Teeba's travel documents. "After several calls Teeba's family realized Barbara was serious," recalls Steve Sosebee, president of the relief group.

Last June, after several months of phone calls and prayers, Barbara's cell phone rang with the long-awaited news: Teeba had been granted a medical visa. "I just dropped to my knees and started crying," Barbara recalls. Two weeks later—exactly one year after the article was published—as Barbara stood waiting with a cuddly teddy bear, Teeba walked through the gate at Cleveland Hopkins International Airport, accompanied by her grandmother Amal Hadi Jabbar, 52, and wearing a white sun hat to cover her scarred head. "She was very quiet," recalls Marlowe family friend Carla Longano. "She couldn't speak any English and was very, very introverted."

That didn't last long. First, Barbara took Teeba for a swim in the neighborhood pool. Then the cheerleading team from nearby West Geauga Middle School welcomed the little girl with a child-size cheerleader uniform and pom-poms. And thanks to Barbara's network of friends and business contacts, a local charity, Wigs for Kids, fit Teeba with her own wig. "At first she really wanted a short blonde one," Barbara laughs. "But we settled on light brown."

Initially Teeba and her grandmother stayed at Cleveland's Ronald McDonald House, visiting the Marlowes on the weekends. In time Tim—who already had three grown children from a first marriage—realized that Teeba needed a family environment. He suggested to Barbara that the child and her grandmother move in with them. "We certainly didn't know what we were getting into when we started this," he says. By Thanksgiving Amal Hadi Jabbar, who had never lived apart from her husband, had grown homesick and decided to return to the Diyala province of Iraq, leaving Teeba in the Marlowes' care. Armed with an Arabic-English dictionary, Barbara took on child-rearing duties with a passion. "Caring for Teeba is filling a void that perhaps Barbara never realized she had," says friend Loree Vick. "But now that it's here, she is fully embracing it."

And Teeba is embracing her American life. She still loves pita bread; only now it's stuffed with spaghetti. She also enjoys going for manicures with Barbara—something Barbara encourages to boost the little girl's confidence, along with taking her to a counselor and telling her to dream big. Teeba is responding: "I want to be a doctor." Her English gets better by the day. But her Arabic is slipping, something that at times makes her reluctant to speak with her parents when they call each week. "I miss her a lot and cry often," says Teeba's mother, Dunia Amir Khalaf, 27, through a translator. "Teeba's [two] younger siblings have already forgotten what she looks like. But we know this is in Teeba's best interest. Without surgery, she would have no future. People in Iraq are not very accepting of physical deformity. We trust Barbara and Tim and believe they are her parents now."

As for the Marlowes, they have already started Teeba's education fund and would love to continue to raise her. For now, they're focused on helping the child through the next two years of surgeries, which doctors hope will smooth out the bumpy scars on her face; her hair will never grow back. And how will they deal with the pain of saying goodbye, if and when the time comes? "I take it one day at a time," Marlowe says. "I have friends who question my sanity. They're afraid I'm going to get hurt. If Teeba has to go back, we will let her, and we will be absolutely devastated. But I feel the commitment I've made to this child is right. I feel it deep in my soul. It's the right thing to do."

Know a hero? Send suggestions to HEROESAMONGUS@PEOPLEMAG.COM For more information, go to www.people.com/magazine


Advertisement
Treat Yourself! 4 Preview Issues
The most buzzed about stars this minute!