People Top 5
LAST UPDATE: Tuesday February 10, 2015 01:10PM EST
PEOPLE Top 5 are the most-viewed stories on the site over the past three days, updated every 60 minutes
Picks and Pans Main: TV
Three Reasons I Love ... The New Adventures of Old Christine
SUNDAY, FEB. 10
THE GRAMMY AWARDS
8 P.M. | CBS
Beyoncé and
Carrie Underwood
perform at the 50th annual event. Top nominee:
Kanye West
, up for eight.
MONDAY, FEB. 11
NOTES FROM THE UNDERBELLY
9:31 P.M. | ABC
The underbelly sends up a more urgent message: Baby finally arrives for Lauren (Jennifer Westfeldt).
TUESDAY, FEB. 12
BIG BROTHER 9
9 P.M. | CBS
The latest houseful of louses—and the reality show's first edition not to premiere in the summer. Julie Chen's the host.
AMERICAN IDOL
8 P.M. | FOX
National auditions done and the crazies gone, the contest heats up with the Hollywood round to pick the final 24. Two hours.
THURSDAY, FEB. 14
NAACP IMAGE AWARDS
8 P.M. | FOX
Will Smith is up for an acting award for the sci-fi hit
I Am Legend
. Special honors go to Stevie Wonder and Aretha Franklin.
FRIDAY, FEB. 15
CELINE DION: THAT'S JUST THE WOMAN IN ME
9 P.M. | CBS
As opposed to what—her inner hobbit? The great pop diva in an hour-long concert special filmed in L.A.
CBS, Feb. 12, 10 p.m. ET |




DRAMA
Jericho's second season serves as a tribute to the rugged individualism and other values—including a genius for publicity—that sprout up like golden corn across our land. The show, a postapocalyptic fantasy about a Kansas town toughing it out after the country is wrecked by nuclear bombs, was canceled last spring due to weak ratings. Outraged fans protested by shipping CBS millions of peanuts. (The show had quoted Gen. Anthony McAuliffe's famous non-surrender to the Germans: "Nuts!") Now the fans have Jericho back for seven episodes. To be honest, I was never going to mourn this new-millennial western, and season 2's first episodes don't grab me, either, with their dusty evocation of modern frontier grit. Meanwhile, sinister forces are reshaping the former U.S.A. into regional powers. A new President visits, and he's just another telegenic politico, a damply good-looking zero in a suit. What good's an apocalypse? But it does a heart good to see viewers' clout: Jericho deserves a place in TV history.
HBO, weeknights, 9:30 p.m. ET |




DRAMA
If a show filled with psychotherapeutic talk seems quaint in the age of Prozac,
In Treatment
at least takes a new dramatic approach: Airing five half-hour episodes a week, it's sort of a Freudian soap opera. Mondays through Thursdays are the regularly scheduled sessions of five patients (one couple) meeting with therapist Paul Weston (Gabriel Byrne). Fridays he vents to the woman who trained him, Gina Toll (Diane Wiest). Paul is in crisis: He seems to be falling in love with one of those patients, a husky-voiced anesthesiologist (Melissa George) who's at her most seductive when sobbing in rage. Untransfer that! The entire show rides on Byrne's stooped shoulders: He gives us the moldering, smoldering discontent of a man longing to make a break with his unhappiness. It's a performance that's powerfully—yep—complex.
FOX, Wednesdays, 9 p.m. ET |




TOM'S TEST
REALITY
To review the new hit show, I hooked myself to a lie detector. As you can see from the results below, I tried to fool it—and I failed.
• IS THIS BEST SHOW EVER?
Yes, yes, yes! Did I say yes? Yes!
That answer is ... FALSE.
• WOULD YOU AGREE THAT, FOR A SHOW MEANT TO BE NAIL-BITINGLY TENSE, THE HOUR IS KIND OF DRAGGY?
No! Time takes wing like a starling!
That answer is ... FALSE, and possibly sarcastic.
• LOOK, WOULD YOU BE HAPPIER WATCHING THE PRICE IS RIGHT INSTEAD?
Yes. I refuse to be caught up in Moment's gimmicky sensationalism.
That answer is ... BALONEY.
The ex-
Six Feet Under
actor, 33, just joined the force on NBC's
Law & Order
YOU'VE PLAYED SOME SCARY GUYS, LIKE SIX'S BILLY. EVER DREAM YOU'D JOIN THE POLICE? There was a time when I wished people took me as somebody with the weight necessary to play a role like
Law & Order
. I was this scrawny little kid, and nobody took me seriously—so, I fantasized about playing a detective.
ANY HAZING? Jesse L. Martin and S. Epatha Merkerson were very welcoming. They never made me roll in feathers, but they did buy a glass of wine or two.
ARE YOU LEARNING TO THINK LIKE A COP? My girlfriend [Addie Lane] brought home a thousand-piece jigsaw puzzle the other day. So that's been getting me into the inside aspect of solving things.
EVER WALK OFF SET WEARING YOUR GUN? No, but the show gave me an NYPD hat, and I walked through Washington Square Park where the drug dealers are. People take this hat seriously—they sure did scurry.
1. Because it's a vehicle for Julia Louis-Dreyfus, back with new episodes of the underrated CBS sitcom about a divorced, middle-aged mom. Her timing, honed on Seinfeld, is sharply graceful, and her smile has a surprisingly ingratiating hint of mockery. She's cute, not sweet.
2. Because the show doesn't try to be
Seinfeld
. Instead it takes the saner path of trying to be, perhaps, a woman's Newhart: Nicely crafted jokes delivered by a flawless ensemble (notably Wanda Sykes).
3. Because Christine is pestered by so many small, realistic insecurities—social, romantic, parental. I love Tina Fey's dynamic-anxious career girl on
30 Rock
, too, but Christine's needs are more humdrum, also more believable.
What's On This Week
Advertisement
Today's Photos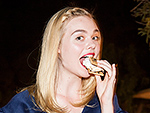 Treat Yourself! 4 Preview Issues
The most buzzed about stars this minute!