People Top 5
LAST UPDATE: Tuesday February 10, 2015 01:10PM EST
PEOPLE Top 5 are the most-viewed stories on the site over the past three days, updated every 60 minutes
People.COM
STARS IN CRISIS
One enters a rehab center seeking help for "personal issues." The other receives treatment for what his rep calls a pre-existing sleeping disorder
EVA MENDES
She may not have been as visible a fixture on the Hollywood party scene as
Lindsay Lohan
, but a few weeks ago, Eva Mendes checked into Cirque Lodge, the same Utah facility where Lohan spent nearly two months for substance abuse last fall. Mendes, says her rep, decided to seek treatment for "personal issues that, while not critical, she felt deserved some outside professional support." Calling her rehab stint "surprising," a source says that even close friends of the 33-year-old actress didn't know she had decided to get help. "She's a cigar smoker and she likes to have fun," says the same pal. "She always gave off that things were very under control." But the actress, who has starred in such films as
2 Fast 2 Furious
and
Hitch
, has admitted she needed to have a drink before filming love scenes in movies like 2005's
Trust the Man
and last year's
We Own the Night
. "They poured me a vodka and orange juice," she told reporters at the Cannes Film Festival. "Then I was fine." Friends hope she'll be okay once again. Adds the pal: "[This] may be a long time coming, but she did what she wanted to do—what she needed to do."
JUSTIN CHAMBERS
Grey's Anatomy
star Justin Chambers was padding around hospital corridors recently, but not at Seattle Grace. The actor, 37, who plays Dr. Alex Karev, checked himself into the Stewart and Lynda Resnick Neuropsychiatric Hospital at UCLA (the same facility where Britney Spears is receiving treatment) Jan. 28 "to get help with a pre-existing sleeping disorder," says his rep. He left two days later. Sources say Chambers, who has a penchant for cigarettes, never let on that he was struggling. "A lot of the time he seems a little preoccupied and he's a big ball of nervous energy, but that could be anything," a source tells PEOPLE. On Feb. 1, the married father of five was seen clutching a can of Red Bull and stomping on a box of donuts delivered to his home. But friends say recent events are no cause for alarm. "I'm not worried about him," says onetime costar and close friend
Kate Walsh
. "He's an amazing guy, and everything is going to be fine."
How Do You Like Your
Matthew McConaughey
: SCRUFFY OR SPIFFY?
60%
Of People.com voters prefer Matthew suited up—and ready for the red carpet.
11%
Would rather he stayed shirtless and fancy-free.
(29% Enjoy both!)
Feb. 4
Jan. 27
Camila Alves
Jan. 30
Heidi & Spencer
VIDEO FUN
It got a lukewarm—to be kind—reception on the Internet. But at least "Higher," the new video by Heidi Montag, didn't cost much. Directed by beau Spencer Pratt and featuring a bikini-clad Montag romping across a beach, the mini-epic was shot in 30 minutes, independently, for "zero dollars," Pratt tells PEOPLE. One video highlight: Montag running through a flock of seagulls. "She's got a great bird call," notes Pratt. She also stayed close to shore. "I'm scared of sharks," admits The
Hills
star. As for all the less-than-positive Internet reviews? They don't bother her. "All negative energy," says Montag. "I completely ignore it."
Brandy's Mom
SUES KIM
In 2004 singer-actress Brandy Norwood employed Kim Kardashian as her stylist, and she was allowed to use mother Sonja's credit card to pay for expenses. Kim went overboard, says Sonja in a lawsuit filed Feb. 4, running up (with her siblings) $120,000 in unauthorized bills in 2006 and 2007. "The charges against the Kardashians are meritless," the family said in a statement, adding the card was used only for authorized expenses. Kim, now in the E! reality show
Keeping Up with the Kardashians
, has had complicated relationships with the Norwoods; she dated Brandy's brother Ray J and appeared with him in a sex tape.
Celebrity Art
COLLECTIONS
When it comes to artistic photographs, stars like to look at ... stars! Or so it seemed after the Celebrity Vault, a Beverly Hills gallery, gave Scoop a peek at recent purchases. Though they would not reveal the sales prices, they did say that Becks bought Marilyn as a gift for Posh.
ANDRE 3000 bought a 60"×40" shot of Jimi Hendrix by Gered Mankowitz.
ARNOLD SCHWARZE-NEGGER fancied this Richard Miller portrait of James Dean.
DAVID AND VICTORIA BECKHAM hang Bert Stern's Marilyn Monroe in their Beverly Hills home.
Lily Allen Breaks Up With Beau
The past few weeks have been rough for Grammy nominee Lily Allen. In January she suffered a miscarriage, and on Feb. 2 it was learned that she had parted from her boyfriend of five months, electro-rocker Ed Simons, 37, of the Chemical Brothers. Reps for both had no comment. But a friend, who confirms the split, says that Lily, 22, is "fine" and throwing herself into work—a new talk show and an album due out later this year.
STAR JONES SHOW
CANCELED!
Five months into her new job, Star Jones is again a free woman. On Jan. 31 truTV announced that the Star Jones show had been canceled by mutual agreement. There may be a silver lining. The former
The View
cohost "has a multiyear, multimillion-dollar contract," says a source close to the network, who declined to give details.
Vince Vaughn
For his new movie, the actor puts his joke-telling and road-trip skills to the test
Q&A
For your new documentary,
Vince Vaughn's Wild West Comedy Show
, you did 30 stand-up gigs. What was it like to go on the road?
I didn't realize that most people take a day off on tours. It felt like we were being FedExed from one city to the next. But these are uptown problems.
You're old pals with
Wild West
producer Peter Billingsley, of
A Christmas Story
, and with Egyptian-American comedian Ahmed Ahmed. What makes it work?
We did an after-school special, and they were my first friends. As Peter became older, he was so recognized, he didn't have a lot of opportunities. I respect their ability to move forward.
Do you have a shorthand?
We could kill someone at a game of Taboo.
You guys mock each other a lot. Ever get personal?
Honesty is the sign of a good friendship. We're brutal because we love each other.
You're inching toward 40—
I still got a bit of time.
You do, but—
I'm still 37!
Understood. As someone in their late 30s, what stage are you at?
There are great people in my life. I'm blessed to do what I love, and my work is my priority right now.
You're still friends with your ex
Jennifer Aniston
. Will you work together again?
She's a great actor and very funny. You never know.
Contributors:
CONTRIBUTORS Lorenzo Benet,
Molly Lopez,
Ryan Pienciak,
Larry Sutton,
Ashley Williams,
With Shayna Arnold,
David Chi,
Mark Dagostino,
Jennifer Garcia,
Lisa Ingrassia,
Monique Jessen,
Julie Jordan,
Marisa Laudadio,
Mary Margaret,
Lesley Messer,
Gail Nussba.
FOR BREAKING CELEBRITY NEWS EVERY DAY
Advertisement
Today's Photos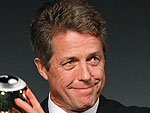 Treat Yourself! 4 Preview Issues
The most buzzed about stars this minute!