People Top 5
LAST UPDATE: Tuesday February 10, 2015 01:10PM EST
PEOPLE Top 5 are the most-viewed stories on the site over the past three days, updated every 60 minutes
Picks and Pans: Movies
Also Playing




ANIMATED
Halfway through this computer-animated version of the 1954 Dr. Seuss classic, Fred, my 8-year-old consultant on kids' films, turned to me and whispered, "They changed the plot a lot because they wanted to make it longer for the movie." You got that right, buddy.
Hollywood never leaves well enough alone when it comes to Dr. Seuss. Though this cartoon
Horton Hears a Who!
is an improvement over the rococo live-action versions of
How the Grinch Stole Christmas
(2000) and
The Cat in the Hat
(2003), it still insists on embellishing the original with trumped-up story lines and winking grown-up jokes ("I love the smell of bananas in the morning," barks an attacking monkey). These threaten at times to overwhelm the simple tale of Horton (voiced by Carrey), an elephant who swears to protect—"because a person's a person, no matter how small"—a group of Whos, tiny creatures who live on a speck of dust. Voice work by Carrey, Carell (as Who-ville's mayor) and especially Burnett, who plays a judgmental kangaroo, is effective. While Fred was a fan—"That was hilarious," he said at the end—adult viewers may wish fleetingly for a can of Endust.
Naomi Watts
, Tim Roth, Michael Pitt | R |




DRAMA
An affluent couple (Roth and Watts) and their son plan a relaxing stay at their House Beautiful-ready country home. But they've barely unpacked before two young men (Pitt and Brady Corbet) take the family prisoner and start waving guns.
With
Funny Games
, Austrian director-writer Michael Haneke (Caché) has remade in English his 1997 German-language film of the same name. A meta-thriller, Games toys with our appetite for and assumptions about violence in movies, a game that seemed far fresher a decade ago than now. Nagging question: Why would anyone ever let über-creepy Pitt (who played a psycho in 2002's
Murder by Numbers
) inside their house?
MY FAVORITE THINGS
The
Miss Pettigrew Lives for a Day
and
Pushing Daisies
actor, 29, shares what keeps him smiling.
ACTOR Daniel Day-Lewis. I've never met him, but we used to go to the same coffee shop [in New York City]. I'd go to get my Daniel Day-Lewis fix.
BEST FRIEND Carl, my dog. He's a pointer—trained to hunt and fearless.
GUILTY PLEASURE The [Nintendo] Wii, but it's actually taken a hit since I got Carl. He doesn't understand or like the Wii.
COLLECTIBLES Collapsible camping cups, like little Boy Scout cups, from flea markets. Yeah, I was a Boy Scout. It wasn't cool.
SEAN FARIS
The Houston native, 25, gets his big break—ouch!—in the mixed martial arts film.
HOW DID YOU GET IN SHAPE FOR THE FILM? We trained for about six hours a day, six days a week. I gained 15 lbs. of lean muscle and ate, like, a duffel bag of food a day to gain weight.
ANY INJURIES? I got body-slammed and broke one of the bones in my back. It's like breaking a rib. All you can do is take painkillers and wear a brace.
WHAT DOES YOUR FAMILY THINK OF YOUR FIGHT SCENES? Grandma's cool as a mule. She'll say, "I closed my eyes during those parts, darlin'—don't you worry."
TAPS INTO HER INNER TIGRESS FOR KUNG FU PANDA
SNEAK PEEK!
In
Kung Fu Panda
, due out in June, Jolie is the voice of Tigress—a "heroic, noble warrior," says director John Stevenson. We asked Jolie (who has a tiger tattoo in real life) all about it.
ARE THE KIDS THE REASON YOU DO ANIMATED FILMS? That's a good excuse. But really, I'm a big kid.
WHY THIS ONE? There are some beautiful messages and a sweetness to it. I have two children from Asia, so the fact that I get to be in Kung Fu Panda, set in China, as a tiger, is very cool.
HOW'S JACK BLACK AS THE LEAD? He is silly and sweet and funny. I think he is perfect.
10,000 BC Though gyms and dentists were nonexistent during its dawn-of-civilization setting, all the male characters in this dopey action movie sport pumped-up physiques, and everyone flashes dazzling pearly whites. The plot: A young hunter (Steven Strait) journeys across snow, sand and sea as he tries to rescue his kidnapped love (Camilla Belle). (PG-13)




Voices by Jim Carrey, Steve Carell, Carol Burnett | G |
Advertisement
Today's Photos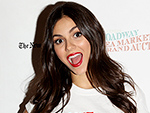 Treat Yourself! 4 Preview Issues
The most buzzed about stars this minute!