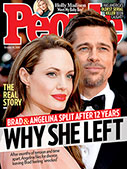 This Week's Issue!
People Top 5
LAST UPDATE: Tuesday February 10, 2015 01:10PM EST
PEOPLE Top 5 are the most-viewed stories on the site over the past three days, updated every 60 minutes
Life in the Cult
A Week After Authorities in Texas Removed 416 Children from a Polygamist Compound, the Women of FLDS Anguish Over Their Kids


Just as the making of their Little House on the Prairie clothing—the high-neck dresses and sturdy blue shirts—was a labor of love, so too was meal preparation. Forget convenience foods. "It's not just 'Open this can,' it's 'Get out the wheat to grind,'" says Esther, who appeared to be in her 40s. "It's as precious as can be to make a meal that's nutritious and healthy for them." After the morning meal, the day was filled with school (the kids attend a sect school, but moms boast that first-graders can read on the fourth grade level), singing, piano lessons, gardening and chores. And virtually no one is exempt from chores. Little ones would help dry dishes from the morning meal and boys would cart the "bit bucket" of leftover food out to the compost pile or begin working the garden. Esther couldn't be more proud of the children. "They love to work," she says. "This is a regular, everyday thing: We love to learn." And by 7:30 p.m. the children are ready for bed. "I love it here," sums up Gloria. "And so do the children."

It is an unabashedly rosy view of life on the FLDS compound—and, according to the state of Texas, a grotesque distortion. Two weeks after authorities staged a massive raid on the YFZ Ranch that netted 416 children and 138 women, a far more disturbing image of what cult members don't reveal is coming into view. Combing through vaults, safes and computers at the Eldorado compound, a headquarters of the Mormon-offshoot Fundamentalist Church of Jesus Christ of Latter Day Saints, investigators apparently found evidence of abuse, including young teenage girls who had been sexually abused and were pregnant or had given birth. According to one report, authorities discovered a bed in the limestone temple of the cultlike organization where underage brides are believed to have been forced to consummate their marriages. So compelling is the evidence that state officials have said they will recommend to a judge scheduled to preside over a hearing April 17 that all 416 children be put into foster care to "prevent further abuse."

Officials looking into possible criminal charges have said that as the investigation continues, some church members seem to be purposefully misleading them. During questioning, some of the women have changed the names they have given social workers. Some children seemed unwilling to identify their mothers and fathers to child welfare workers—even pointing out multiple women. "It's going to take time to break those barriers and have them speak to us more honestly," says Darrell Azar of the Dept. of Family and Protective Services. "They're very polite, but they're not giving us a great deal of solid information."

Beyond the logistical challenges of a legal case of such size and complexity, the state must also find the resources to care for the children. Azar says all standards of care are being met and the kids "are doing reasonably well." Church members, who shunned the press for the first week of their captivity, suddenly opened up on April 14 and see it quite differently. The mothers (57 of whom, with children older than 5, were forced to leave their children's sides and return to the Ranch or move to a local safe house) insist the state has caused unnecessary hardship by crowding kids and grown-ups into inadequate facilities—they say that in one shelter there are only two bathrooms for 100 people—and failing to provide even a change of clothes. Though the children are said to be in generally fine health, some have come down with chicken pox. Meanwhile, one mother named Rebecca says she saw a young girl walk up to a sign in a shelter reading "Guests." She crossed it out and wrote "Prisoners." Another caregiver, Kate, recalls one boy, distraught and missing his mother, waking up one night at a shelter crying. "He grabbed on to me," says Kate, "and I could feel his heart beating so hard."

Marleigh Meisner, a spokesperson for the state welfare agency, feels some sympathy but insists that the state had no choice, given the suspected abuses. "We believe families should be together as much as possible, but it's not always possible."

Not so long ago, say some former sect members, when the FLDS was based mostly in Utah and Arizona, there was a more benign spirit to the group. Then the accent was on fostering a sense of family and community. "I had a happy childhood," says Rita Jessop, 27, who left the sect three years ago, after being married at 18 to her father's friend, who was 50 and had four other wives. Like the women at the YFZ Ranch, she describes a busy, regimented life. "We'd get up around 5:45," she says. "One mother would make breakfast, while another would help everyone get ready. There was a job chart." If a child misbehaved or failed to do the chores, there was punishment, to be sure, but, Jessop says, it was reasonable punishment. "My mother would swat you on the behind with a little wooden spoon," she recalls. "My father would sit down and talk to you, which hurt even worse." Even given the somewhat rigid structure, says Jessop, "it was a lot of fun. It seemed to me people were so happy."

That began to change when Rulon Jeffs took over the leadership of the FLDS. "They stopped having dances and socials and then they said everyone was supposed to wear the long underwear," says Jessop. "Then you couldn't laugh out loud—you could chuckle but no boisterous laughing. For a while there were no outside movies allowed, but you could watch home movies." After Jeffs's son Warren took over in 2002, says Jessop, "then it was no TV at all, and no Internet."

Under Warren Jeffs, who was convicted last year of being an accomplice in the rape of a 14-year-old girl, the mores of the cult also took a darker turn. Four years ago he launched the Yearning for Zion Ranch in Eldorado. From the start he populated the YFZ with only the most obedient, hard-core members, even if it meant breaking up families. Kristyn Decker, 55, says that Jeffs transferred her sister Lucille, who is 13 years older, to YFZ to help care for some of Jeffs's children—he is believed to have more than 100 of them. In the aftermath of the raid Decker came to Eldorado to search for her sister, with whom she has been out of contact for 10 years. "She's a precious lady," says Decker, who has 22 brothers and sisters and who left a related sect six years ago, "subservient and sweet."

Jessop says the FLDS leaders carried out the transfer of members to the Eldorado Ranch under a cloak of secrecy. "There would be people who would just disappear from the community, and the leaders would say, 'They were called on a mission. They went to Zion,'" she says. "Sometimes they would come in a van and take one from a family or two from a family. They would just be gone." Many times the families did not even have time to say goodbye. Jessop recalls one man she knew who was dispatched to YFZ without his wife and two young children. "It was really hard for his wife to go through that," she says, "not knowing where he was."

It appears that those brought to YFZ were expected to have a near-superhuman work ethic. Sam Brower, a private investigator in Utah who spent three years investigating the FLDS, says he has heard a tape of a sermon in which Jeffs exhorts the faithful to spare no effort in their labors. "To be called to Zion," Brower quotes Jeffs as saying, "you need to work 20 hours a day and pray for the strength to do more.'" And that was evidently not just rhetoric. Randy Mankin, the editor of the local newspaper Eldorado Success, and his wife, Kathy, say they learned from the sheriff that deputies often pulled over male cult members for driving erratically, only to discover that the bleary-eyed men were not drunk but merely sleep-deprived. Says Kathy: "The men would work like dogs."

By and large, the women and children did not venture off the compound and would even flee indoors to avoid scrutiny if a plane passed low overhead. In contrast to the large FLDS community in Colorado City, Ariz., where families have sandboxes, trampolines and bicycles for play, the Mankins, who often flew over the compound, say they never saw any toys at Eldorado. "There's nothing," says Kathy. "There's not a sign of a child out there."

The separated mothers at the YFZ Ranch acknowledge that ordinary recreation was not a big part of the kids' lives and that they favored "very guided play," as one delicately put it. But they argued that the children took plenty of delight in doing chores anyway, even at the shelter. "One of them asked [a shelter worker], 'Can we rebuild your fence for you?'" says Kate. "'Can we mow your lawn? Can we set the table?'"

Though she is critical of the FLDS, Rita Jessop cautions that no one should assume that the women of the YFZ have been brainwashed into defending the sect—that, bizarre as their practices may be to the outside world, many of them are content with their lives. "There are some women who might want to get out," she says, "but for the most part I think they're happy." Of course that is not true at the moment. At this point it appears that the women will be separated from their kids while the legal case runs its course, which could take months. "We have very heavy hearts," says Esther. "The children are our lives."

MEETING HOUSE
TEMPLE
DORMS
LARGEST DORM


Advertisement
Treat Yourself! 4 Preview Issues
The most buzzed about stars this minute!