People Top 5
LAST UPDATE: Tuesday February 10, 2015 01:10PM EST
PEOPLE Top 5 are the most-viewed stories on the site over the past three days, updated every 60 minutes
Picks and Pans Main: TV
The Real Housewives of New York City Take on the Haters
What's On This Week
SUNDAY, APRIL 13
OPRAH'S BIG GIVE
ABC | 8 P.M.
The final three fly with pilot John Travolta. It'd be so cute if he dressed as Edna Turnblad!
Jennifer Aniston
's on the April 20 wrap-up.
MONDAY, APRIL 14
NEW AMSTERDAM
FOX | 9 P.M.
Season finale to the romantic noir fantasy about a detective (Nikolaj Coster-Waldau) with many, many lives.
CMT MUSIC AWARDS
CMT | 8 P.M.
Miley Cyrus
and her papa, Billy Ray Cyrus, host (and sing). Other performers:
Carrie Underwood
, Toby Keith.
BONES
FOX | 8 P.M.
Return of the strangely charming crime series starring the flinty-flirty pair of David Boreanaz and Emily Deschanel. A body is found in the gunk of a hot spring.
TUESDAY, APRIL 15
DEADLIEST CATCH
DISCOVERY | 9 P.M.
Fourth season premiere, as the crab fishermen head back out to sea. Show your support—wear your rain slicker at home.
THURSDAY, APRIL 17
30 ROCK
NBC | 8:30 P.M.
Jack (Alec Baldwin) recruits party animal Tracy (Tracy Morgan) to join a different kind of party, the Republicans.
ELI STONE
ABC | 10 P.M.
In the season finale, Eli (Jonny Lee Miller) is in the O.R. to have that aneurysm removed—and George Michael rematerializes.
Desperate Housewives
ABC, April 13, 9 p.m. ET
Back before Christmas, Wisteria Lane got slapped down by an angry little cyclone that, oddly enough, reflected how I'd been feeling about this superbly juicy melodrama. Things had gone, eh, a bit flat. The loveless marriage of Gabrielle (
Eva Longoria
Parker) to Victor Lang (John Slattery), the town's silvery creep of a mayor, felt like a contrivance—a nuisance. How it warmed the heart to see him impaled on a wind-blown fence post. Now the show is back with promising new plot strands: For one thing, Gaby and Carlos (Ricardo Antonio Chavira) remarry and take in a boarder (Justine Bateman). And rival domestic divas Bree and Katherine (Marcia Cross and Dana Delany) will team up as caterers. That prospect alone—Dead Ringers with two Martha Stewarts—sweeps all storm clouds from my mind.
IT'S TURNING 20!
MTV, April 16, 10 p.m. ET | [




]
REALITY
The reality pioneer pretty much sticks to format for a landmark season, although this time the 13 episodes are each an hour long. Hot kids party, make out, argue, weep with confessional gusto. (A muscle dude named Joey turns out to be miserable.) Youthful spirits decline to youthful pity. Still watchable—but The Hills, all trite glamour, is the fresher documentary model.
Eric Nies, from
Real World
's 1992 debut season, is now 36.
• The mother of four (and K-Fed's ex), 31, plays a careless young mom on the CW's
Everybody Hates Chris
April 13
ANY PARALLELS? YOU HAD YOUR FIRST CHILD AS A TEEN. Just that we're young. I'm different. I took care of my siblings, graduated high school before I was 15.
WHY DID YOU TAKE THIS ROLE? It's a really good show and [guest director Debbie Allen] was amazing.
BRITNEY AND KEVIN JUST DID GUEST SPOTS.... People are like, "Oh my God, Shar's on a TV show," but I've been on TV since I was 3. I'm not jumping on because someone else did.
DATING ANYONE? No, I'm single and really loving it. Me not getting my feelings hurt, or worrying about anyone else's, it's kind of empowering right now.
• The doctors are scrubbing in again at Seattle Grace, back on ABC April 24 with five new episodes. Here's what's coming.
WHEN WE LEFT MEREDITH AND DEREK With her fear of commitment, Meredith unintentionally drove the mighty McDreamy, Derek Shepherd, to a flirtation with an
E.R.
nurse.
WHAT'S IN STORE Honest—producer Shonda Rhimes promises these two will finally stop butting heads and make it work as a couple. "I want to see what happens after the happily-ever-after."
OUR PRESCRIPTION Enough dysfunction—let them bring the heat.
WHEN WE LEFT THEM George wrecked his marriage by cheating on wife Callie with Izzie. Then he and Izzie broke up.
WHAT'S IN STORE Callie finds happiness—"her niche in terms of the people she relates to," says Ramirez.
OUR PRESCRIPTION Let these three get over themselves and move on! It's Callie's turn for some fun—perhaps with McSteamy (Eric Dane) again?
DR. WYATT AMY MADIGAN In keeping with
Grey's
A-list guest stars, the 1986 Oscar nominee will enjoy a stint as a hospital psychiatrist. No word on whether she'll evaluate her sometimes-loony coworkers.
ALEX KAREV JUSTIN CHAMBERS The resident bad boy is in a love triangle with ex-patient Rebecca and Meredith's sister Lexie. Who will he choose? Chyler Leigh votes for her character, Lexie: "They're kindred spirits."
ADDISON FORBES MONTGOMERY
KATE WALSH
Back from
Private Practice
for one episode to perform a rare procedure. Says Walsh: "I'm there to cause trouble, I'm sure."
From blogs to cocktail parties,
The Real Housewives
of New York City, ending its season on Bravo April 15, has real New Yorkers talking—and some aren't so complimentary. The show documents five women with lots of dough and a knack for spending it ostentatiously. At least one calls herself a "socialite," though there are those in the elite who shudder at the thought. "No real socialite would want to be called a socialite, [let alone] perform as one on a reality show," says society writer Debbie Bancroft, who ticks off other signs of crassness: Living in condos (not co-ops) on the wrong East Side avenues, not to mention cavorting "in matching thongs on the beach." The ladies shrug it off. The producers "are sort of making fun of the word socialite," says Jill Zarin, who runs a fabric business. "I don't care what you call me." And there's one real title-bearer, LuAnn de Lesseps, married to a French count. "I did this for fun," she says. "I'm happy I did it." As for Bancroft: "Let's put it this way—she's not a countess."
Contributors:
CONTRIBUTORS Lisa Ingrassia,
Scott Huver.
NEW EPISODES!
Advertisement
Today's Photos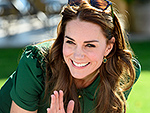 Treat Yourself! 4 Preview Issues
The most buzzed about stars this minute!