People Top 5
LAST UPDATE: Tuesday February 10, 2015 01:10PM EST
PEOPLE Top 5 are the most-viewed stories on the site over the past three days, updated every 60 minutes
'I Feel Grateful for Where I Am Now'
After a 'Lonely' Childhood, Chloe Lattanzi Spiraled into Anorexia. But with the Help of Mom Olivia Newton-John, and Her Music, the Rising Singer (Seen on MTV!) Is Thriving


Loving herself just the way she is: It's a lesson that Chloe—who spent years of her adolescence battling an eating disorder—has learned only recently. After her parents (dad is actor Matthew Lattanzi, 49) divorced when she was 9, "my dad lived away and my mom was touring. I was alone a lot and I couldn't handle it," says Chloe, who battled "heavy bouts of depression" that spiraled into anorexia at 17. Even as her 5'6" frame deteriorated to a frail 90 lbs., "I was in denial," she recalls. "I pretended I was really strong—but my body was screaming for help."

Five years later, Chloe is singing a different tune. Not only has she fought her way back to health—"I'm fully recovered," she declares—but the aspiring singer landed a spot on MTV's live reality music competition Rock the Cradle, on which she faces off against other celebrity offspring. (See box on page 110.) "You're amazing. Your voice is really unusual, intriguing and theatrical," praised judge Belinda Carlisle after Chloe's rendition of the INXS hit "Never Tear Us Apart." "You were great!"

Settling into her mother's white plush couch, her feet tucked under her petite body, Chloe can only exclaim, "I feel awesome!" as she reflects on where she is in her life right now, adding, "It has taken me a long time to get here." Newton-John, 59, recalls that her daughter grew up in Malibu as a "bright, happy kid" who filled her days listening to Pink Floyd with her dad and making homemade gifts for her mom. But after her parents divorced in '95, "everything changed," says Chloe. She only visited with her dad about once a month and, though she lived full-time with her mom, Chloe often stayed behind while the Grease star traveled the world. "I remember being 16 and having the house to myself for months at a time. That develops into a big welt of sadness," says Chloe. Thinking back on what those years were like, she explains, "I never had the consistency of my mother coming home every day and having dinner with the family. I missed out on a lot with her. I had this feeling in me like, 'Okay, you're not a priority—so just deal with it.'"

Newton-John acknowledges that, as a single parent and "the breadwinner in the family," she made some mistakes. "Chloe was never physically alone—but emotionally she was alone and needed me," Newton-John says. "And, you know, I could have never predicted the effect it would have had, me being gone some of the time."

As it turns out, the effect was devastating. Recalling that "I didn't feel worthy of existing," Chloe began "restricting things"—specifically food, sometimes going weeks eating nothing but salad and frozen yogurt all day. "I felt like I had to be disciplined and hard on myself to be a good person," she explains. "Like I was being a better person the more I deprived myself."

As she lost weight ("I actually didn't not eat—I just didn't eat enough," Chloe notes), her frightened mother confronted her. "But I would just be that kid who was like, 'I'm fine. Everything's okay,'?" Chloe says. "I hid everything from her. I was in denial." The turning point came when Chloe—who was in therapy—asked her father to accompany her to a session in 2006; Lattanzi (who declined to comment for this story) immediately realized his daughter was in distress and began to spend more time with her. "I was like, Whoa—that feels nice, having a person here," Chloe recalls. "I started to let my guard down and ..." Her voice trails off as she chokes back tears. "I was able to say, 'I'm weak and I don't want to deal with this anymore,'" she continues, her voice shaking. "I had enough."

This time when Newton-John returned from the road, Chloe finally opened up to her mom, which was "scary—but she was amazing," says Chloe. After that watershed moment, "I made the point to be involved in her life and what she was going through," says Newton-John. "That's when things started to turn around."

Lattanzi temporarily moved into Newton-John's home so the whole family was together as Chloe went through a two-month outpatient program. "It took time for us all to communicate and work things through," says Newton-John. Adds Chloe: "They were scared, but my parents were so amazing to say, 'I'm sorry and I love you.' That was so healing. I finally felt I could just be who I was."

Today, Chloe says, "we all have a great relationship. My problem healed our family." Chloe talks to Lattanzi—who lives in a teepee in Malibu and is making a documentary film—nearly every day ("He's one of my best friends," she says) and loves going hiking with her mother or having a TV night with her at home watching Curb Your Enthusiasm episodes on DVD. "Through this experience, I really realized how much Chloe means to me," Newton-John says. "We've been fantastic ever since."

On the night of Chloe's Rock the Cradle debut, Newton-John was in the audience, cheering on her "talented" daughter. "Her music is fantastic—she's an artist," Newton-John says. And she will continue to support Chloe however she can, even as she takes a 21-day walk along the Great Wall of China to raise money through her Web site, greatwalktobeijing.com, to build a cancer and wellness center in her native Australia. "A TV truck is coming," says Newton-John, a breast cancer survivor, "so I can send messages home [to Chloe]!"

And yet home is about to get a bit quieter. "Chloe wants to get her own place," Newton-John admits with a sigh. "But it's time. That's my job, to prepare her to fly. She's ready."

Chloe agrees. "All I'm focusing on right now," she says with a smile, "is being happy, and making sure I'm enjoying every moment."


Beautiful!" Olivia Newton-John exclaims, having just caught sight of her daughter Chloe Lattanzi in the mirror in the dining room of their Malibu home. With her mother's attention on her, Chloe beams. "Look at my pretty hair, Mama!" says the petite 22-year-old, who only recently returned to her natural, chestnut-colored locks. Why the change? Chloe gives a small shrug. "I had to go through that 'blonde phase,'?" she says.
Advertisement
Today's Photos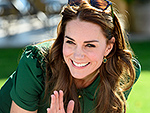 Treat Yourself! 4 Preview Issues
The most buzzed about stars this minute!