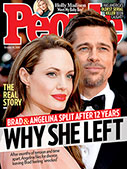 This Week's Issue!
People Top 5
LAST UPDATE: Tuesday February 10, 2015 01:10PM EST
PEOPLE Top 5 are the most-viewed stories on the site over the past three days, updated every 60 minutes
Out and About
Chastity Bono Writes About Gay Life and Its Impact on Families—Including Her Own


In a few years, Bono became aware that she was different in another way—she was gay. And though her famous parents, Sonny and Cher, showered Chastity with love, she feared that sharing the truth might cause trouble. She was right to worry—her homosexuality would, in time, deeply affect her relationship with both parents. Though Cher eventually came to terms with her daughter's sexual orientation, Chastity's later gay activism left her at odds with her politically conservative father. By the time he died in a skiing accident last January, she and Sonny, then a U.S. congressman, were all but estranged. "We just didn't deal with it," she says of the rift. "Boy, what a huge mistake."

To help others avoid the same error, Bono has written Family Outing (Little, Brown), a guidebook that uses more than a dozen real-life examples (including her own) to show young gay people the rewards and pitfalls that go with being open about their sexuality. Already buoyed by a Publishers Weekly review that says Outing "may save lives," Bono sees the book as a long-overdue road map through a minefield that can destroy even the closest families. In it she describes a gay man being taken to "aversion therapy" by his strict Christian parents. Another woman, whom she calls Judy, contemplated suicide before deciding to leave her husband and two young children for a female lover. "When I heard what other gay people had to go through, Bono says, "it made me want to get involved. I just figured, I'm going to try and change it."

As she sits in the living room of her modest pink-stucco house in West Hollywood, Bono's dark brown eyes reflect the warmth of her father s, while her outspokenness is reminiscent of her mother's. But that's where the similarities end. Bono's role in life is her own. "I have, in the last few years," she says, "made a name for myself separate from my parents."

At age 2, Bono made her first forays into the spotlight, as a golden-haired toddler cuddling with her parents at the end of their highly rated TV show in the early '70s. But that vision of family warmth obscured the truth of Sonny and Cher's tumultuous marriage, which ended in 1975. "My first memory of them is apart," she says. "But the one nice thing Mom said about Dad was that he was a good father." And as her mother's star rose ever higher, Chastity came to feel more comfortable in the laid-back atmosphere of her father's Bel Air house. "Everyone had dinner together. We'd watch football games on TV and at half-time go out and play a game. We were very close." (Chastity's array of siblings includes older half sister Christy, 40; half brother Elijah Blue, 22, from her mother's marriage to Gregg Allman; and two half siblings—Chianna, 7, and Chesare, 10—from her father's fourth marriage, to Mary Bono, now his successor in Congress.)

In school, Bono avoided other celebrity kids and enjoyed riding bikes with pals from nearby Thousand Oaks. "She was such a tomboy," Cher recalls. And when Chastity was 13 and saw Mariel Hemingway kissing another woman in the movie Personal Best, she had a revelation. "Suddenly I got it," she recalls in her book. "I got me."

By the time she was a freshman at New York University in fall 1987, Bono decided to tell her parents she was gay. Sonny took the news in stride, but not Cher. "I flipped out," she says. "I'd always had this idea that she would get married and have a family." And though Cher had won acclaim for her portrayal of a gay woman in Silkwood, she banished her daughter from her Manhattan apartment. Later, when Chastity decided to abandon her studies to pursue a career as a rock singer, she chose to keep her homosexuality a secret.

It didn't work. While she was trying to launch a career with her band Ceremony in 1990, a weekly tabloid announced Bono's lesbianism to the world. Besieged by reporters, she also felt betrayed by members of the gay community, who had tipped off the tabloid. "It was the most traumatic thing that ever happened to me," she says. Bono felt completely at sea. "I closed my blinds at home," she says. "I didn't have a life, really." In 1992 she began a serious relationship with "Joan," a woman 20 years her senior, which ended tragically when the woman lost a battle with lymphoma and died in 1994. Finally, in 1995, Bono publicly embraced gay activism by posing for the cover of the gay magazine The Advocate, proclaiming herself "out at last" and taking a high-profile job with the Gay and Lesbian Alliance Against Defamation (GLAAD).

Bono's activism transformed her relationship with both parents. "Mom got proud," she says. "She got to see me as a full person for the first time." But Sonny was by then a Republican congressman whose conservative agenda did not include gay causes such as legalizing same-sex marriage. "He accepted me, but his politics didn't," she says. "I didn't talk to him about it, but I was angry." Mary Bono says Chastity's feelings were all too apparent. "I think she felt she could rehabilitate him, and that caused friction," she says. "But he was used to having ups and downs, and he figured that pretty soon they'd be close as ever."

It was not to be. When Representative Bono died last January, he hadn't seen Chastity in more than a year. "If I have one regret, it's that I didn't speak to my father before he died," she says. "It took his death to make me realize how much he meant to me." She tries to be philosophical but can't hide her grief: "I have yet to find a 'blessing in disguise' about his death. I just wish this incredible love we had for each other was the taste left in my mouth, instead of the distance."

Now Bono—who has a new romantic relationship but not one she wishes to reveal—focuses on bridging the distance between gay and straight culture. That's no easy task, as Bono learned when her observation that Ellen DeGeneres's television show (to which she served as a consultant) might have been "too gay" for mainstream America enraged the star. Soon after, she was dismissed from her post at GLAAD. But Bono carries on, recently having served as a consultant to Matthew Perry's new gay-themed movie Three to Tango and planning for a book about her relationship with Joan.

In a life that is otherwise entirely her own, Bono still acknowledges her parents' influence. "My father came from a poor family and didn't graduate from high school, but he still ended up being a congressman," she says. "My mother didn't graduate high school and became an Academy Award-winning actress. So to me, limitations are things to be overcome. There's nothing I want I can't get."

•Peter Ames Carlin
•Vicki Sheff-Cahan in Los Angeles


Advertisement
Treat Yourself! 4 Preview Issues
The most buzzed about stars this minute!