On Newsstands Now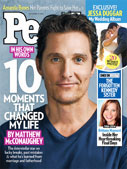 Matthew McConaughey: In His Own Words

Jessa Duggar's Wedding Album

Brittany Maynard's Final Days
Pick up your copy on newsstands
Click here for instant access to the Digital Magazine
People Top 5
LAST UPDATE: Tuesday February 10, 2015 01:10PM EST
PEOPLE Top 5 are the most-viewed stories on the site over the past three days, updated every 60 minutes
Picks and Pans: Tv
What to Watch Online
SUNDAY, MAY 4
COLD CASE
8 P.M. | CBS
An ex-addict claims she just saw her kid in the park, even though he supposedly died in 2005. And so season 5 ends!
FAMILY GUY
9 P.M. | FOX
In the season finale, we meet a loud and very unlucky parrot. Amanda Bynes is the voice of a veterinary intern.
MONDAY, MAY 5
KELLY PRESTON!
MEDIUM
10 P.M. | NBC
Allison has vibes about a drug murder—and maybe a different vibe about the sexy woman (Kelly Preston, right) working with her husband.
WEDNESDAY, MAY 7
TOP CHEF
10 P.M. | BRAVO
The chefs cater a wedding event for more than 200 guests. It'd be enchanting, wouldn't it, if host Padma Lakshmi (left) were drafted last minute to be a bridesmaid?
THURSDAY, MAY 8
UGLY BETTY
8 P.M. | ABC
Betty (America Ferrera) hopes to gain the upper hand by throwing a shower for Henry's pregnant nuisance of a girlfriend (Jayma Mays).
30 ROCK
9:31 P.M. | NBC
Wrapup for season 2, with Jack (Alec Baldwin) playing power games in Washington, D.C. Guests: Edie Falco and Matthew Broderick.
SCRUBS
8:30 P.M. | NBC
The season—and the show's seven-year run—ends with the hospital turned into a fairy tale and Zach Braff (right) as the village idiot.
SEASON 7 CHECKUP
American Idol
FOX, Tuesdays, 8 p.m.; Wednesdays, 9 p.m. ET
With ratings off, there's a sense lately that the natural law of decline—which has tended to operate with unnatural swiftness on the winners' recording careers—is finally settling like a damp mist over the Idol stage. Is it audience fatigue? Hm. What's been lacking, I think, are singers with raw, malleable talent: This season's performers seem to have arrived already slicked up and processed for pop stardom—mechanical nightingales for Emperor Simon. There's not much electricity in watching them evolve. At least David Archuleta, a 17-year-old Johnny Mathis throwback, is a real pop balladeer: kinda schlocky but always heartfelt, with no rock pretensions. (He can't even sing the Beatles!) If he's eliminated—and at press time, who can say?—for me the season is a waste.
PBS, check local listings | [




]
DRAMA
Cranford, a three-part Masterpiece import based on Elizabeth Gaskell's gentle Victorian classic, is a blissful union of heart and humor. Judi Dench and Eileen Atkins, as unmarried sisters in a proudly insular rural British town, head a flawless ensemble that includes Michael Gambon and Imelda Staunton: These actors all know how to turn small events into endearingly ridiculous drama (the cat ate the lace!), but they also capture the sad dignity that comes of weathering life. You might not expect to tear up when Atkins, a stern old fussbudget, accepts a gift of a wooden coal scuttle—but I bet you will.
Showtime, May 4, 10 p.m. ET | [




]
DOCUMENTARY
The second season of this superb series, hosted by wise and dweebish Ira Glass, starts with a story that's inspiring, tragic, ironic, weird—an onion you can peel between now and doomsday. Mike Phillips is a 27-year-old man shriveled and twisted into a state of total dependency by a spinal disease. Yet he feels he's ready to live apart from his caretaker: Mom. Through craigslist he finds assistants—and a girlfriend. Asked what voice would be ideal to read aloud the passages he writes on his computer, he suggests
Johnny Depp
. And indeed, Depp does read those thoughts in voice-over, giving Phillips's existence a stamp of cool.
>1 SHE'S A MASTER THESPIAN Done up like one of the Real Housewives of New York City to play a middle-aged seductress—the skit was called "The Cougar Den"—she boasted about pleasuring her boy lover in a deep, hollow voice and held her arms with a weird stiffness that suggested postcoital rigor mortis. This was real character acting. Amy Poehler is terrific too, but Wiig is a little more daring, a little more perverse.
2 SHE'S A FLASHER Speaking of perverse: She has a way of opening her eyes unexpectedly wide—the gaze says either carnal devourment or simple insanity. Do it again!
3 SHE'S VIRGANIA HORSEN This character, a defensive young woman with a hot-air balloon, was the funniest thing on SNL in a long while. She took off like helium.
>• The Houston native, 35, has a tiny streak of the geek he plays as a physicist on the CBS sitcom.
ON THE SHOW'S SCIENCE BABBLE Every week is a brand-new nightmare! Almost 99 percent of it means nothing to me when the script comes down. I have a physics dictionary that helps me. There are times I can roll the dialogue off my tongue without hiccupping—it's so drilled into my head.
ON HIS OWN PERSONAL QUIRKS I'm addicted to schedules! I know the night before what I need done by such and such time. It's to the point where I know I will be eating my oatmeal by 8:45 am. Maybe it's really good time management, but I think it's a little psychotic.
ON THE LOSS OF HIS FATHER He died in a car accident in April 2001. He wasn't able to see my work on film and TV, but he would be elated by it. He had talked my mom into letting me major in theater—he was the one who was very much supportive in my decision to become an actor. I feel that I am experiencing this all with him.
>• The star, 26, of MTV's bisexual romance show A Shot at Love 2 with Tila Tequila looks at love from both sides on the new second season.
HOW ARE YOU CHANGED IN SEASON 2? I'm definitely more stern and less naive. It's like, "You're wasting my time, so get out of my house!"
WHO'S YOUR DREAM MATE NOW? I want to be with a nerd because they're happy with who they are, and I think nerdy stuff is sexy. I like to watch the History Channel and learn about the universe, quantum physics and stuff like that.
ANY CELEB CRUSHES?
Natalie Portman
. She's smart and beautiful and so mysterious. I would love to be, like, one of her best friends.
>• More and more Web sites are letting viewers catch up with old and new shows. Tom Gliatto's favorites:
HULU.COM This new site's offerings include an ample slate of NBC and FOX shows: Hell's Kitchen is reduced on my computer screen to a hot-spiced morsel. The old Charlie's Angels has gone to digital heaven here too. I'm drawn more to a small series of science clips called Violent Universe—pretty little glimpses of massive astrological events.
ABC.COM If my DVR is too crowded to fit in all the marvels of a given evening in prime time, this network site is a well-designed way to catch Dancing with the Stars the morning after. Original online content includes a series of slapstick comic shorts called Squeegees—not great, but better than Cavemen.
SOUTHPARKSTUDIOS.COM Ah, if only all comedies could provide all their seasons in one convenient online home: By the end of May, almost 180 episodes will be viewable here. Just a click and you can watch Chef being mauled to death by wild animals in "The Return of Chef"—a great, hideous moment of Scientology satire.
What's On This Week
Advertisement
Today's Photos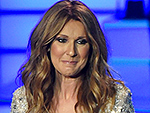 Treat Yourself! 4 Preview Issues
The most buzzed about stars this minute!