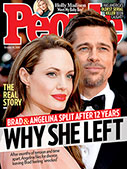 This Week's Issue!
People Top 5
LAST UPDATE: Tuesday February 10, 2015 01:10PM EST
PEOPLE Top 5 are the most-viewed stories on the site over the past three days, updated every 60 minutes
World's Most Beautiful
Honest, Original and 100 Percent Natural, She's Full of Surprises, from Head to Toe
KATE HUDSON
Kate Hudson
's No. 1 beauty secret is 4 years old and exceedingly hungry. "I wake up, and the first thing that's happening ... is me wanting to get an extra five or 10 minutes of sleep. But Ryder is literally saying, 'Mommy, please make me pancakes, please make me eggs,'" says the 29-year-old actress, looking radiant despite the lack of zzzs. "So I don't even get to brush my teeth before I'm in the kitchen making breakfast." Afterward, she says, "I jump in the shower. I don't even know what is happening with my hair, so I put a clip in my bangs, because I can't do anything with them, and I leave the house. But I made chocolate pancakes. So maybe that's my beauty secret: I don't have enough time to think about it!" Pancakes aside, there's a lot on Hudson's plate right now: She's shooting
Bride Wars
with
Anne Hathaway
, just launched David Babaii for WildAid, an eco-friendly hair care line with hairstylist David Babaii, and finds time to squeeze in some fun with
Owen Wilson
. ("It's personal" is all she'll say. As for ex Chris Robinson, "He will always be an enormous part of my life. We really love each other. It just didn't work.") But it's being a mother—"I can't wait to have more kids," she says—that has taught Hudson the importance of "being present: You just have to enjoy yourself in your life." Over another breakfast—cappuccino and soft-boiled eggs—Hudson sat down with PEOPLE's Julie Jordan to discuss the rest of her beauty secrets.
Describe your beauty evolution.
"I was a tomboy. I had three brothers. I was the girl with the dress on who always came back in the house filthy with scrapes and bruises. But I was always very girly. I had to be able to twirl so that my underwear showed."
Did you have any nicknames?
"My brother Oliver called me Hammerhead because my eyes were on the side of my head. [laughs] They've kind of grown into where they're supposed to be now. And Dumbo [she tucks her hair behind her ears]. I've always had ears that stick out."
How about your hair?
"I had super long hair all the way through high school. When I was 16, I cut it short. I didn't know my hair was curly until I cut it. I looked like Annie. After I had Ryder, my hair changed. It's a little less curly now."
How else did pregnancy affect you?
"My body changed massively. My legs are smaller up top now, and it's just weird. I gained 70 lbs. with Ryder. There was only one time when I really looked at myself in the mirror. I was walking from my bathroom into my bedroom, and I caught a glimpse of myself. And I just went, 'Oh my goodness, I'm fat! I'm 180 lbs.!' I mean I left the hospital 8 lbs. 11 oz. lighter. That whole, 'Oh, you'll lose 20 lbs. of water weight immediately'—I'm like, 'I wish!'"
What was it like trying to lose the weight?
"You can't help what your genes are. My mom [actress Goldie Hawn] was way skinnier than I am. With the Hudson gene [her dad, Bill Hudson, is a musician], I got a little more girth on me, but we're a skinny family. I learned what it felt like to have that much weight on me. Because it affects you emotionally. Even now, I quit smoking, and I gained weight the first month."
When did you quit smoking?
"About the time people started thinking I was pregnant! [laughs] I quit New Years, cold turkey. I'm so happy."
What is your diet like?
"When I'm working, I give myself one day a week to splurge, usually Friday night. Otherwise I just try to stay away from wheat, dairy and white flour. I love food so much. The desert island food for me would be pizza. I love pineapple on pizza. I like pepperoni. I always have a Tombstone in the fridge."
How do you work out?
"I take a jazz class, and we're a big bike-riding family. But predominantly dance, Pilates and running."
Would you alter your look for a role?
"I'm debating right now if I'm going to cut my hair very short or wear a wig for my next role. The only reason I got into this business is to play different characters. Being famous is not why I got into this because I grew up with two famous people. As a child, you see people taking your parents away from you, and you just don't understand it. It's really about how it's handled. And the most important thing in our life is family."
What beauty advice have you learned from your mom?
"The truth is, I probably learned more about this from the boys in my family. If I walked downstairs with too much makeup on, I heard it from every guy in my family. 'What is that? What'd you do to your face? It's ugly.'"
So what are your beauty indulgences?
"I don't even remember the last time I got a manicure. I don't take care of myself. I even got to the point where I started waxing my own legs because I don't have the time. I'm getting pretty good at it. I just bought all my own waxing stuff, like the professional kind with the warmer. I'd rather be home with Ryder sitting there waxing my legs. I haven't gotten a facial in a million years. I don't do those kinds of things. And when I do, I always think, 'I should do this more often.'"
What's your favorite body part?
"My feet. I've never been self-conscious about my feet."
You've been self-conscious about everything else?
"Yeah, it goes in stages. There are certain days you wake up and you go, 'Good day, good day.' And then there are other days where you wake up and you go, 'Not a good day. Really not a good day.'"
Is there anything you would change?
"I mean if I said no I'd be lying. Oh my God, I mean if I could look like Brigitte Bardot for a week, I'd do it. It's so easy to change things these days. If I think, 'I wish I had bigger lips,' I'm like, 'Wait, I could have bigger lips if I wanted them.' But your face is what your face is, and it always looks weird when you start changing things. I struggle with would I ... Obviously for me, I'm so small-chested...."
Would you have a boob job?
"Oh, probably after I have all my babies, I'll be wondering. It will definitely be something I'll go think about like every woman after they have babies. And then I think, 'You know what? I just like being small-chested, and it would feel really weird and bizarre if I was anything different.'"
So no plans for going under the knife?
"As of now, I'm 29 years old. I have no plans for plastic surgery in the near future. I have zero problems with women getting plastic surgery. Now there are non-invasive things you can do for your face, and they have light treatments that enhance your collagen. I think women from the beginning of time, we've always loved our beauty regimes. We put our lotions on, we love our fragrances, we take care of ourselves. But I'm terrified of it. I'm so scared of needles. I have an injection-free face. But let me tell you something, I'm not afraid of it when it's really necessary. Women should do what they want to do."
When do you look your best?
"I think at the end of the night when everything's soaked in and I'm still up. I like the leftover makeup in the morning. You've got to wash your face, but there's always the leftover eye makeup. I love that. Sometimes I'll even put on a real crazy eye, and I'll take it off and put a little concealer on it. And that's how I'll do my makeup—so it looks like leftover makeup."
What's the best thing about being compared to your mom?
"Oh gosh, if I look anything like she does when I'm 60, I'm going to be a very happy, happy lady. She's a beautiful woman and an amazing mother."
Advertisement
Treat Yourself! 4 Preview Issues
The most buzzed about stars this minute!