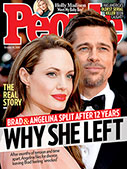 This Week's Issue!
People Top 5
LAST UPDATE: Tuesday February 10, 2015 01:10PM EST
PEOPLE Top 5 are the most-viewed stories on the site over the past three days, updated every 60 minutes
Strangers on a Plane, Now They're Family
At 30,000 Feet Rick Friesen Met a Teenage Girl with a Bleak Future—and Changed His Life to Help Her


Over two hours at 30,000 feet, in bits and pieces, her story poured out. Her name was Christina and she was 15. Born in a small Florida town, she was given up by her mother as a baby, leaving her and an older sister with a father who she says was abusive. One day when she was 12, then living in Mississippi, she told a teacher she was afraid to go home. Child welfare investigated and put both girls in a shelter, then with relatives and eventually with a foster family that moved to California. But while the arrangement worked for her sister, Christina didn't fit in. Now, escorted by a social worker seated a few rows ahead, she was contemplating life back in a group home. "It scares me," she told Rick.

The father of three grown children with Annette, his wife of 32 years, Rick, 52, was a content empty-nester. But, as he listened to Christina's story, the random meeting suddenly seemed like no accident. "She had no home and no family," Rick recalls thinking. "We had a family and a home." Within six months of that June 14, 2005, plane trip, the couple from Billings, Mont., would take Christina into their home; on July 26, 2006, they formally adopted her. "I thought I'd be living on the streets by now," says Christina, now 18, on a recent Tuesday as she sat in the Friesens' newly remodeled kitchen. "Now, I think, 'What a great family I have.'" Says Rick: "Life without her would be unimaginable."

When Annette picked Rick up at the airport, he told her about Christina and, to her astonishment, suggested they adopt the girl. "Wow," said Annette, who was finishing her college degree. She advised Rick to talk to a counselor, "and if he still felt a tug at his heart, I'd consider it. I didn't think he'd ever find her."

But Rick, an executive with the Christian mediation service Peacemaker Ministries, was determined. Within three weeks, he'd tracked Christina down to a group home in Jackson, Miss. He also persuaded Annette: "I couldn't turn my back on her," Annette, 52, says. Though they'd never been foster parents, their quest didn't surprise son J.R., 29. "My parents are like that—giving," he says.

After clearing background checks and meeting with her caseworker, the couple had a supervised visit with Christina in September 2005; they took her to Target. And though the Friesens were not yet allowed to talk about adoption, Christina had begun to think, she recalls, "Maybe this is the family for me." Says Matt Matthews, the Mississippi caseworker involved: "They pushed very hard. This was a positive outcome." On their third visit, the Friesens popped the question. In a restaurant, Annette burst out, "Come home with us for Thanksgiving and then Christmas. We want to foster and adopt you." Christina's reply: "Is it okay if I call you Mom and Dad?"

Nine days before Christmas, Christina walked into her new bedroom. Lace curtains adorned the windows; on the bed lay a pair of blue flannel pajamas, fuzzy slippers and a big teddy bear. "I was overwhelmed," Christina says. But the first few months were a roller coaster. Christina was "very clingy," Annette says, and didn't know how to set a table or what a "laundry room" was. One afternoon after a fight over homework, Annette apologized—and Christina flung herself into her new mom's arms. "If that had happened anywhere else," she told Annette, "they'd have gotten rid of me."

To build her confidence, Annette, a triathlete, encouraged Christina to start running and to make choices for herself, like picking the color for her room (she chose plum). Eventually Christina felt comfortable enough to speak up. One day after Christina failed to take out Cuddles, her golden retriever, before company came and the dog had an accident in the house, a stressed-out Rick snapped at Christina. Later on, she spoke up: "Dad, what you said really hurt me."

Her parents welcome her newfound spunk, as they do her enthusiasm for cooking and learning Spanish. Homeschooled by Annette, she expects to earn her GED later this year and is talking about college. Getting ready for her church's spring ball on a recent Saturday, she spun around in a burgundy gown. "My life," she says, "is great."

Know a hero? Send suggestions to HEROESAMONGUS@PEOPLEMAG.COM


Waiting for his plane to take off after a business meeting in Los Angeles, Rick Friesen stood up to make room for the passenger with the window seat next to his. She was a teenager carrying a blue gym bag and, curiously, seemed to be traveling without parents. As she sipped soda and ate pretzels, Rick asked her where she was headed. Her answer floored him: "I'm a foster kid going to live in a shelter."
Advertisement
Treat Yourself! 4 Preview Issues
The most buzzed about stars this minute!