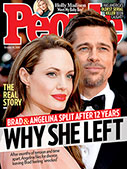 This Week's Issue!
People Top 5
LAST UPDATE: Tuesday February 10, 2015 01:10PM EST
PEOPLE Top 5 are the most-viewed stories on the site over the past three days, updated every 60 minutes
Father's Day Gift Guide
From Cuff Links to Kayaks, the Perfect Gifts to Buy the Dad in Your Life


CUFF LOVE
Multicolored dots are always a match, $195; 888-603-8968; hickeyfreeman.com

MESSENGER BAG
A slim carryall that's chic enough for work and play, $295; 800-299-8864; tumi.com

TIME OUT
Booze Cruise watch, $115; tommybahama.com

LOBSTER CLAW BELT
Supple Italian leather and brass for that tough-yet-smooth look, $65; jcrew.com

STUNNER GLASSES
Bay Area speak for sunglasses (but Dad knows that)! Hagen frames, $235; moselytribes.com

NEW YORK TEES
Boutique label tees with old New York slang and symbols offer authentic cool, $40-$59; barkingirons.com

Cool Dad

COZY KICKS
Worn-in style. Jack Purcell Vintage sneaks for Converse, $94.99; 888-792-3307; converse.com

SWINGING STYLE
He'll look just the thing in this straw fedora. Castor hat, $45; 760-529-4271; brixtonltd.com

LET IT SLIDE
Spice up that boring tie collection. Bulldog or Skull & Bones tie slides, $36.75 each; jpressonline.com

SHIRT STUFF
Multicolored plastic collar bones in a Saville Row-smart fabric pouch, $19.75; thomaspink.com

TIE GAME
Now Dad can sport his favorite baseball team's logo every day to work. Vineyard Vines for MLB, $74.99; shop.mlb.com

ANCHOR MAN
Brown embossed leather, with a hip fabric interior, $125; 877-917-5225; jackspade.com

SOCK IT TO HIM
Italian-made hand-stitched cotton socks, $35; paulsmith.co.uk

CHRISTIAN LACROIX
NOIR Spicy and woodsy, and priced for the pocketbook, $28; shop.avon.com

Action Dad

DELUXE KAYAK
L.L. Bean's newly redesigned 10-ft. Manatee, with rear hatch, $499; 800-809-7057; llbean.com

FISHERMAN VEST
Pockets galore, and thanks to moisture-wicking fabric, only the fish will be wet, $170; 800-638-6464; patagonia.com

HIS CADDYSHACK
A snazzy new bag that weighs 8 lbs. and has a built-in cooler for drinks. The Sun Mountain C-130 Cart Bag 2008, $179.99; 800-813-6897; golfsmith.com

AN IN CHARGER
This solar-powered flashlight will also charge your phone, $30; 800-793-6542; etoncorp.com

A GREAT CATCH
Why should the kids be the only ones with a new glove? Nike Imara II 1200, $40; 800-806-6453; nike.com

MERRELL SNEAKERS
Mesh, featherlight and vegan-friendly cross-trainers, $90; 800-789-8586; merrell.com

GOLF BALL SET
Monogrammed, so he can always find his missed shots, $26.95; 866-386-8300; personalizedmall.com

BBQ Dad

WINE AND DINE
No cork in the merlot ever again! Screwpull Metal Trigger Corkscrew, $130; 877-273-8738, surlatable.com

GRILL-TO-GO
Dad's ready to roll with portable tools of the trade, $42.95; 800-967-6696; crateandbarrel.com

MMM, BACON
A Powered by Pork gift tote includes 3 lbs. of bacon and a Bacon Chocolate bar, $90; 888-636-8162; zingermans.com

BEST BRAND
Pops can truly leave his mark with this monogrammed steak brand, $39.95; 800-541-2233; williams-sonoma.com

FIRE STARTER
The 60-Second Charcoal Starter means no more match flinging, $79.95; 800-321-1484; hammacher.com

SMOKIN' HOT
For the DIY dad, Brinkmann's Gourmet Electric Smoker, $119.95; 800-663-8810; cooking.com

BARBECUE ITALIANO
Mario Batali adds a Mediterranean twist to grilling, $29.95; harpercollins.com

SPECIAL SAUCE
From Brooklyn's legendary steak house, $34.20 for six; 718-387-0500; peterluger.com

BBQ Dad

RUB SET
Add a pinch of flavor with nine different spices, $60; 800-221-7714; deandeluca.com

KEBAB SKEWERS
From Bobby Flay's kitchen to yours, $7.99 for set of two; 866-887-8884 for Kohl's stores

BEERTENDER
Chills and preserves draft beer, $299.99; 800-541-2233; williams-sonoma.com

CORN GRILLING CAGE
Perfect for on-the-cob lovers, $19.95; 800-243-0852; surlatable.com

GOURMET WOOD CHIPS
For serious and flavor-conscious fire-starters, $9.95; 877-256-8916; grillinggifts.com

BBQ CHIC
The essentials of any good grilling, $27.99 for Mario Batali apron, $9.99 for matching mitt; 800-563-6000; amazon.com

New Dad

SPORT BUGGY
A manly-looking stroller for a spin around the park, $400; 800-495-8577; giggle.com

DOG TAG NECKLACE
Monogrammed initials keeps the new babe close to the heart, $108; 877-733-3683; redenvelope.com

STERLING SILVER MONEY CLIP
Here's where to put that perfect picture, $125; 203-531-5265; romerodesigns.com

FATHER & KID FLIP-FLOPS
For little and big feet, $24.50 for men's and $14.50 for toddler's; 800-427-7895 for Gap stores

CAMO DUDEPACK
Perfect for navigating the baby jungle. $98; 877-334-2737; diaperdude.com

VADO POCKET VIDEO CAM
At the ready so Dad can catch every burp and gurgle, $99; us.creative.com

Chillin' Dad

SLING HAMMOCK WITH PILLOW
For a well-deserved summer snooze, $129.99; 800-591-3869; target.com

SPEAKER COOLER
Blasts iPod tunes while toting a 6-pack, $59 plus $6.50 for mono-gram; 888-779-5176; potterybarn.com

DERMALOGICA SHAVE COLLECTION
A sampling of a new three-step regimen with celeb following (Jack Gyllenhaal), $16-$34 for each; bluemercury.com

LAWN BOWLING SET
An old-fashioned spin on a family favorite, $71; 800-940-1170; smithandhawken.com

LEATHER CROC TRAVEL BACKGAMMON
Spark his road trip rivalry, $65; 866-986-8282; tommybahama.com

CANNABIS SANTAL CANDLE
Scents of patchouli and dark chocolate (not a Grateful Dead concert!), $48; 800-373-7420; fresh.com

Gadget Dad

BELKIN TUNEBASE
Streams music from iPhones to car speakers, $79.99; 800-223-5546; belkin.com

SONY CYBER-SHOT
Boasts face-recognition technology that snaps a picture when a subject smiles, $249.99; sonystyle.com

VU BY LG
A slick smartphone with mobile TV, $549.99; only available at wireless.att.com

Wii WHEEL & SUPERMARIO
The long-awaited Mario Kart Wii, $49.99; nintendo.com and video stores

HEADPHONES
From WeSC, lightweight and comfortable headphones that look cool and sound even cooler. $60; 877-354-4481; flight001.com

I-SONIC ENTERTAINMENT SYSTEM 2
An HD radio tags songs to download on iTunes, $499; polkaudio.com

Gadget Dad

SONY READER DIGITAL BOOK
As portable as a paperback, it holds up to 160 eBooks, $299.99; 888-237-8289; bestbuy.com

LP DOCK
For vinyl fans who want old albums on their iPods, the Ion Audio converter, $249; 888-800-0681; ion-audio.com

COBY PORTABLE DVD PLAYER
A compact design but with a 7"-wide screen. Also plays CDs and MP3s, $105.74; amazon.com

Pop Culture Dad

Music

THE BEACH BOYS, U.S. SINGLES COLLECTION—THE CAPITOL YEARS: 1962-1965
Surf's up with this 16-CD limited edition. $132.98

TIM McGRAW, GREATEST HITS: LIMITED EDITION
A roundup of his best-of discs, available exclusively at Wal-Mart. $14.98

RADIOHEAD, THE BEST OF
A two-CD treasure trove of gems by the Brit alt-rockers. $24.98

DVDs

DIRTY HARRY: ULTIMATE COLLECTOR'S EDITION
All five Harry flicks in Blu-ray high-def will make his day. $74.92

FULL THROTTLE ADRENALINE: VOLUMES 1 & 2
NASCAR's thrills are explored in this two-hour DVD; includes interviews with Jeff Gordon and Co. $24.95

RAMBO: THE COMPLETE COLLECTOR'S EDITION
A six-disc salute to Stallone's epic warrior. $54.98

Books

GOODBYE 20TH CENTURY, BY DAVID BROWNE
From Kurt Cobain to Sofia Coppola, the enduring influence of Sonic Youth is explored in this in-depth bio. $26

FATHER KNOWS LESS, BY WENDELL JAMIESON
When his son started asking the darnedest questions, this dad decided to find the real answers. Sweet and indispensable. $24.95

DEVIL MAY CARE, BY SEBASTIAN FAULKS
A new novel for Bond fanatics. $24.95


COOL DAD
Advertisement
Treat Yourself! 4 Preview Issues
The most buzzed about stars this minute!