People Top 5
LAST UPDATE: Tuesday February 10, 2015 01:10PM EST
PEOPLE Top 5 are the most-viewed stories on the site over the past three days, updated every 60 minutes
Picks and Pans: Music
Introducing ... Metro Station, Miley's Brother's Band




CRITIC'S CHOICE
FOLK-ROCK
Having been inducted into the Rock and Roll Hall of Fame this year, John Mellencamp could certainly be forgiven for coasting a bit on the memory of "Jack & Diane." Instead, the heartland rocker has released one of his best discs in years. On this stark, stirring meditation on life, death, love and freedom, Mellencamp pairs up with Grammy-winning producer T-Bone Burnett (
O Brother, Where Art Thou?
), who brings a rootsy realness to the music and digs out some of the grittiest vocals ever from the singer. Meanwhile Karen Fairchild, of the country group Little Big Town, provides vocals on four songs, including first single "My Sweet Love," a little ditty about down-home romance.
DOWNLOAD THIS: "Longest Days," a spare, Springsteen-esque ballad
T.O.S.: Terminate on Sight




RAP
Since their double-platinum debut, 2003's
Beg for Mercy
, the members of G-Unit—50 Cent, Lloyd Banks, Tony Yayo and, until earlier this year, Young Buck (who still appears on five
T.O.S.
tracks)—have released seven solo discs between them. But the second G-Unit CD shows that, for this hip-hop posse, there is still strength in numbers. On cuts like "Piano Man" and "You So Tough," they prove they can still kill 'em.
DOWNLOAD THIS: "Get Down," a Swizz Beatz-produced club banger
Two Men with the Blues | [




]
REVIEWED BY V.R. PETERSON
JAZZ
If you think that pairing jazz trumpeter Wynton Marsalis with outlaw troubadour Willie Nelson sounds like a stretch, you'd be right. This disc, a curious meeting of masters culled from their 2007 Jazz at Lincoln Center concert series, has its entertaining moments but seldom produces sizzling chemistry. Marsalis and Nelson banter well on "My Bucket's Got a Hole in It," but "Caldonia," with its jump-blues dance energy, and the more traditional "Basin Street Blues" poorly frame Nelson's familiar, plainspoken delivery. The singer's sturdy, reflective vocals work best on the Hoagy Carmichael standard "Stardust," where Marsalis' quintet adds to an intimate, warm feeling.
Delta |




POP
This singer, already a major star in her native Australia, sets out to conquer the States with her U.S. debut. She brings to mind two other imports—Celine Dion and Natasha Bedingfield—with her brand of easy-on-the-ears pop. But while it's a likable effort, with uplifting sentiments on songs like "Believe Again," Delta won't win your love.
DOWNLOAD THIS: "In This Life," the sunny, shimmery first single
For more information on where to find our Download This picks, go to PEOPLE.COM/DOWNLOADTHIS
Celebrating Motown's 50th anniversary, this 10-CD, 150-track box set covers all the label's greats—from Diana Ross (right) and Marvin Gaye to Stevie Wonder and the Jackson 5—and more.
COLDPLAY
Viva La Vida
Coldplay stretches out with a more expansive sound, from flamenco rhythms and Middle Eastern textures to sweeping strings and hard-rock guitars. The work of a band at the peak of its powers, this is the album to beat in 2008.




ADELE
19
Continuing the charge of retro-soul chanteuses from the U.K., Adele is the best of the "new Amys." Showcasing a knockout voice, her smashing debut seamlessly weaves R&B, pop, jazz, folk and blues into her own torchy tapestry.




N.E.R.D.
Seeing Sounds
This genre-defying group, including Neptunes producers Pharrell Williams and Chad Hugo, creates an ear-opening collage of musical styles. Their lyrics may leave something to be desired, but it's all about the sounds.




EMMYLOU HARRIS
All I Intended to Be
Harris, always a sought-after collaborator, gets some help from friends like Vince Gill and Dolly Parton on her first solo CD since 2003. But Harris, a model of grace and restraint, sets the beauty standard here.




The singer, 23, has landed a summer hit with the No. 1 single "I Kissed a Girl" off her debut album,
One of the Boys
.
BANANARAMA, "CRUEL SUMMER"
It's one of those songs everyone knows and sings along [to]. And I am very into female rock groups.
QUEEN, "FAT BOTTOMED GIRLS"
It never goes out of style. It's a song you throw your Corona up in the air to and go, "Yeah!"
ESTELLE FEATURING
KANYE WEST
, "AMERICAN BOY"
I love it. It's got a funky groove. She's a great [British] import. And Kanye sounds good on this.
THE TING TINGS, "SHUT UP AND LET ME GO"
It's one of my favorite records of the year. It's a good guitar-riffed song.
ROBYN, "KONICHIWA BITCHES"
When she says, "See you next Tuesday, you is a punk," it's hilarious. All the songs on [Robyn] are amazing.
COCONUT RECORDS, "WEST COAST"
It's a beautiful song by a talented, under-the-radar musician, Jason Schwartzman. I think about it every time I go on a trip.
JESSICA SIMPSON
previews her first country disc with "Come On Over," an inviting, steel-guitar-laced single. At amazon.com.
JONAS BROTHERS heat up the tween scene with "Burnin' Up," the Maroon 5-esque first single from A Little Bit Longer, out Aug. 12. At buymusic.com.
ROBIN THICKE works his seductive powers on "Magic," a '70s-inspired groove from his Sept. 9 release. At iTunes.com.
STAIND returns with the optimistic "Believe," from the rock quartet's sixth studio album, due Aug. 19. At rhapsody.com.
WYCLEF JEAN teams up with rapper Lupe Fiasco on a digital-exclusive remix of "Fast Car." At musicstore.real.com.
Trace Cyrus' group has a hit with "Shake It" and a tour with Good Charlotte. We caught up with Cyrus (third from left), 19
ON THEIR HANNAH MONTANA CONNECTION Me and [co-frontman] Mason Musso met on the set of
Hannah Montana
actually. [Musso's younger brother Mitchel costars on the show.] Now we're best friends.
ON HAVING A FAMOUS FAMILY With my sister and my dad [Billy Ray Cyrus] in the spotlight, I didn't think people were going to take me seriously. So we kept [my family connection] on the down-low. We wanted to feel like we've done it ourselves.
ON GROWING UP ON A TOUR BUS Every summer I'd go on the road with my dad. So ever since I was a kid, all I ever wanted to do was tour, being in a different city every day and just making people happy.
ON HIS INKED ARMS Miley thinks I'm the coolest older brother because I have tattoos!
Life, Death, Love and Freedom |
Advertisement
Today's Photos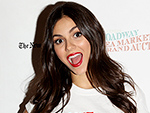 Treat Yourself! 4 Preview Issues
The most buzzed about stars this minute!