People Top 5
LAST UPDATE: Tuesday February 10, 2015 01:10PM EST
PEOPLE Top 5 are the most-viewed stories on the site over the past three days, updated every 60 minutes
Picks and Pans: Tv
Greatest American Dog
SUNDAY, JULY 13
BROOKE KNOWS BEST
10 P.M. | VH1
And you know, maybe she does: With her family in disarray, Hulk Hogan's 20-year-old daughter (right) moves to Miami to star in her own reality show.
GENERATION KILL
9 P.M. | HBO
Seven-week dramatic series about a Marine battalion in Iraq at the launch of the war. From the team behind The Wire.
MONDAY, JULY 14
SAVING GRACE
10 P.M. | TNT
Holly Hunter (right), the most pinchedly intense actress in history, starts a new season as the troubled cop with an angel buddy.
WEDNESDAY, JULY 16
SO YOU THINK YOU CAN DANCE
8 P.M. | FOX
The Top 10 perform in a two-hour show—ample chance to hop aboard that hot tamale train.
PROJECT RUNWAY
9 P.M. | BRAVO
Start of the reality hit's fifth and last season on Bravo, then—auf wiedersehen and off to a new home on Lifetime.
FRIDAY, JULY 18
PSYCH
10 P.M. | USA
New season. Gus and Shawn (Dulé Hill, far left, and James Roday) go sleuthing in a haunted house.
TNT, July 14, 9 p.m. ET |




NEW SEASON!
DRAMA
Kyra Sedgwick returns as prickly, strangely lovable Deputy Chief Brenda Johnson, a woman with a keen mind and shapely legs who nonetheless enters a room with the ungainliness of a pelican looking down its beak for a dropped fish. She's a great, dependable character. The season 4 opener isn't much: An arsonist-murderer has set off an enormous brush fire and left behind the charred corpse of a woman clad in highly flammable clothing, ideal for being burned. A pyromaniac who first appeared in season 1 creeps back onto the scene as a suspect. He's a psychopath of the Anthony Hopkins school, with an icy smile and dangerously nice manners. He's also one of the sillier characters I've seen in a police show. But the ensemble work remains top-notch, especially J.K. Simmons as Brenda's gruff yet faintly flustered boss. And Sedgwick's Brenda keeps on prodding, snacking, scowling, thinking aloud and—despite all the quirks—saving the day.
A&E, July 15, 10 p.m. ET




NEW SERIES!
DRAMA
Benjamin Bratt plays a scruffy, street-smart guy who heads a grab-bag team dedicated to getting addicts into rehab—by whatever means necessary. The show, inspired by the real-life story of addiction counselor Warren Boyd, is like Intervention produced by guerrillas. It also takes getting used to. Bratt keeps talking to God, as if that were a hipper form of prayer, and his colleagues tend to undercut each other with sniping bluntness. But the seriousness of the subject gradually takes hold. The gloom of addiction shadows everything, and the pilot ends on a sad, sobering note.
ABC Family, July 13, 8 p.m. ET




COMEDY
Ashley Tisdale shouldn't have to play
High School Musical
's monster princess Sharpay forever, even if she is awfully good at it. Here, at least, she gets to be the heroine in a mild Cinderella story. Mandy is a not too popular high school senior who captures the eye of the most eligible boy around, a tall, rich, handsome dude named Drew (Robbie Amell). Tisdale ploughs her way through Mandy's crises—many involving Drew's mean ex-girlfriend—with plausible, geeky grit.
The pair host
The Singing Office
, TLC's new reality show that dares office workers to belt out a tune.
HOW GOOD ARE OFFICE WORKERS' MUSICAL CHOPS? Mel B: I don't know if they make good singers, but they certainly take it seriously. This is a huge opportunity for them to get hair and makeup, costumes, choreography. Joey: Regardless if they can sing or not, they make it entertaining.
ARE PEOPLE INTIMIDATED SINGING FOR STARS LIKE YOU? Mel B: No. The way I go in, it's not serious. It's like, "C'mon, this is fun with your workmates." That kind of vibe. Joey: [Even so] sometimes they don't even know half the songs, and they have to sing "Old MacDonald Had a Farm."
AND NOW YOU'RE COWORKERS, TOO. Joey: We followed each other's paths. I met her years ago at an airport when we were in the UK or Germany. We were both in groups, we both did Rent on Broadway, we also did Dancing with the Stars, and now we're doing a show together. It was only fate. Mel B: It was so much fun. He's a big goofball like me.
CBS's reality series showcases an alliance stronger than any on Survivor: dogs and their smitten owners. Woof!
OWNER Brandy Yant of Orange County, Calif.
TALE OF THE TAIL Weighs 20 lbs.; 1 1/2 years old; middle name Marie; good at jumping hurdles.
PRETTY IN PINK "She's a tomboy who dresses like a girl," says Yant, a clothing designer. "She has a shocking-pink sheath with a drop waist with black lace trim."
OWNER Elan Hagens of Portland, Ore.
TALE OF THE TAIL 70-plus lbs. at 14 months—"The biggest on the show," says Hagens, a dog groomer.
KENJI EVER BE SATISFIED? "Kenji loves cheese," says Hagens. "And she loves going to doggy daycare—if she doesn't have that outlet, she's impossible."
OWNER Beth Joy Knutsen of New York City
TALE OF THE TAIL Weighs 14-16 lbs., depending on her jewels; age—"Mature," says her owner.
MEDITATIVE PAWS "We've been practicing dog yoga," says Knutsen, who plans dog events and manages her star (she has Bella's image tattooed on her ankle). "It's helped her recover from hip surgery."
OWNER J.D. Platt of Bend, Ore.
TALE OF THE TAIL Weighs 55 lbs.; 9 years old; finalist in four Frisbee dog world championships.
POWER PUP "She's strong in swimming, jumping and acrobatics," says Platt, who performs with a pack of 11 dogs. No cute getups: "If it rains hard, she might get a [weatherproof] coat. This is not a fashion show."
What's On This Week
Advertisement
Today's Photos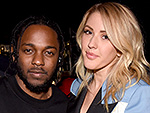 Treat Yourself! 4 Preview Issues
The most buzzed about stars this minute!