People Top 5
LAST UPDATE: Tuesday February 10, 2015 01:10PM EST
PEOPLE Top 5 are the most-viewed stories on the site over the past three days, updated every 60 minutes
Picks and Pans Main: TV
Generation Kill's Rudy Reyes Soldier into Star
SUNDAY, JULY 27
DENISE RICHARDS
: IT'S COMPLICATED
10 P.M. | E!
Really? It's complicated? Because watching this show, which wraps up tonight, it all seems so ... simple:
Denise Richards
loves her spray tans!
LIVING LOHAN
10:30 P.M. | E!
Dina Lohan and her singer daughter Ali end their run tonight too. It's been a looong summer, no?
MYTHBUSTERS: SHARK SPECIAL
9 P.M. | DISCOVERY
Find out whether magnets and chili powder are effective shark repellents.
TUESDAY, JULY 29
JURASSIC FIGHT CLUB
9 P.M. | HISTORY
The realistic animation makes these dinos pretty terrifying. Plus, these dudes ate each other.
TORI & DEAN: HOME SWEET HOLLYWOOD
10 P.M. | OXYGEN
The name of this episode is "Poop Beverly Hills." These two lovebirds are just the cutest.
CELEBRITY FAMILY FEUD
8 P.M. | NBC
Four celeb families face off in the finale, including the kin of Margaret Cho and Corbin Bernsen.
SATURDAY, AUGUST 2
FAB FIVE: THE TEXAS CHEERLEADER SCANDAL
9 P.M. | LIFETIME
A mean-girls tale with a scandalous real-life twist, costarring Tatum O'Neal (right) as a nasty principal. Juicy fun.
AMC, Sundays, 10 p.m. ET




DRAMA
I confess: During its much-acclaimed first season, I was a
Mad Men
resister. The show struck me, a gen Xer with no fuzzy '60s nostalgia, as a little dull, a lot male and way too small—I mean, really, who cares about a few Brylcreem-haired Madison Avenue advertising guys when the fate of all mankind is at stake over on
Battlestar Galactica
?
With
Mad Men
's second season, I've reconsidered. Like a vintage-shop treasure, there is unexpected beauty in the show's exquisite details: a maraschino cherry floating in a Tom Collins, a housewife's nip-waisted sil houette, the click-clicking of typewriters. But beyond those surface pleasures, this is a show with a throbbing pulse—characters move and breathe and talk in ways that feel both real and new. Of the richly talented cast I most enjoy Jon Hamm (who just scored an Emmy nod) as skyscrapingly sexy power player Don Draper and Christina Hendricks as cunning head secretary Joan Holloway—a woman who would be running the place in a different decade.
Bravo, Wednesdays, 9 p.m. ET




REALITY
For
Runway
worshippers, the return of the series for its fifth season is bittersweet: After this installment, the show jumps to Lifetime (and L.A.!). But like its ridiculously flawless host—I mean really,
Heidi Klum
, just admit you're an alien already—
Runway
is still in tip-top shape. Along with stalwart mentor Tim Gunn, this year's group includes Massachusetts designer Daniel, who made a killer cocktail dress out of plastic cups in the first episode (three cheers for the return of the grocery store challenge!) and Ohio designer Kelli, who ingeniously crafted a spiral-bound notebook into eye-and-hook closures. But the guy who's clearly gunning for this year's Christian Siriano "Fierce" award is Blayne, a neon-loving, hoodie-wearing tanning addict who is determined to turn "Girlicious" into this year's
Runway
catchword. Good luck with that.
Gilbert, 44, leaves
Half Pint
behind and takes on the role of Ma in a stage musical based on Laura Ingalls Wilder's Little House on the Prairie books. Shows begin July 26 in Minneapolis.
LITTLE HOUSE AS A MUSICAL?
This is not the
Little House on the Prairie
that anyone remembers! I'm singing and dancing, and, at one point, I do a handstand onto my leading man's shoulders in the middle of a square dance.
IS IT WEIRD PLAYING MA WHEN YOU'VE ALSO BEEN LAURA?
The first couple of days anytime someone said "Laura" or "Half Pint," I would physically move to respond. And every once in a while someone will call me Laura.
ARE YOU FLOODED WITH MEMORIES FROM THE PRAIRIE?
Please! Not a day goes by that I don't burst into tears. It's like stepping through a looking glass. There's a part of me that's always going to be Laura.
On the HBO miniseries, former Marine Sgt. Reyes, 35, takes on a role he was born to play—himself.
AS A KID: I wanted to be a warrior. I wanted to be Bruce Lee. I wanted to be Captain America!
AUDITIONING: Yeah, I was nervous. But I've been a battlefield commander—I wasn't about to show it.
STUNT WORK: They gave me gear, and it was all foam. I said, "Hell, no!" I put on my real body armor and then had to run in it for two days.
MALE BONDING: Marines share the heartbreak of getting the letter that your girlfriend's left you because you're never home. We share our sorrows and our joys.
What's On This Week
Advertisement
Today's Photos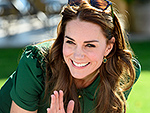 Treat Yourself! 4 Preview Issues
The most buzzed about stars this minute!