People Top 5
LAST UPDATE: Tuesday February 10, 2015 01:10PM EST
PEOPLE Top 5 are the most-viewed stories on the site over the past three days, updated every 60 minutes
Gov. Sarah Palin's Family Matters
The GOP VP Pick Juggles the Race of Her Life with Challenges at Home—Among Them, a Pregnant Teen Daughter
Palin, a self-described hockey mom, went on to serve two terms as mayor; then, in 2006, she wrested the Republican nomination from a seated governor to become Alaska's youngest and first female governor. Now, at 44, she aims to add a new line to her résumé: the country's first female Vice President. Minutes after John McCain announced her as his running mate on Aug. 29, PEOPLE asked Palin if she felt ready to serve a heartbeat away from the Oval Office. "Absolutely. Yup, yup," she responded. "Especially with a good team around us."
McCain's largely unknown choice surprised most everybody. Palin admirers pointed to her staunchly conservative credentials and her reputation for standing up to special interests; critics decried her support for teaching creationism in schools, her championing of drilling in the Arctic National Wildlife Refuge and her dearth of international experience, so thin that she only recently obtained a passport. Palin responded to the clamor with characteristic confidence—and common sense: Just before her PEOPLE interview (see page 73), she ducked backstage at a Dayton, Ohio, arena to change her 4-month-old baby's diaper.
But just as the celebration of her announcement began, the debate over her qualifications took a sudden personal turn. News broke that an attorney had been hired to represent Palin in a state probe into whether she'd forced a commissioner into resigning because he'd refused to fire a trooper who was locked in a bitter custody battle with Palin's sister Molly McCann. More stunning, as word spread that in April Palin gave birth to a baby with Down syndrome, so did rumors that the baby, Trig, was really the child of the Palins' oldest daughter, Bristol. To halt the chatter, the Palins announced that 17-year-old Bristol, an unmarried high school student, is five months pregnant. In a statement, they extended "unconditional love and support" to Bristol, who plans to keep the baby and marry the father. They also acknowledged that the pregnancy "would make her grow up faster than we had ever planned." A Palin relative says Bristol's pregnancy and engagement to high school hockey player Levi Johnston, 18, is no secret in the family: "They were surprised, but these things happen. They are very family people. What's one more Palin running around?"
The McCain camp agrees. A spokeswoman, noting McCain knew of the pregnancy before choosing Palin, said that the "family situation" has not altered his high regard for Palin, a supporter of abstinence-only sex education programs. "She's the mother of five children, and this is real life," the aide said. "They're no different than any other family; this is something that has come up and they're going to deal with it together."
Making the best of unexpected situations is a running theme in Palin's life. Though she bills herself as a PTA member who never set out to make a career in public service, her own story is hardly ordinary. To raise money to attend the University of Idaho, the state where she was born in 1964, Palin entered beauty contests—an achievement that would give rise to the bumper sticker "Coldest State. Hottest Governor." To this day she is a fashion addict, favoring flashy high heels and Kazuo Kawasaki designer glasses perched below her trademark updo. But Palin's heart also leaned toward elk hunting and salmon fishing. Her independent streak was nurtured by her dad, Chuck, 70, a retired science teacher, and her mom, Sally, 67, a secretary, who, she says, "taught me to be self-sufficient."
Palin met husband Todd when both were seniors at Wasilla High School, northeast of Anchorage, the same year the former Sarah Heath cocaptained the girls' basketball team to a state title. The pair eloped on Aug. 29, 1988; Palin gave birth to their son Track the following April. After Trig's birth, Todd took a leave of absence from his job as a production operator for an oil company to handle child-care duties. Asked last week if her joining the GOP ticket has extended his Mr. Mom leave indefinitely, Palin replied, "I would say so, yes."
Already destined to become the second sitting governor to deliver a baby while in office (Jane Swift, the former acting governor of Massachusetts, was first in 2001), Palin was in for another shock when, at age 43 and 13 weeks pregnant, an amniocentesis indicated that the baby she was carrying had Down syndrome. Devastated, Palin, a staunch opponent of abortion, kept the news to herself until Todd returned from a business trip three days later. "The good news is we have a boy," she tearfully told him. "But we have a challenge." Todd's response, she says: "Awesome! I'm getting another boy."
Initially Palin hid her pregnancy—and her pain—from both the public and her children. "I didn't want Alaskans to fear I would not be able to fulfill my duties," she says. "Not knowing in my own heart if I was going to be ready to embrace a child with special needs ... I couldn't talk about it." Concealing her pregnancy with scarves and shawls, she worked a regular schedule and could only hope that those around her wouldn't notice when she substituted aerobics for her daily run. Palin's baby bulge was so small that when she finally did announce her pregnancy to the press in March, they didn't believe her.
The following month she and Todd traveled to Texas for the National Governors Association meeting. Right before her keynote address, she began leaking amniotic fluid. Staying just long enough for the speech, Palin rushed home to Alaska and checked into the hospital. Eight hours later, she gave birth to 6-lb, 2-oz. Trig, five weeks early. As Todd and their three daughters—Bristol; Willow, now 14; and Piper, 7—gathered around the bedside, Track, 19, an Army private, listened in by phone from his base in Fairbanks. "He looks like he has Down syndrome," Willow said. Palin, who says her own qualms were laid to rest "the minute [Trig] was born," felt a lump in her throat. "If he does, you know you will still love him, Willow. It'll be okay." Willow pressed: "But why didn't you tell us?" Palin admitted she didn't know how to break the news. "I was a little shocked," says Willow, "but I don't care—he's my brother and I love him."
Within hours of Trig's birth Palin was signing bills and BlackBerrying colleagues. She took only a few days of maternity leave, opting instead to bring Trig to work occasionally. Now when she travels, her carry-on bag includes extra bottles and an electric breast pump. "I've never had to leave a meeting to feed him," she says, then adds with a laugh, "but I have been on teleconferences where no one has known I was nursing him."
For Palin, her fifth child has opened a "humbling" new window on motherhood. She says that Trig (whose name is derived from two Norse words meaning "brave victory" and "true") "reacts slower" than her other children did at his age. Last month he began physical therapy to strengthen his muscle tone. The family can tell he's a fighter, just like Mom. "It's the way life's supposed to be," Palin says. "Everyone has battles, but not everything has to fit into a mold of perfection. Fulfillment and joy go much deeper than that."
Contributors:
Sandra Sobieraj Westfall/Dayton.
Advertisement
Today's Photos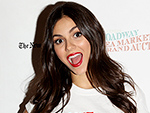 Treat Yourself! 4 Preview Issues
The most buzzed about stars this minute!