People Top 5
LAST UPDATE: Tuesday February 10, 2015 01:10PM EST
PEOPLE Top 5 are the most-viewed stories on the site over the past three days, updated every 60 minutes
Picks and Pans: Movies
3 Things That Scare the Heck Out of Liv Tyler
Queen Latifah
, Dakota Fanning,
Alicia Keys
,
Jennifer Hudson
, Sophie Okonedo | PG-13




CRITIC'S CHOICE
DRAMA
Not since Jodie Foster has there been a child star with the range and sensitivity that Fanning shows in this commendable coming-of-age drama. She gives an astonishingly perceptive performance as Lily, 14, a motherless girl who in 1964 runs away from her sullen father (Paul Bettany) and takes refuge with a trio of compassionate African-American sisters living in rural South Carolina. August (Latifah), the eldest sister, is a beekeeper. In teaching budding writer Lily about bees and making honey, August also imparts important, lasting lessons about both the sweetness and stings of life.
The Secret Life of Bees
, based on a bestselling novel by Sue Monk Kidd and directed with a delicate touch by Gina Prince-Bythewood (
Love & Basketball
), also offers vivid turns by Latifah, Keys and Okonedo as the sisters, and Hudson as Lily's father's housekeeper. While
Bees
' plot occasionally flirts with melodrama, it is still deeply satisfying to watch the film's richly felt characters grow and change.
Josh Zuckerman, Amanda Crew, Clark Duke | R




COMEDY
Sex Drive
totally lives up to its title. Everything that a hormonal 14-year-old boy could want in a movie (provided he can find his way into an R-rated film) is here: topless babes, booze, crude sex and toilet jokes and even an Amish-girl-on-Amish-girl make-out scene. All of this props up a conventional story about three recent high school grads—a nice boy and girl (Zuckerman and Crew) and their Hugh Hefner-in-training pal (Duke)—on a mishap-filled road trip.
Drive
is
Porky's
for the Twitter generation.
Josh Brolin, Elizabeth Banks, Ellen Burstyn, James Cromwell PG-13




BIOPIC
Blame it on Poppy. That's the nub of director Oliver Stone's unflattering instant analysis—really more psychoanalysis—of our current President. In W., George W. Bush (Brolin, who portrays the Prez as a boisterously charming lout) is driven by dual motivations: to win the praise of "Poppy," the disapproving Bush Sr. (Cromwell), and also to prove himself stronger and more decisive than the former President.
W.
is wildly uneven. When it focuses on Bush Jr.'s younger years, the film—like the then-hard-partyer himself—is full of energy and mischief. But when it moves into the White House and extended policy debates,
W.
turns didactic and airless. The problem:
W.
covers both too much ground and not enough (it skips over the contested 2000 election and 9/11). It's preaching to the converted, serving up pop propaganda on a silver-screen tray.
• The actor, 37, stars in the video game adaptation
Max Payne
.
YOU DID YOUR OWN STUNTS. ANY INJURIES?
There weren't a lot of computer graphics, so when you see me flying through the air, that's actually me landing on my head. But my doctor always put me back together.
ARE YOUR KIDS VIDEO GAME FANS?
My daughter [Ella, 5] and I play Wii tennis. I don't mind Wii games because they have to be very active. I would not want my kids glued to the TV pressing buttons.
YOU HAVE THREE KIDS NOW. WANT MORE?
I'm the youngest of nine, so ... however many Mom [fiancée Rhea Durham] wants to have!
• Brian d'Arcy James, 40, goes green onstage next month in
Shrek the Musical
.
IS IT FUN PLAYING AN OGRE?
It's pretty joyous because I get to live out all of my 8-year-old-boy impulses: expel gas, burp and be triumphant about it.
HOW LONG DO YOU SPEND IN THE MAKEUP CHAIR?
An hour and a half. I'm definitely gonna invest in books on tape and tackle some James Joyce.
WHAT DOES YOUR DAUGHTER GRACE, 6, THINK OF SEEING HER DAD AS SHREK?
She loves the movie, but she's been wary of embracing me while in costume. I'm sure I've scarred her for life.
LAURA BUSH
Banks studied her public appearances and says she tried "subtlety over the obvious."
DICK CHENEY
Richard Dreyfuss "exudes intensity without speaking," says casting director Sarah Finn.
CONDOLEEZA RICE
Thandie Newton wore a prosthetic in her mouth to alter her look and voice.
• The actress, 31, has
The Incredible Hulk
and
The Strangers
coming out on DVD just in time for Halloween. So what gives her the chills?
SCREAMING ON CAMERA FOR
THE STRANGERS
I had nightmares that I'd open my mouth and nothing would come out. It turns out I can scream really loud. The poor sound guy's ears were just destroyed.
CAMPING
I'm taking my son [Milo, 3] this weekend. We're going to stay in a cabin and I'm nervous. I hope no strangers come get me—or bears or raccoons.
NOT FINDING MILO'S HALLOWEEN COSTUME
He really wants to be a sea monster. I'm desperately trying to find a sea monster costume online, but I can't find one anywhere!
Advertisement
Today's Photos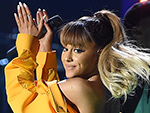 Treat Yourself! 4 Preview Issues
The most buzzed about stars this minute!