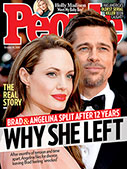 This Week's Issue!
People Top 5
LAST UPDATE: Tuesday February 10, 2015 01:10PM EST
PEOPLE Top 5 are the most-viewed stories on the site over the past three days, updated every 60 minutes
Heroes of the Year
Faced with Challenge, They Overcome. Seeing Need, They Step in to Help. Meet the Four Winners of People's 2008 'Heroes Among Us' Award—and Be Amazed

A STUDENT AND HIS TEACHER
After a lifetime of being unable to read, Williams, a sharecropper's son, joined Hamilton's first-grade class—at the age of 68. Hamilton, 43, a veteran educator, spent countless hours working with him. "Now that I can read," says Williams, 70 (at right, with Hamilton and classmates at Edison Elementary in St. Joseph, Mo.), "there's no stopping me."

Elizabeth Smart
KIDNAPPING SURVIVOR
She was abducted from her bedroom in 2002 and held captive for nine months, but refused to let the ordeal stop her from pursuing her dreams. "This world has so much to offer, I can't lose time feeling sorry for myself," says the 21-year-old (at home in Salt Lake City). The Brigham Young University senior and classical harpist plans to study in London next year and has contributed to a Department of Justice pamphlet for young survivors of abduction. "I want to tell people, 'Don't give up.'"

Maj. Dan Rooney
IRAQ VETERAN AND FOUNDER, FOLDS OF HONOR
The F-16 pilot, who just finished his third tour of duty, has raised $3 million to fund college scholarships for families of service people killed or disabled in war. "After everything they've sacrificed," says Rooney, 35 (in Grand Rapids, Mich., with Jacob Green, 6, whose dad was killed in 2006), "they deserve our support."

Beloved & Jennifer Trubenbach
LAND-MINE VICTIM AND EXECUTIVE DIRECTOR, OPERATION OF HOPE
After meeting the disfigured Zimbabwean boy in 2006, Trubenbach took out a second mortgage for $180,000 to pay for reconstructive surgery—and invited Beloved to stay with her family in Southern California for the better part of a year. And in hopes of a brighter future, Beloved had the courage to embrace a new life thousands of miles away. "I have witnessed him bloom before my very eyes," says Trubenbach, 50. Says Beloved, now 17, who will return to Zimbabwe next year: "I know she loves me."

the BRAVEST KIDS

On the playing field, in the courtroom or at home, these four youngsters have courage to spare

Adam Bender, 9
HE PLAYS THREE SPORTS—ON ONE LEG
Diagnosed with bone cancer at 8 weeks, Adam Bender underwent months of chemotherapy before his parents made the excruciating decision to let doctors amputate his left leg. "I ached," recalls mom Michelle, 41, "to think he wouldn't run a race or climb monkey bars." But Adam had plans of his own. Rejecting his artificial leg for crutches, the Lexington, Ky., boy amazed Michelle and dad Chris when, as a 3-year-old at big brother Steven's soccer game, he kicked a ball and sent it flying. "We thought, 'Wow!'" Michelle says. Today, Adam plays soccer, flag football and baseball. Swinging from a one-legged stance, he hops around the bases at lightning speed; as catcher, he tags opponents out as they body-slam into him. "The kids don't see a difference," says coach Dan Wyse. Adds teammate Matthew Scanlon, 8: "Adam's, like, invincible!"

Name withheld, 11
HE PUT HIS FATHER'S KILLER IN JAIL
On a spring day in 2005, an 8-year-old watched in horror as a drug dealer fired two bullets into his dad's chest, killing him. Several adults witnessed it, but said nothing to cops. "The [killer] was a bad guy," the prosecutor says. "The motto was not to snitch."

But the boy—PEOPLE is withholding his name and hometown to protect him—wanted justice. "I wanted [the killer]," he says, "to go away." Earlier this year, barely able to see above the witness stand, the slender 11-year-old pointed out the defendant to the jury. Convicted, the man is serving 25 years to life. Says the prosecutor: "What he did was remarkable."

Now in a new home, in a different community—police relocated the family—he sounds like any sixth-grader, chatting about computers and basketball. He misses his dad, but draws strength from what he did. "It was," he says, "the right thing."

Jen Zwilling, 18
A GIRL WITH TOURETTE'S SPEAKS OUT
Misunderstood: As a child, Jen Zwilling would frequently sniff, blink and clear her throat. "Kids would offer me tissues and ask, 'Why do you do that?'" recalls Jen, who would pretend to have allergies.

In fact, she had a mild form of Tourette's syndrome, a neurological disorder marked by physical tics. By fourth grade, tired of the questions, the popular Long Island, N.Y., student one day stood before her class and read an entry from her journal about her Tourette's. "I realized, when you explain it, people don't make fun," says Jen, who manages her condition with medication. "I felt good."

Spreading the word: In 2003, as a seventh-grader, Jen began speaking about Tourette's at community schools, and helped found the National Tourette Syndrome Association's youth ambassador program. Since then she has trained some 96 kids in 15 states and five countries to make educational presentations about their condition. "I used to feel embarrassed. Now I feel much better about myself," says Lee Gochman, 16, of Long Island. "Jen's inspired me to be a leader. I look up to her."

Alan Nettles, 15
HE CARES FOR HIS AILING MOM
Alan Nettles plays clarinet, writes fiction and recently had a chorus part in a community production of Oliver! But the Nashville high school sophomore's most important role is one few see: He is the main caregiver for his mom, Nancy Williams-Nettles, 42, a divorced music teacher who has multiple sclerosis. Many days, after school, Alan cooks, cleans, does laundry and irons. When Nancy is sick, he stays by her side; when she is down, he lifts her spirits.

ALAN: It's just something I deal with. That's how it goes. I don't feel cursed or that it's depressing. I'm grateful for my life. If your mom can carry you for nine months, this is nothing.

NANCY: I don't want him to miss out because of me. All I've had to go to are my kids [including Alan's sister Julia, 19, now in college nearby]. I'm very proud. A lot of kids might be angry or frustrated. My son just says, "You're my mom."

ALAN: It may not be the norm to take care of your mom, but it should be.

Please tune in to CNN HEROES: An All-Star Tribute featuring the best of PEOPLE's 2008 Heroes Among Us, hosted by CNN's Anderson Cooper, on Thanksgiving, Thurs., Nov. 27, at 9 p.m. on CNN.

Know a hero? Send suggestions to HEROESAMONGUS@PEOPLEMAG.COM
To read PEOPLE's original stories, go to www.people.com/heroes


Advertisement
Treat Yourself! 4 Preview Issues
The most buzzed about stars this minute!