People Top 5
LAST UPDATE: Tuesday February 10, 2015 01:10PM EST
PEOPLE Top 5 are the most-viewed stories on the site over the past three days, updated every 60 minutes
Picks and Pans: Tv
Robin Tunney Mad About The Mentalist




DRAMA
Jack Bauer, absent since May '07, returns for a full season of antiterrorism in January. First, though, you get what
Top Chef
contestants call an amuse bouche, or exploding diversion. This two-hour adventure finds Jack (Kiefer Sutherland) down in Africa, doing his unsmiling, level-headed best to keep a bunch of innocent schoolchildren from being abducted and trained as brutal baby guerrillas for a dangerous military force. But Jack's heroism this time out is just too grandiose—the title is the tip-off. It's not a phone rebate he's redeeming. I would have liked that better. Back in Washington, D.C., Reptile in Chief Noah Daniels (Powers Boothe) is about to make way for a new President, Allison Taylor. She's played by Cherry Jones with Nancy Pelosi power hair and seasoned grit. She'll be a good addition to season 7.
ABC, Thursdays, 9 p.m. ET |




DRAMA
Such disruptive comings and goings in season 5! Although
Sandra Oh
is still terrific fun as Cristina, the show feels as if it were suffering the muddling onset of flu. Brooke Smith, a formidable actress, was clumsily dropped after her character, Dr. Hahn, embarked on an unconvincing love affair with Callie (Sara Ramirez). Kevin McKidd, a fine actor with a laser-like glare, has joined the cast as a macho trauma expert, but so far his Dr. Hunt is hard to fathom—one episode had him stabbing pigs as if he were Rambo. Then there was a recent visit from dead Denny (Jeffrey Dean Morgan). Please, no more Denny! He always looks like a giant panda in need of a hug. And Melissa George has just shown up as an intern—don't be surprised if she unleashes dramatic storms, as she did on HBO's
In Treatment
. Maybe this is all preventive medicine to keep a long-running show a healthy hit. We'll see.
Comedy Central, Nov. 23, 10 p.m. ET |




COMEDY
Stephen Colbert delivers this hourlong special a bit early for the holiday season, but why grouse? Santa seldom throws anything so cheerfully demented down the chimney. Heavy on musical guests, it features Elvis Costello being mauled by a bear and Willie Nelson as a tiny shepherd in a creche. He sings a sweet little carol about marijuana.
PUPPY CAM There's nothing else so digitally adorable. Millions have tuned in as six Shiba Inu pups play and nap live on camera. http://cdn1.ustream.tv/swf/4/viewer.45.swf?cid=317016
Blazing her own outrageous, outspoken path on the Bravo show, she joins the ladies for a season-end reunion Nov. 25.
SO WHAT DOES IT MEAN TO BE NENE? I'm not the kind of girl who can walk in anywhere and just be fake. It's just not gonna happen. I like to come in, be myself and they better not mess with NeNe. Honey, they better leave NeNe alone. Team NeNe here!
HOW HAS LIFE CHANGED NOW THAT YOU'RE A STAR? I love to go to a restaurant and sit down, and I can't even do that anymore—there's always somebody standing over my food talking.
WHAT CAN WE EXPECT AT THE REUNION SPECIAL? All I can tell you is drama, drama, drama.
Hosting his fifth American Music Awards on ABC Nov. 23, the comedian matches Glen Campbell as the show's most frequent emcee.
HOW IS THIS DIFFERENT FROM HOSTING YOUR SHOW? There are thousands of people instead of a hundred, but the audience isn't necessarily there to see you. I'm like the bus driver—I just try to get everyone to their destination safely and on time.
ANY SURPRISES IN STORE? John McCain and Barack Obama will be onstage together singing. I'm making that up, but I figure if I say it, people will watch.
AND WHAT MUSIC ARE YOU LISTENING TO LATELY? Let's look at my most-played list. My No. 1 song is "Chasing Cars" by Snow Patrol; two is "Slip Slidin' Away" by Paul Simon; three is "Time After Time" by Cyndi Lauper. I'm not exactly up with current hits.
For the actress, 36, costarring in CBS's breakout fall hit has its perks—like teasing Simon Baker.
HOW DID IT FEEL TO SEE YOUR RATINGS? I was up at 6 o'clock [the morning after the premiere] looking at them, texting [costar] Simon Baker. There was a lot of jumping around. Now he expects me to deliver the news every Wednesday. It's a ritual.
YOU'RE FRIENDS? He's awesome. I knew him before we started. He teases me and I'll tease him. I make fun of him that he's sort of a sex symbol. I call him "The Heat." And when I wear a certain coat, he calls me "The Fonz."
BESIDES WORKING WITH SIMON, WHAT'S THE BIGGEST PERK OF BEING ON A HIT? I got air conditioning [and] my bathrooms are gonna get retiled. My house was built in 1958, and my sinks and countertops are from 1958. I'm excited—a little home improvement!
What's On This Week [P] SUNDAY, NOV. 23 [P] TRUE BLOOD [BR] 9 P.M. | HBO [BR] Sookie (Anna Paquin, right), having dumped her vampire boyfriend, has more trouble with the serial killer. Season finale. [P] TUESDAY, NOV. 25 [P] A CHARLIE BROWN THANKSGIVING [BR] 8 P.M. | ABC [BR] The annual repeat of the Peanuts animated special. Snoopy and Woodstock cater the big dinner. [P] DANCING WITH THE STARS [BR] 9 P.M. | ABC [BR] The top couple is announced—but the soul of America knows Cloris and Corky already won. [P] THE SHIELD [BR] 10 P.M. | FX [BR] The end of the drama starring Michael Chiklis (right) as the world's worst cop. Gratifyingly nasty, tough, ironic—perfect. [P] WEDNESDAY, NOV. 26 [P] ROSIE'S VARIETY SHOW [BR] 8 P.M. | NBC [BR] [CELEBRITY_LINK "Rosie ODonnell" "Rosie "O'Donnell"] (left), absent from TV for the last few years, hosts an old-style talent smorgasbord. [P] THURSDAY, NOV. 27 [P] MACY'S THANKSGIVING DAY PARADE [BR] 9 A.M. | NBC [BR] David Archuleta (right), who deserves his very own balloon, is among this year's performers. [P] FOX, Nov. 23, 8 p.m. ET
Advertisement
Today's Photos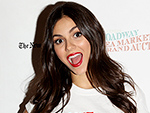 Treat Yourself! 4 Preview Issues
The most buzzed about stars this minute!