People Top 5
LAST UPDATE: Tuesday February 10, 2015 01:10PM EST
PEOPLE Top 5 are the most-viewed stories on the site over the past three days, updated every 60 minutes
Drop Dead Dazzling
Smoldering Newcomers and Favorite Stars Put the Oh in O-Eight
ROBERT PATTINSON
Sexiest Vampire
AGE: 22
STATUS: SINGLE
SEE HIM IN:
TWILIGHT
WHAT A DIFFERENCE A ROLE MAKES
"Last year all I was trying to do was get a girlfriend," says Pattinson, previously Harry Potter's Quidditch foil, Cedric. "What happened? It's like the face of what is attractive has changed."
FANGS ARE THE NEW PECS
"Girls used to want to see guys take their shirts off. Now it's, 'I want you to bite me.' It's bizarre."
JOHN KRASINSKI
Sexiest Funny Guy
AGE: 29
STATUS: SINGLE
SEE HIM ON: NBC'S
THE OFFICE
SEXY MAN?
"I don't think I'm a bad-looking guy. But as long as
Brad Pitt
is walking the earth, I don't think anyone else can really be considered all that sexy."
SEXY CLIMATE?
"I miss the East Coast," says the Massachusetts native. "When the girls are bundled up, it's extremely sexy."
SEXY TRAIT?
"Sense of humor. Being able to laugh with someone is one of the best feelings."
SEXY CITY?
"Paris. Everywhere you look, you think it could be the perfect date. I will go back there for the perfect date at some point."
MORE SEXY BEARDED GUYS
TYSON BECKFORD
Sexiest Bearded Guy
AGE: 37
STATUS: SINGLE
SEEN ON: BRAVO'S
MAKE ME A SUPERMODEL
"When I first got into this business at 22, I had a complete baby face. Now I can grow a beard that itches me at 5 a.m. New York time no matter where I am in the world. I sometimes attract more risqué women who like the roughness. They want that beard scratching their face. The beard reminds me of success: I don't have to follow society and be clean-shaven. I can do whatever I want."
Justin Timberlake
27
Josh Holloway 39
Scott Speedman 33
Josh Lucas 37
JONNY LEE MILLER
Sexiest Prophet
AGE: 36
STATUS: MARRIED
SEE HIM: ON ABC'S
ELI STONE
Some "What Ifs" for the man who plays a prophetic lawyer:
IF YOU WEREN'T AN ACTOR
"I'd be in the London fire service."
IF YOU COULD TIME-TRAVEL
"I'd be 5 years old again. We had a good time."
IF YOU COULD DATE ANY WOMAN
"I'm a married man."
THIS IS A FANTASY. YOU AND YOUR WIFE MUST HAVE A "GIMME" LIST.
"Sure we do. But it ain't going to get published!"
BLAIR UNDERWOOD
Sexiest TV Veteran
A star since
L.A. Law
, the
Dirty Sexy Money
actor, 44, is surprised by his effect on women. Once at school drop-off, "a mother came up and grabbed my butt cheeks!" says the married dad of three. He's shocked, but his kids "find it entertaining."
BLAKE SHELTON
Sexiest Country Singer
His appeal? A well-worn truck, says Shelton, 32, who dates Miranda Lambert and has a new CD,
Startin' Fires
. "The wussiest thing a guy can do is drive a clean truck. Dents, scratches and mud—that's manly."
MORE SEXY BLONDS
SIMON BAKER
Sexiest Blond
AGE: 39
STATUS: MARRIED
SEE HIM ON: CBS'
THE MENTALIST
"My hair has its own personality; it does its own thing. But I thank God for every follicle that's still active. I dyed my hair for a project a year ago, and I reckon it was probably a mistake. It ended up orange and is only getting back to normal now. Really, I didn't even care when it was orange. It was my wife and friends who were like, 'Dude, you've got to fix that hair.'"
Aaron Staton 27
Neil Patrick Harris 35
Lance Bass 29
Chad Michael Murray 27
MARIO LOPEZ
Sexiest Host
AGE: 35
STATUS: SINGLE
SEE HIM ON:
EXTRA
Three things Mario Lopez would like to clarify:
1. ABOUT BARING HIS CHEST
"I said I wasn't going to do any more shirtless photos. But if I was doing a Broadway play and nudity was required, then sure. Clearly I have no shame."
2. ABOUT FALSE REPORTS OF HOOKUPS
"There was a rumor that I was dating Nicollette Sheridan. She looks amazing. I wish the rumor were true!"
3. ABOUT WHO DRESSES HIM
"I don't have a personal stylist. And not my mom! That ended around seventh grade. Girlfriends like to go shopping, and I play along."
TIM DALY
Sexiest Spinoff Star
When not doling out herbal remedies as Dr. Pete Wilder on ABC's
Private Practice
, the married Daly, 52, can be found on his Vermont farm, "wet and muddy under a machine," he says. "Finding something to fix is my idea of a good time."
LANG LANG
Sexiest Concert Pianist
"When you play the piano, you feel your blood pressure go up," says the single Chinese-born virtuoso, 26, who performed in the Beijing Olympics opening ceremony. "You become part of it. It's a very sexy instrument."
JON HAMM
Sexiest TV Ad Man
AGE: 37
STATUS: 10-YEAR RELATIONSHIP WITH ACTRESS JENNIFER WESTFELDT
SEEN ON: AMC'S
MAD MEN
"I try to be a good person. I'm loyal and I'm trustworthy. I'm kind. And I'm a really good driver." —on how he differs from his character, Don Draper.
DOMINIC COOPER
Sexiest Import
AGE: 30
STATUS: SINGLE
SEEN IN:
MAMMA MIA, THE DUCHESS
READER, YOU MIGHT BE HIS TYPE
"American women are very sexy," says the London native. "I love the accent, how open they are and how they express what they want."
SPECIFICALLY, HE'S LOOKING FOR ...
"Someone who's prepared to embarrass themselves, take risks."
ANYTHING HOT ABOUT HOME?
"In England it's so cold you have to curl up in front of a sexy, roasting hot fire."
MIKE ROWE
Sexiest Hired Hand
"My philosophy on dating is a lot like my philosophy on
Dirty Jobs
," says the single Rowe, 46. "I don't cheat. I actually do the work and try my best." Adds the Discovery Channel star: "I usually also manage to have a few laughs."
ROBERT BUCKLEY
Sexiest Newcomer
What keeps this former economic consultant in the gym? "Being half-naked in front of millions of strangers," says Buckley, 27, of his work on
Lipstick Jungle
. Next up: Lifetime's
Flirting with Forty
with
Heather Locklear
.
Advertisement
Today's Photos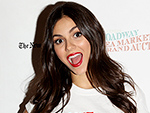 Treat Yourself! 4 Preview Issues
The most buzzed about stars this minute!