People Top 5
LAST UPDATE: Tuesday February 10, 2015 01:10PM EST
PEOPLE Top 5 are the most-viewed stories on the site over the past three days, updated every 60 minutes
Is Cheering Safe?
For Young Women, Cheerleading Has Become the Most Dangerous Sports Activity
Laura's story isn't the worst of it. In Tewksbury, Mass., two years later, Ashley Burns ruptured her spleen performing a complicated cheerleading stunt called an arabesque. No one called an ambulance for at least 30 minutes and Ashley, 14, bled to death on the way to the hospital.
These tragedies are just two examples of an alarming trend: Cheerleaders are suffering far more frequent and serious injuries—so much so that experts say cheering has become the most dangerous sports activity for females. The national Consumer Product Safety Commission surveyed 100 hospitals in 2007 and discovered that emergency room visits for cheerleading injuries jumped from 4,954 in 1980 to 26,786 in 2007. Worse, since 1982, four have died as a result of injuries suffered while cheering.
Why has cheerleading suddenly become so dangerous? A major reason is that the activity once known for leg kicks and twirling pom-poms has evolved into one defined by increasingly daring gymnastic moves. "It has changed dramatically with all the stunts and tumbling that cheerleaders are involved in right now," says Frederick Mueller, director of the National Center for Catastrophic Sports Injury Research in Chapel Hill, N.C. "And there are coaches who aren't certified or knowledgeable enough to teach some of these stunts to their cheerleaders." Mueller studied 25 years of injury reports and found that cheerleading accounted for two-thirds of all catastrophic injuries among female high school and college athletes.
Supporters like Jim Lord, director of the American Association of Cheerleading Coaches and Administrators, say that the rise in injuries could be attributed to the fact that more teens are involved. He adds that the "awareness level" about cheerleading safety is up. "Since 2006 the NCAA has required [college] cheerleading coaches to have safety certification," he says. "And since 2004 our association has developed a high school coaches safety program, which 12 states now require."
But Kimberly Archie, who started the National Cheer Safety Foundation—a nonprofit group devoted to raising awareness about the dangers of cheering—believes that the numbers don't lie. "No matter how they try to spin it or confuse people with participation numbers," she says, "if two-thirds of all injuries are occurring in one sport and there are only 10 sports, there's a problem."
One of the obstacles to making cheering safer is the passion that most cheerleaders share for it—so much so that they are often undeterred by climbing injury stats or even their own injuries. For many it becomes an indispensable part of their identity. Villanova University cheerleader Natalie Barrera, 21, has been cheering for 15 years and was only injured once, in January 2007, when she tore two ligaments in her ankle after landing on someone's foot. Eleven months later she was back cheering. "It's something I really love," she says. "Here at Villanova it's a really big family and something I don't think I could do without."
Kimberly Archie began researching injury statistics after noticing a rash of accidents on her daughter's cheerleading squad in Medford, Ore. But it wasn't until she read a newspaper headline in August 2005 that she felt compelled to start her safety foundation. The headline was about a cheerleader who died. "I screamed," remembers Archie. "I had kept saying that I needed to do something before someone died."
That cheerleader was Ashley Burns, the only child of Ruth Burns, 37, an assistant for a friend with muscular dystrophy from Medford, Mass. This October, Burns filed a wrongful death lawsuit against the East Elite Cheer Gym in Tewksbury, Mass., where her daughter died because, among other reasons, there was no emergency plan in place. "An emergency plan is something as simple as 'These are the signs you need to look out for, and if this happens, call 911,'" says her attorney Robert Bonsignore. "This was 100 percent preventable. If they'd gotten her to the hospital in time, she would be alive." Since losing her daughter, Ruth Burns says, she has barely been able to function. She's been taking antidepressants and sleeping pills, and she sees both a psychologist and psychiatrist. Her living room is a shrine to her young daughter, with dozens of pictures, stuffed animals and other mementos scattered around the room. Ashley's ashes are in an urn on the fireplace mantel. Burns, a charter member of Archie's safety foundation, wants to see real change in the industry, which is why she's suing. "No amount of money will bring Ashley back," she says. "But I want cheering to be safer. I don't want any parent to go through what I'm going through."
Meanwhile, Laura Jackson has been making the best of her situation. Her spinal injury left her paralyzed from the neck down. Still, her manner is anything but morose. She lives with her parents in Livonia, Mich., and is a sophomore at Schoolcraft College, a two-year community college. She has a Facebook page with more than 700 friends, loves fashion and going to the mall. Still, sometimes she breaks down in tears. "Obviously being in a wheelchair sucks, really sucks," she says. "I have my hard times, but for the most part I'm pretty happy."
Both she and her parents wish they'd known about the dangers of cheerleading before her May 2003 accident, but they all admit it probably wouldn't have made a difference to Laura. "Could I have stopped you?" her father, who owns a Motorola dealership, asks her. "Would you have listened? You'd have hated me. The pull of the popularity and the success were too strong." Laura, in a soft voice, agrees. "I wouldn't have hated you," she says, "but I probably wouldn't have stopped."
Contributors:
With Amy Mindell/Livonia.
Advertisement
Today's Photos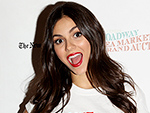 Treat Yourself! 4 Preview Issues
The most buzzed about stars this minute!