People Top 5
LAST UPDATE: Tuesday February 10, 2015 01:10PM EST
PEOPLE Top 5 are the most-viewed stories on the site over the past three days, updated every 60 minutes
His Battle Gets Tougher
After a Setback in His Fight Against Pancreatic Cancer, Patrick Swayze Stays Strong—with Wife Lisa by His Side
The Beast
and insisted on doing his own stunts. But as he flew from his New Mexico ranch to California to talk about the show at a Television Critics Association press event on Jan. 9, his persistent cough wouldn't go away. He knew something was wrong. "As soon as I got home, I called my doctor and then went straight to the hospital for treatment," he tells People. Diagnosed with pneumonia, he had to suddenly cancel his appearance. "He was very apologetic," says Beast co-creator Bill Rotko. "His passion for this role gave him a reason to get up and go to work in the morning and fight."
It is a fight he is waging harder than ever. After checking into a Los Angeles hospital on Jan. 9, Swayze, 56, is bringing all of his cowboy grit—and a defiant dose of Texas swagger—to his grueling yearlong war with Stage IV pancreatic cancer. "I don't plan on being in the hospital long," says the star (see Q&A, page 77). By his side, as always, is his wife of 33 years, Lisa, 52, who has been commuting between the hospital and the couple's 5-acre homestead in the nearby San Gabriel Mountains to care for their menagerie of horses and dogs. As Lisa tells People, "I admire everything imaginable [about Patrick], especially his courage, strength and humor."
Disappointed but not defeated, Swayze refuses to allow this setback to undo him. "I spoke to him this morning [Jan. 12] and he's doing good," says his Beast costar Travis Fimmel. "He asked how the [TCAs] went and that sort of stuff. He's doing really good." Despite reports to the contrary, Swayze "is not at death's door," says a source close to the star, who has been e-mailing friends and coworkers from his hospital bed. "Nobody ever knows with cancer, but he's doing all right. As soon as he's out, he's going to try to reschedule as much as he can." Adds another source: "He knows he's not a miracle—there's only so much he can do. He checked himself in to get the help he needs."
The hospitalization is only the latest hurdle for a leading man who recently told ABC's Barbara Walters he's had "159 lives" and who practically snarls at the tabloids that have been predicting his imminent death for months. "I have the meanness and the passion to say, 'To hell with you,'" he told Walters. "Watch me. You watch what I pull off."
Still, Swayze knows he faces long odds. Pancreatic cancer claims the lives of 75 percent of patients within the first year of diagnosis (see box). After a year of chemotherapy that he has called "hell on wheels," Swayze recently switched drug treatments when his cancer showed signs of adapting to his former regimen. "Pancreas cancer is a disease that's very resisting," says Dr. Jordan Berlin, clinical director of GI Oncology at Vanderbilt-Ingram Cancer Center and a colleague of Dr. George Fisher, Swayze's oncologist at Stanford University Medical Center. "If the tumors are growing, we switch drugs. The treatment is to get the disease to stop growing."
Determined to face down his deadly enemy with his motto "Keep rocking and rolling ... get off your ass and jam, baby," Swayze has focused on doing what he loves most: acting. His cancer diagnosis a year ago came soon after he had filmed The Beast's pilot. He insisted on sticking with the physically challenging, action-driven role, shooting 12 more episodes from July into November of last year. "Some people, they get that kind of news, they go to Paris or a beach in Hawaii," says consulting producer Michael Dinner. "But for a lot of us, work is who you are. And he was really adamant about wanting to go back to work. [He] said, 'I'm going to keep going.'"
He has done just that, earning strong reviews as veteran undercover FBI agent Charles Barker in
The Beast
, which premieres Jan. 15. Filming in Chicago amid his chemo treatments—and refusing to take pain medication for fear it would interfere with his work—"he was tireless," says Dinner. "He didn't want anyone to pamper him. The only time he would get upset is if he felt the scripts were making it easy on him."
Still, Swayze was quietly struggling. "I'd be laying on a bathroom mat, curled up, going, 'You son of a ... you're not gonna beat me,'" he told Walters. He kept protein shakes on hand to maintain his waning weight, and he would wake up hours before call time to give his ravaged digestive system a chance to get on track before the cameras rolled. "I think Mondays [after chemo] were hard," says Beast co-creator Vincent Angell. "It takes a toll on your body. But he had a great ability, once he stepped on-set, to leave it all in the trailer and go to work. He would say, 'It was a rough weekend, but let's get to it.'"
Of course, he also had his not-so-secret weapon—Lisa—for backup. A few months ago the couple renewed their wedding vows before close friends and family, with Swayze riding in on a white stallion. "The way he looked at her, the way he held on to her, the way she smiled," says Walters of her time spent with the couple, "I can't really imagine one without the other." Lisa directed an episode of The Beast and was a fixture on the set. "Patrick took tremendous joy from having Lisa there, and it was touching to see," says Dinner. She also could be a calming influence. "Patrick can be very intense and hot about something," Dinner says, "and she has the ability, in a millisecond, to tell a joke or tell him he's acting like a child. She gives him a look. They depend on each other." Rotko recalls an hour-long phone call with Swayze one evening during which Lisa tried to get her husband to take a break. "I could hear her in the background shout, 'You're still on the phone? You need to go to bed!'" Rotko recalls. "And then about an hour later she came back in and we were still on the phone and she goes, 'Are you serious?' And he was like, 'All right, guys, I gotta go.' It was a very funny husband-wife moment."
Still, there are some things even Lisa can't change about her doggedly stubborn husband. A source says Lisa herself quit smoking but that despite her pleas, he won't follow suit. He has acknowledged that his lifelong habit "probably" had something to do with his cancer—it is a proven risk factor for the disease—but told Walters that "when it looks like I may live longer than five minutes, I'll drop cigarettes like a hot potato. Right now it's not my priority."
Instead, his No. 1 priority now is to get back on his feet and continue to fight for every new day. Swayze, who is said to be responding well to treatment in the hospital, says he plans on getting out of bed and resuming a full workload promoting his new television show as soon as possible. How does he maintain his courage in the face of such a brutal battle? "One foot in front of the other," he says plainly. "And never lose sight of some goal—whatever that happens to be—when you wake up in the morning."
Contributors:
Lisa Ingrassia/Los Angeles,
Julie Jordan/Los Angeles,
Elaine Aradillas/Los Angeles,
Kristen Mascia/New York City,
Liz McNeil/New York City,
Mark Dagostino/New York City.
Advertisement
Today's Photos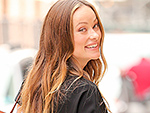 Treat Yourself! 4 Preview Issues
The most buzzed about stars this minute!