Archive Page - 12/1/12 39 years, 2,080 covers and 53,257 stories from PEOPLE magazine's history for you to enjoy
On Newsstands Now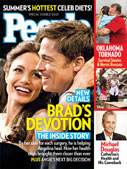 Brad's Devotion: The Inside Story

Oklahoma Tornado: Heroic Rescues

Michael Douglas on Catherine's Health
Pick up your copy on newsstands
Click here for instant access to the Digital Magazine
People Top 5
LAST UPDATE: Thursday May 23, 2013 07:10PM EDT
PEOPLE Top 5 are the most-viewed stories on the site over the past three days, updated every 60 minutes
Picks and Pans: Movies
They Love the '80s!
Reese Witherspoon
, Seth Rogen, Hugh Laurie, Will Arnett, Kiefer Sutherland, Stephen Colbert | PG |




ANIMATED
When Susan Murphy (Witherspoon) considered everything that could go wrong on her wedding day—lousy weather, droopy centerpieces, an MIA photographer—she never thought she'd be hit by a meteor and transformed into a nearly 50-ft. giant. So that's what a bridezilla looks like. The government renames her Ginormica and locks her away with other freaks of nature, including a scientist turned cockroach (Laurie), a fish-ape hybrid (Arnett) and brainless blob B.O.B. (Rogen). But when aliens touch down on Earth, eager to harvest the same outer-space substance that supersized Susan, the motley crew is unleashed to help protect the planet.
Monsters vs. Aliens is a mostly enjoyable send-up of '50s B movies (Attack of the 50 Foot Woman; The Blob). The monsters are endlessly entertaining: It's a scream watching B.O.B. flirt with a Jell-O mold, and there's a white-knuckler of a battle on the Golden Gate Bridge (especially when viewed in 3-D, though the film is also being released in traditional 2-D). But whenever the monsters exit, the fun follows suit. Scenes featuring the U.S. President (Colbert, in a rare misfire) fall particularly flat. If there's a sequel, here's hoping they ditch the human deadwood.
Nicolas Cage, Rose Byrne PG-13 |




THRILLER
An astrophysics professor (Cage, on autopilot) discovers that the seemingly random numbers on a drawing unearthed from a 50-year-old elementary-school time capsule in fact pinpoint the date and location of every major disaster since 1959. Smart guy, so how come when he determines that the numbers threaten his son—and black-clad men start lurking about—he leaves the boy defenseless in a car parked deep in the woods in the dead of night? The jumbled Knowing raises intriguing notions about fate vs. free will, but as fun with numbers goes, you're better off sticking to Sudoku.
John Malkovich, Colin Hanks, Emily Blunt, Tom Hanks | PG |




COMEDY
It's not every day that an actor gets to upstage not one but two Hankses. That's one of many impressive feats John Malkovich pulls off in the breezy, though familiar, The Great Buck Howard. Malkovich stars as a washed-up mentalist who plods along playing to half-empty theaters in Podunk towns, hoping for a triumphant resurgence. Colin Hanks is maddeningly impassive as Buck's assistant Troy; same goes for his father, Tom, who produced the film and appears in a cameo as Troy's disapproving dad. They're saved by the Great John Malkovich, who nimbly manifests Buck's massive ego ("I practically built The Tonight Show!") and cheesy-yet-entrancing onstage charm.
>• The actor, 38, voices Monsters vs. Aliens' Missing Link.
ON HIS MOST UNUSUAL GIG I used to do voice work for Lamisil ads. I'd ask the public about their thick, discolored or flaky nails in a way that sounded really sympathetic.
ON WIFE AMY POEHLER The first time I saw her onstage, I said, "I'm gonna marry that girl." It took seven years!
ON SON ARCHIE, 5 MOS. He's a good laugher.
>SPINNING INTO BUTTER
Sarah Jessica Parker
swaps her Sex and the City Manolos for sensible shoes in this lightweight, surface-scratching drama about a college dean coping with the aftermath of a racial incident on campus. Left with little assistance from first-time director Mark Brokaw, Parker tries valiantly but simply seems in over her brunette head. (R)




>TELL NO ONE In the mood for a crackling thriller new to DVD and Blu-ray? Skip the disappointing Quantum of Solace for this twisty French heart-stopper about a doctor (François Cluzet, below) who discovers that his late wife—she died eight years earlier—might still be alive. Magnifique!
>• The stars of the new comedy Adventureland (opening April 3), set at an amusement park in 1987, remember the way they were during that totally awesome decade.
"I had two stepsisters who were very in fashion, so I got a lot of the teal mascara tips and Esprit. I also had a short perm, so I don't know if any pictures of that will see the light of day. I was constantly perming my hair. My mom took me when I was really young, and we kept going. And then after a while it was like, 'What is that burning smell? It can't be good for my hair.'" —KRISTEN WIIG
"What was I like in the '80s? Tube socks and Spuds MacKenzie T-shirts. That was the [stuff]." —BILL HADER
"I loved Say Anything. That was a huge movie for me when I was a kid. You always have that moment with a ghetto blaster over your head, blasting it out for the one that you love. In reality, you can be arrested doing that." —RYAN REYNOLDS
Voices by
Advertisement
Treat Yourself! 4 Preview Issues
The most buzzed about stars this minute!