People Top 5
LAST UPDATE: Tuesday February 10, 2015 01:10PM EST
PEOPLE Top 5 are the most-viewed stories on the site over the past three days, updated every 60 minutes
Picks and Pans: Movies
Hannah's Cameos




COMEDY
Sometimes movies review themselves. "I thought this was going to be funny, but it's actually kind of sad," says a police detective in Observe and Report of a prank his partner plays on Ronnie Barnhardt (Rogen), an overeager mall cop. The same could be said of O&R. It is funny, often outrageously so, but there's an underlying bleak streak to this dark, frequently violent comedy that keeps catching you by surprise. Writer-director Jody Hill (The Foot Fist Way) creates characters who are amusing onscreen but would be off-puttingly pathetic if they turned up in real life.
Ronnie is a loser, though never in his own mind. He's single, has bipolar disorder, lives with his drunken mom (the glorious Celia Weston) and takes his job as a mall cop way too seriously. His mission: to catch a flasher at the mall who waved his puny wares at Brandi (Faris), a cosmetics saleswoman whom Ronnie adores.
Rogen stretches impressively here. His Ronnie is a hulking loose cannon, swinging between rage and tenderness (as when he lovingly covers his soused mother with a blanket after seeing her passed out on the floor). And Faris, who has the bruised look of an overripe peach dropped once too often, earns big laughs with her smart performance as a spectacularly dumb party girl.
>• As wallets shrink, films set at shopping malls remind us of flusher times past.
MALLRATS (1995) Mall habitués Shannen Doherty (above) and
Ben Affleck
starred in a raunchy Kevin Smith comedy.
DAWN OF THE Dead (1978) Shopaholic zombies invaded a mall in a cheapie horror classic, which was pointlessly remade in '04.
PAUL BLART: MALL COP (2009) Kevin James scooted to a surprise box-office bonanza as a pratfall-prone mall security guard.
>LYMELIFE Unhappiness in suburbia is the well-worn theme of this dour domestic drama, which stars Rory Culkin (left, with Alec Baldwin and Jill Hennessy). He's a 15-year-old grappling with adolescent angst and disillusioning revelations about his parents' marriage. (R)




ANVIL! THE STORY OF ANVIL An endearing documentary looks at Anvil, a seminal heavy metal band based in Toronto which, despite nearly three decades of trying, has so far failed to find mega-commercial success. It's like watching This Is Spinal Tap in real life. (Not rated)




>• The Phantom of the Opera actress, 22, indulges her inner warrior in Dragonball: Evolution.
DRAGONBALL IS BASED ON JAPANESE ANIME. WERE YOU A COMICS FAN? I liked Betty and Veronica and girlie comics when I was little, but I wasn't into all the action stuff.
YOU KICK BUTT IN THIS MOVIE! It was my first time riding a motorcycle, first time shooting a gun, and I got to train with the Marines. I don't know how I grew up in New York and never saw a gun in an urban city like that, but it was exciting.
HOW DID YOU UNWIND? The girls would sneak and eat ice cream. We were supposed to be disciplined, but I cannot go through that pain and not have a treat.
>• The Office star, 41, pairs with
Miley Cyrus
in Hannah and Zac Efron in
17 Again
.
HOW WAS WORKING WITH MILEY? Miley has no veils. She has normal concerns, like boys and outfits. We don't really watch TV at home, but when [my daughters Rory, 4, and Piper, 7] met her, they thought she was really nice.
AND ZAC? [On location for
17 Again
,] the girls would come out of class and scream through the windows. Zac is truly dreamy. If I were 20 or 21, he'd be in big trouble!
WHAT DO YOUR GIRLS THINK OF YOUR JOB? I'm a superstar in our household. I am savoring every moment because I'm sure a day will come when I'm not.
WHO WERE YOUR TEEN CRUSHES? Leif Garrett, Scott Baio and Shaun Cassidy. I kept a stack of Teen Beats in the corner of my room. I read and reread about all the cute boys.
>That
Miley Cyrus
kid has some serious celeb pull: Besides her dad, Billy Ray, watch for these famous faces in Hannah Montana: The Movie.
Vanessa Williams
The Ugly Betty vixen plays Hannah's tough-as-nails publicist, who helps the singer maintain her double life.
TAYLOR SWIFT The 19-year-old country star (who's Miley's real-life pal) hits a romantic note when she pops up performing her song "Crazier."
TYRA BANKS
Hannah Montana and Tyra, who plays herself, engage in a serious hair-pulling catfight in a Rodeo Drive store over a pair of pumps.
Seth Rogen, Anna Faris, Ray Liotta | R |
Advertisement
Today's Photos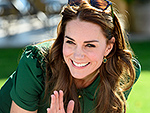 Treat Yourself! 4 Preview Issues
The most buzzed about stars this minute!