People Top 5
LAST UPDATE: Tuesday February 10, 2015 01:10PM EST
PEOPLE Top 5 are the most-viewed stories on the site over the past three days, updated every 60 minutes
People.COM
Liam Neeson & His Sons
"MOVING FORWARD AS BEST THEY CAN"
Three weeks after the death of his wife, Natasha Richardson, in a freak ski accident, Liam Neeson is trying to give their sons—Micheal, 13, and Daniel, 12—something to cheer about. On April 4 the actor, 56, and his mother-in-law, Vanessa Redgrave, took the boys to a soccer game in London. "Liam was intent on giving his sons a great day out," says an eyewitness. Getting to watch their team, Liverpool, was a rare moment of fun for the grieving family. "Liam is taking care of his kids and making sure they're okay," says a family friend. He hasn't lined up any new projects since he finished filming Chloe in Toronto nine days after Richardson's death. While there, he was spotted sitting alone at a hotel bar. "It was so sad," reported the New York Post. "He looked like he was in an Edward Hopper print." But Neeson and his sons won't give in to that sadness, says the friend. "They're moving forward as best they can."
Madonna
GEARING UP FOR A FIGHT
Madonna
is readying for battle. After a Malawian judge denied the pop star's bid to adopt 3-year-old orphan Mercy James on April 3,
Madonna
, 50, filed an appeal with the African nation's highest court. "We are ready with our grounds challenging [the] judge's ruling," her attorney told Scoop. A source says daughter Lourdes, 12, took the news hard: "
Madonna
looked sad, but Lourdes looked devastated." Adds a
Madonna
pal: "
Madonna
is going to fight it. She would have given that child a wonderful life."
David & Téa
BACK TOGETHER?
RUMOR PATROL
A report claims David Duchovny, 48, and Téa Leoni, 43—who last October revealed they had been separated for "several months"—have reconciled. At that time, Duchovny had finished a rehab stint for sex addiction. "They're not getting back together anytime soon," says a source, adding that the actors, who have two children, remain close friends.
Who Should Star in
Footloose?
THE People POLL
Now that Zac Efron has dropped out of the remake of 1984's
Footloose
, Hollywood is on the hunt for a replacement. So who should follow in Kevin Bacon's fancy footsteps?
DAVID COOK 9%
BOW WOW 4%
DEREK HOUGH 49%
CHACE CRAWFORD 38%
Lindsay & Sam
YET ANOTHER BREAKUP
Lindsay Lohan
and Samantha Ronson are off-again (for real!? well, this week ...) but stay tuned—the actress will keep us posted!
"BREAKUP" #1
Lohan takes to her MySpace page Dec. 2, saying, "Just to clear this up ... because i have been getting a lot of e-mails asking me this one question [...] samantha ronson and lindsay lohan (me) are NOT breaking up."
"BREAKUP" #2
After a tearful and screaming New Year's Eve in Miami between the two, sources close to Ronson say the couple split. But Lohan fights back on MySpace Jan. 5: "We did NOT break up!"
"BREAKUP" #3
The couple once again battle breakup rumors, with Lohan saying in a Feb. 16 report, "Everything's fine." Three days later, eyebrows are raised when she's spotted with Lily Allen—not Ronson.
"BREAKUP" #4
Drama Central: On March 14, after a night out, Lohan arrives at Ronson's home, where the pair argue. It escalates to a broken window and cops are called.
"BREAKUP" #5
Lohan confirms it's over—for now. "We are taking a brief break so I can focus on myself," she tells
E! News
April 6, after being banned from an April 3 party hosted by Ronson's sister Charlotte.
CELEBRITY THUMBSUCKERS
No pacifiers needed—these stars give a childhood soother the thumbs up!
Insider
CAPE TOWN'S BIG NIGHT!
Globe-trotting celebs traveled to South Africa for the April 2 opening of the
One&Only Cape Town
, where they nibbled on paninis and sushi prepared by chefs Gordon Ramsay and Nobu Matsuhisa.
Matt Damon
and wife Luciana chatted with Robert De Niro, while
Mariah Carey
(there with husband Nick Cannon) treated guests to a rendition of "I'm Ready" and Marisa Tomei cozied up to boyfriend Logan Marshall-Green.
VALENTINO'S FASHION FETES
Fashion icon Valentino had a big week of honors in L.A.
Gwyneth Paltrow
, Nicky Hilton and
Anne Hathaway
(with beau Adam Shulman) flocked to the LACMA April 1 for the West Coast premiere of
Valentino: The Last Emperor
. The next day, the designer received the Rodeo Drive Walk of Style Award. "Gosh, I love everything," Hathaway gushed of his creations.
FAST TAKES
• 4/3, L.A.: A family affair!
Nicole Richie
and Rashida Jones (her dad, Quincy Jones, is Richie's godfather) and Sting and daughter Kate Sumner (above) rocked out to tunes by Mark Ronson and his deejay sis Samantha for their sister Charlotte's I "Heart" Ronson for JCPenney party. • 3/31, N.Y.C: Taylor Momsen and Amber Tamblyn chowed down on cake to celebrate
Nylon
magazine's 10th anniversary. • 4/4, L.A.: Robert Downey Jr. celebrated his 44th b-day with pals
Gwyneth Paltrow
, Chris Martin,
Reese Witherspoon
and
Jake Gyllenhaal
at BondSt Beverly Hills. "He was very touched," says a guest.
5 Questions for ...
ELISHA CUTHBERT
As the Canadian-born hottie returns to
24
playing Kiefer Sutherland's daughter, she muses on phobias, fashion, fave foods and physique
1 There's buzz that you channel your inner action hero this season.
I did one of the most frightening stunts I've ever done. I don't want to give it away, but it was like I was on Fear Factor!
2 Do you have any phobias?
I used to be very afraid of flying. I always have to get on the plane with my right foot first—stupid things to calm my brain.
3 Have you ever made your own clothes?
I wish I could make my own clothes. It would be a lot cheaper, but unfortunately my sewing skills are not that great!
4 Favorite food?
I love tomatoes. I steal them off my friends' plates. A lot of people don't like tomatoes and push them off to the side, and I'm like, "I'll take them!"
5 Are you a fitness fiend?
Just being an actor gives you more motivation to stay looking good. Maybe I would let myself go a bit more if I didn't have to be so conscious of it.
Contributors:
Jennifer Garcia,
Liza Hamm,
Marisa Laudadio,
Tiffany McGee,
Christina Tapper,
Jennifer Wren,
with Reagan Alexander,
Shayna Rose Arnold,
K.C. Baker,
Pernilla Cedenheim,
Elizabeth Leonard,
Eunice Oh,
Simon Perry,
Jenny Sundel.
Advertisement
Today's Photos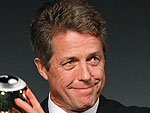 Treat Yourself! 4 Preview Issues
The most buzzed about stars this minute!