People Top 5
LAST UPDATE: Tuesday February 10, 2015 01:10PM EST
PEOPLE Top 5 are the most-viewed stories on the site over the past three days, updated every 60 minutes
Picks and Pans: Books
Parenting the Today Way
by Dave Cullen |




REVIEWED BY CAROLINE LEAVITT
People PICK
NON-FICTION
Almost 10 years ago—on April 20, 1999—18-year-old Eric Harris and 17-year-old Dylan Klebold walked into Colorado's Columbine High School and massacred 13 people and then themselves. How can evil of that magnitude ever be understood? In this riveting assessment, Dave Cullen, one of the first reporters on the scene, reveals that the initial conclusions—the boys were Goth outcasts; they'd been bullied and targeted jocks for revenge—were wrong. Poring over videos, journals, 25,000 pages of evidence and his own interviews, Cullen creates intimate new portraits of the killers, who were in fact both smart and popular. But Eric was also a psychopath (born, not made, Cullen implies) bent on annihilating the human race; his rage fueled Dylan, suicidally depressed over romantic troubles, into action. No less gripping are Cullen's examination of alleged police fumbles and his shattering portrayals of the survivors. Like Capote's In Cold Blood, this tour de force gets below the who and what of a horrifying incident to lay bare the devastating why.
by Christian Moerk |




REVIEWED BY LIZA HAMM
NOVEL
Desmond, a mailman, discovers a grisly crime scene on his daily route north of Dublin one day. Then Niall, another postal employee, finds a diary in the dead-letter bin that describes the events leading up to the heinous murders. At the heart of it all: Too many women in the Walsh family fell for Jim, a handsome storyteller (they're called seanchai in Ireland) who seduces with his tales of love, danger and sorrow. Now it's up to Niall to find out if one of the women managed to escape her sisters' unlucky fate. Moerk, a former film executive, would do very well carrying on the seanchai tradition in an any dark, cozy Irish pub. He weaves a creepy, entertaining, sometimes outlandish tale about the perils of loving the wrong guy. It's a chilling bedtime story for adults.
by Lynne Greenberg |




REVIEWED BY BETH PERRY
MEMOIR
In 2006 Greenberg felt a burning pain in her skull. "It has never gone away since," she writes. The mother of two—who severed a vertebra in a teenage car accident—still had a broken neck. Over the next year, she endured a series of brutal medical procedures, abused painkillers and even considered suicide. Broken can feel solipsistic, but when Greenberg re-engages with the world beyond pain, the results are stirring: At a rare dinner out, she writes, "guffawing, I felt my head ache; guffawing louder, I chose to ignore it."
by Jean Hanff Korelitz |




REVIEWED BY JOANNA POWELL
NOVEL
With acceptance rates at Ivy League schools now impossibly low, this timely novel written by a former "reader" of personal essays at Princeton has built-in appeal for anyone seeking insight about the ferocious competition. The story revolves around 38-year-old Princeton admissions officer Portia Nathan, who's grappling with a long-buried secret from her past. More compelling than her personal drama, though, are the well-researched insider tidbits on everything from family legacies (they count more than you think) to baked-goods bribes (don't bother) to the kind of "complex, mellifluous" student essays that smack of cheating. Early decision? Recommended.
TOP 10 CELEBRITY MEMOIRS
• New star tell-alls are popping up like crocuses this spring, but these classics are hard to beat
1 CHRONICLES
BY BOB DYLAN
He wanted to alienate his audience, not speak for a generation, Dylan declares in this fascinating look at the inner workings of a musical game-changer. Light on personal revelations (he claims indifference "to wealth and love"), Chronicles still transfixes.
2 ME
BY KATHARINE HEPBURN
Hepburn's voice is as charming on the page as onscreen; whether she's describing lovers Spencer Tracy and Howard Hughes or detailing her young brother's shocking suicide, the "energy and ego" that she says made her a screen star powers her indelible memoir.
3 CLAPTON
BY ERIC CLAPTON
What didn't kill him made him stronger: In this raw, compelling tale, Clapton details his heroin addiction, his tortured affair with Pattie Boyd ("Layla") and the death of his son Conor. Blues power to the max.
4 MY LIFE SO FAR
BY JANE FONDA
"Dad had an obsession with women being thin," Fonda writes. "The only time [he] ever referred to how I looked was when he thought I was too fat." (Which would explain those '70s exercise tapes.) A riveting look at family dysfunction Hollywood-style and how one great actress survived.
5 KNOCK WOOD
BY CANDICE BERGEN
She had the oddest case of sibling rivalry imaginable: Growing up in Hollywood, ventriloquist Edgar Bergen's daughter felt she had to vie with dummy Charlie McCarthy for her dad's love. The former Murphy Brown star manages to be both sorrowful and funny about that and much more in a life story you won't soon forget.
6 LOITERING WITH INTENT
BY PETER O'TOOLE
A portrait of the artist as a young rogue, the actor's '92 autobiography tumbles wittily through boyish shenanigans, an attempt to be a "scholar Bohemian" and two obsessions: with the "profoundly strange" Adolf Hitler and the glories of acting.
7 DOWN CAME THE RAIN
BY
BROOKE SHIELDS
Nearly unhinged by postpartum depression after her daughter Rowan's birth, Shields pulled through and wrote a moving memoir even the unshakably cheerful among us can love.
8 AMERICAN PRINCE
BY TONY CURTIS
It's not often a man (let alone one in the spotlight) admits to being an inadequate father. Curtis's unabashed candor, along with his tales of passion with Marilyn Monroe, failing at multiple marriages and finding current wife Jillie, the love of his life, make this one a stunner.
9 DEAN & ME
BY JERRY LEWIS
The wildly famous Martin and Lewis broke up their act after 10 years, then didn't speak to each other for another 20. Frenetic funny man Lewis's wild, heartbreaking book chronicles their dueling egos, booze and broads—and is a valentine to the ex-partner he never stopped adoring.
10 MY LIFE IN FRANCE
BY JULIA CHILD
Child's ebullient story of transformation—from wide-eyed American diplomat's wife to internationally known doyenne of French cooking—is seductively savory and sweet and as much about the human heart as it is about the palate.
>1 SHE SWEARS BY A PSYCHIC NAMED BERNARD In her new memoir, she reveals that it was Bernard—channeling a dead relative—who told her to go for the '08 Olympics. "I wanted to make sure I wasn't wasting my time," she says.
2 SHE EATS AN ICE CREAM DRUMSTICK BEFORE BED "I want to keep swimming so I can still eat what I want," she says. She's now training for the World Championships in July.
3 SHE TURNED DOWN DANCING WITH THE STARS "I'm so competitive. If I got taken off first I would've been devastated."
4 SHE'S ON THE MARKET She and David Hoffman, daughter Tessa's dad, have split: "We grew in different directions."
5 SHE HAS A THING FOR
TOM CRUISE
"His skin and his smile—I mean, wow! It's an innocent little crush. He and Katie make a great couple."
>• For their new child-care book, Today show producers Mary Ann Zoellner and Alicia Ybarbo solicited tips and memories from the gang:
MATT LAUER "I tell my kids that I love them, and I don't say it as a throwaway phrase."
ANN CURRY "What helped me was realizing that doing my job well was taking care of my kids."
MEREDITH VIEIRA "Learn to delegate.... I always felt, 'I'm the mom, I know what to do.'"
AL ROKER Giving baby daughter Leila a nighttime feeding: "She just saw my breast and went for it. I'd tell her, 'You're not getting anything out of there, sweetie.'"
COLUMBINE
Advertisement
Today's Photos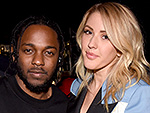 Treat Yourself! 4 Preview Issues
The most buzzed about stars this minute!