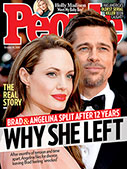 This Week's Issue!
People Top 5
LAST UPDATE: Tuesday February 10, 2015 01:10PM EST
PEOPLE Top 5 are the most-viewed stories on the site over the past three days, updated every 60 minutes
"I Have a Lot of Anger"
In the Wake of a Scandal Linking Her Husband to Another Woman, Kate Gosselin of the Hit Tv Show Jon & Kate Plus 8 Talks About the Rumors, the Reality and What This Means for Her Family's Future
Her world, too, has seemed on the verge of disintegrating. Best known as the hyper-efficient matriarch on the hit TLC reality show
Jon & Kate Plus 8
, Kate and her husband, Jon, are raising twin girls (Cara and Mady, 8) and sextuplets (Alexis, Aaden, Collin, Leah, Hannah and Joel, 5) while cameras record every tantrum and time-out. But it was a different moment caught on-camera that caused shock waves: On April 19, when Kate was out of town promoting her latest book, paparazzi snapped her husband leaving a local bar at 2 a.m. with a 23-year-old woman, Deanna Hummel, whose brother later claimed she'd been having a months-long affair with Jon. Subsequent photos showed Hummel sunbathing, with others, at the Gosselins' 24-acre spread in Wernersville, Pa. Though both Hummel and Jon vehemently denied any infidelity (see sidebar), Jon did acknowledge that his nights out while his wife was away were the result of "poor decisions and bad judgments" and said he was "sorry for putting my family in this awkward position."
That apology might be too little, too late. The couple are now at a point where they will not even be interviewed together, and Kate says she and her husband have been privately struggling for months. "I don't know that we're in the same place anymore, that we want the same thing," she says quietly. "I've been struggling with the question of 'Who is this person?' for a while. I remember where I was the first time I heard her name. It's one of those things where you can try to make it go away, but there's blaring, red flashing lights."
It's a long way from the relatively simple life Jon and Kate used to lead, when their biggest problems were simply making ends meet for the massive family. Married when Kate was 24 and Jon just 22, they found sudden fame after a documentary about their life with multiple babies became an instant hit. Now over 4 million viewers tune in to their show (season 5 begins May 25). Though Kate, 34, previously worked as a nurse and Jon, 32, was a network engineer, they now devote their time exclusively to the show, which films year-round in their home. "We don't have a backup plan anymore," says Kate. "We're caught, because this is our job."
That job is lucrative: In addition to payment for the show (TLC won't divulge specific amounts, but estimates range from $25,000 to $50,000 per episode), thousands more have been earned through DVDs, and the family receives perks such as free trips and products. Kate also regularly travels for paid speaking engagements and has authored two books about life with multiples. Yet it's just this success, Kate says now, that has driven a wedge into her marriage.
"I have always made more money than Jon," she explains. "That doesn't bother me at all; it all goes into the same pot. But it obviously, at this point, really matters to him. He hates to speak, he doesn't write, he doesn't do public appearances-all those things I love. And now he's resenting me for it. My point is I could care less if this all died tomorrow, for my sake. It's for my kids. I feel if we put ourselves out there, it's got to be worth it, for them. For a while I was saying we're not just on different pages, we're in different books. But now I think we're in different libraries."
That Kate and Jon disagree is no surprise to fans of their show, in which Kate is often shown nagging, berating or snapping at Jon for failing to perform one task or another. But for all the times she's been shown as abrasive, Kate says she'd been doing her best to support her husband as he grew disenchanted with their increasingly high-profile life. "I've walked through this with him for six months," she says. "First he said he's unhappy, he needs a career. 'Great,' I said. 'Go get a part-time job. Volunteer at the girls' school, at our church, do whatever you want.' Never happened. So I said, 'Go back to school! You wanted to finish your degree? Now is the time!' Yeah, that never happened. Originally, we'd speak together on the weekends. But then he was saying, 'I don't like to speak, you do most of the speaking anyway, why don't you just go?' So I started carving him off engagements so he could stay home with the kids. That worked well, for a while. But then it was, 'Well, I need help.' Okay, we found a lovely girl and she started helping. And then it was, 'I can't live in this neighborhood anymore.' So right around that time, we moved. Every complaint he's had I've tried to fix. But the bottom line is, choose happiness or don't. Nobody can make you happy except yourself. And I don't really feel he is happy."
Of course the one option that hasn't been tried is walking away from the show. "Everybody says, 'Oh, quit and go away,'" Kate says. "But I'm hesitant to do that, because I don't think that'll make Jon happy either. And therefore I step up for the needs of my kids. I have a huge weight on my shoulders. This needs to go on because I need to be able to provide for my kids."
Especially since she feels she may soon have to do it on her own. "Possibly," she says. "I'm not going to rule it out, I'm not going to rule it in. All I know is I need to be set to do it."
For a woman who has referred to her husband as "my balance, my strength and my stability," to now consider a future apart has been heartbreaking but not impossible. "You can't imagine yourself in a certain position when all this first happens, but you can do it over some months," she says. "It's a lot like when I was first pregnant with the babies, and it was pure shock and denial. But over time I imagined six cribs in my house, and six car seats. When your mind is ready to go there, you can accept any number of scenarios."
Including the possibility that, despite his denials, her husband's actions may not have been entirely innocent. Asked if she believes her husband's claim that he did not cheat, Kate falters for a moment and looks away for a long time. Finally, peering through her shock of blonde hair, she says carefully, "I don't think I know if I believe him. I don't think that I know the whole truth, and to be very honest, I don't know that I ever will. My gut instinct says he's mad that he got caught. There wasn't a whole lot of thought that went into all that behavior. "
Jon has explained that his partying was due, in part, to the long days he spends as a stay-at-home dad while Kate travels. But Kate is quick to point out that even when she's not at home, she's in constant contact with her children. "I've been doing major emotional support of my kids," she explains. "All the spare time I have, I am talking to my kids on the phone. They're all pretty oblivious to what's been going on. Which is a huge blessing. They attend a school where nobody really cares about the tabloids, so I don't feel like any of this is going to impact them ... not yet, anyway."
But she has spent far less time talking to Jon, whose name she rarely even utters. "I have to do it carefully," she says of any discussions. "He has a lot of anger. I have a lot of anger too, and sadness. But I have to keep it in check, for the sake of our kids."
Kate, a self-professed "control freak," must now cope with a life that is thoroughly out of control. "I was powerless to stop this," she says of her husband's descent into behavior better suited to a fraternity pledge once she left town. "I was already on him, saying, 'What are you doing? Where are you going? I don't understand.' But I'm not there; I don't have a say. Do I prefer that he was feeding them pizza instead of the organic meals I prepared in advance? No. Do I prefer that these people I do not know are at my house? No. It's a huge disappointment to me. I'm really suffering. He's made bad choices. Things that I would never ever choose for the father of my children to do. Going out late, being in bars with women until 2 in the morning, buying a car without even talking to me about it."
Given that Kate notoriously lost her cool in one episode when Jon failed to use a coupon, one can only imagine the havoc wreaked by splurging on an automobile. But Kate noticeably bristles at any suggestion that her tightly wound temperament somehow drove Jon to act out. "Oh, it's still my fault, for heaven's sake," she says, rolling her eyes at the media spin. "It's like, 'No wonder! Look at her!' and they show the most horrendous clip. But everyone is responsible for their own actions, no matter what. I did not cause this. It's ridiculous, really, it's pathetic. Are you kidding me? I drove him to that? Please. I'm not going to say I'm perfect. My horrible moments, I'm not proud of those. But even so, I should not be blamed for the decisions that he's made."
Those decisions are what she continues to struggle with as she contemplates what lies ahead. "I've screamed out loud. I've wanted to strangle him," she says. "What makes me the most angry is that all of these choices he made, they're going to affect our children's future. I don't want them to look back and see him as this person. I just feel like he's a different person, like he's not the same anymore. Somewhere along the line, he changed his focus. I don't know why," she says, her voice tinged with sadness. "Because my focus hasn't changed. "
But the show must go on, and when Kate returned home for the sextuplets' birthday, taping for the new season continued. She is resigned to the fact that some of her family's struggle will be televised. "I don't know how this will play out," she says. "We'll show what we think will be safe for the kids to see 5 or 10 years from now. Every second of every day will not be filmed. Never has been. We do need our privacy."
Especially since public scrutiny of their relationship is likely only to intensify. Tabloids have recently begun questioning whether Kate has a romantic relationship with Steve Neild, a bodyguard who frequently travels with her. "Already the allegations they're making about me are disgusting, unthinkable, unfathomable, and I am horrified," she says, practically shaking with anger. "I have not worked this hard to take myself down."
And she's not done fighting for her family. "We don't know where anything is going right now," she says. "There is hope. I will never stop hoping that every member of our family can be absolutely happy again. Every day I have moments where I cry and I say, 'It's too much, I don't want to go on.' And then I think, 'Well, you have two choices. Your choices are laying on the floor or moving forward for the sake of your kids, your marriage, for everything you believe in.' And so I pull myself together and I keep going."
Contributors:
With Liza Hamm.
Advertisement
Treat Yourself! 4 Preview Issues
The most buzzed about stars this minute!