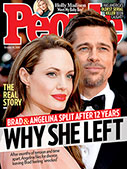 This Week's Issue!
People Top 5
LAST UPDATE: Tuesday February 10, 2015 01:10PM EST
PEOPLE Top 5 are the most-viewed stories on the site over the past three days, updated every 60 minutes
Bristol Palin 'My Life Comes Second Now'
Breast-Feeding Before Classes, Staying in on Prom Night—the Alaska Teenager Graduates from High School and Talks Frankly About the Highs and Lows of Her New '24-Hour-a-Day Job'
Bristol Palin, 18, has logged more of those "other things" than some people twice her age. In just the past nine months, she has weathered a partisan and personal presidential campaign that catapulted her mother, Alaska GOP governor Sarah Palin, into enduring celebrity and controversy; a failed engagement to boyfriend Levi Johnston that played out in the national media; and, most indelibly, a pregnancy that made her both mother and poster child. Five days after giving birth to Tripp Easton over her Christmas break, she returned to classes at Wasilla High and finished the year with, she says, a 3.49 grade point average. She is uncertain where she will go to college—she's thinking of a two-year business program—but says her near future will include advocating for teen-pregnancy prevention. To that end, she's sharing graduation day with a PEOPLE reporter who joined the Palins at their five-bedroom Lake Lucille home. She's opening up in part because she feels that a glimpse into the life of a teen mom—even one with an amazingly supportive family—makes her wait-for-motherhood message that much more resonant. "Girls need to imagine and picture their life with a screaming newborn baby and then think before they have sex," she says. "Think about the consequences."
Her mom may be governor, but there is no nanny in the Palin house. Bristol gets up—usually twice during the night—to feed Tripp, who sleeps in a hand-me-down crib in her bedroom, and she says she has tapped out at least one school paper with her son crying in the background. She pays for diapers and formula by working part-time. And while her parents help a lot, she shops for the whole family's groceries and does the laundry. (Babies, she has discovered, make for a lot of laundry. She was the only senior with spit-up on her graduation dress.) "If girls realized the consequences of sex, nobody would be having sex," says Bristol, sitting at her parents' lakeside patio table. "Trust me. Nobody."
Bristol found out she was pregnant at the beginning of May last year, just weeks after her mother, then 44, gave birth to her fifth child—son Trig. As Bristol and Levi sat with Bristol's parents and one of her girlfriends on the worn, leather sectional couch in their living room, the young couple left it to the girlfriend to blurt out their announcement. Bristol later described the moment as harder than labor. "She'd always been a really good kid, so we didn't worry about" her getting pregnant, says her father, Todd, 44, who stayed home with the kids while the governor tended to state business in Juneau. Todd says he never talked with Bristol about sex or birth control. "She had enough information out there and enough examples out there. If she had questions, they would be answered." Bristol herself says she knew about birth control—"I was definitely educated"—but won't say if she used any. (Levi, in televised interviews that made the Palins both seethe and squirm, said he and Bristol did use condoms, but inconsistently.) Her message now: a sort of abstinence-first strategy, backed up by education about birth control. "Abstinence is the safest way, but kids should know about everything else too." Like probably a lot of girls her age, Bristol says she just didn't think about getting pregnant. "I don't think anyone realizes that it really can happen to you," she says, snapping her fingers, "like, in an instant."
Bristol has said she never considered having an abortion, and when Levi proposed marriage that summer, she agreed. "I was in love with him," she says now. Her pregnancy was a fairly open secret around Wasilla but became national news on Sept. 1, three days after Sarah Palin joined the GOP ticket. Bristol insists she never regretted her mother's choice to run for higher office. "I was excited for her," she says. "I knew it was something my mom would enjoy and be good at." Besides, Bristol adds, she was too busy to Google the sometimes sympathetic, often ugly things said about her.
Her relationship with Levi began to go bad soon after Tripp was born on Dec. 27. Bristol, home alone with her mother and baby brother, felt contractions the night before. Sarah drove her to the hospital around 11 p.m. and stayed at her side. Levi arrived in the middle of the night and was also in the delivery room for the birth around 6 a.m. "God bless women who do natural [childbirth], but it's crazy," says Bristol, who did take pain medication. "I felt the pain—not all of it, but a lot."
Bristol won't go into details about why she and Levi split in March—"things just fell apart," she says—but she will say, "I'm thankful we didn't get married because if it wasn't going to work now, it wasn't going to work in five years." She and Levi are now struggling, with the help of lawyers, to resolve an array of issues. "[The Palins] want child support, and we have no problem with that once he gets employed, but they are trying to limit his visitation," charges Levi's attorney Rex Butler. Bristol says that both Levi and his mother, Sherry Johnston, who is awaiting trial on felony charges for allegedly selling OxyContin, have regular time with the baby. "Levi and his family see Tripp," says Bristol. "I know he loves him."
And so does she. Bristol adores her son, picking him up at every whimper and dreamily calling him "handsome" and "my guy." But she describes an isolating, regimented life familiar to many a new mother—but with homework thrown in. She'd go to class sleep-deprived, either breast-feeding ("painful, oh my gosh!") or pumping milk before school. "Then come right home and feed him," she says. Always popular and athletic before, she didn't go out for sports and rarely saw her friends. "You don't have the same interests," she observes. Boys? Clothes? "It's like, who cares anymore? There's a lot more to worry about than 'Look what that girl's wearing.' It makes you mature a ton. My life comes second now."
She skipped prom, which "kind of sucked, to tell you the truth," she says, but "I don't have that kind of time. And the dress is, like, $400, and the shoes, hair, makeup—it's way too expensive."
But whether she would graduate was never a question—at least in her mind. "I knew it would be hard, but I would do it." Her mom was less certain. "I'm so proud of her," says the governor, who flew up from the state capitol the morning of graduation. "A couple of years ago, with my son [Track, 20] it was a given, expected, nothing dramatic. This was a different story." With enough prepregnancy credits built up, Bristol took just two courses—one in "financial literacy," the other in physical education—her last semester. This allowed the teen to juggle a part-time job at a cafe, plus babysitting for other families ($10/hour) while her father, grandmother or one of her aunts babysat Tripp. She admits it is "kind of impossible" to buy all the diapers and formula herself, but she's trying her best. "I don't like having my parents have to pay," she says. "It's punishment enough feeling the guilt of having them help me out financially." Asked how long she'll live with her parents, she shakes her head. "That's a good question."
Postponing his own lucrative summer work on the North Slope oil fields, Todd does the bulk of the childcare for now, while Bristol also hits the gym and tanning salon. "My dad lets me go tanning quite a bit. That's the one thing I can do. And I try to exercise," she says. Now that school is over, she relies on a jogging stroller to fill her long days with Tripp. "The mailbox is quite a ways away, so we walk down there every day. Then there's a park, and we do that a lot, just sort of passing the time," Bristol says, adding with a sigh, "but that's only when dishes are done, laundry is done."
She has given up her dream of a nursing career because, she says, she doesn't have time for that long a course of study. So she'll enroll this summer in local college courses toward a possible career in real estate—depending, all along the way, on free babysitting from family. "I bribe my sister [Willow, 14] all the time, like, 'Oh yeah, you can wear my jeans if you watch him,'" Bristol says with a light laugh. Soberly, she adds, "I know I can't do this by myself. I'm thankful for my huge family."
As for her younger sisters, impish Piper, 8, helps with diapers, bottles—and comic relief: teetering around in whatever oversize heels her mom and sisters leave lying around. Willow, their mother acknowledges, bears the brunt of lessons learned with Bristol's pregnancy. The consequences of sex "is a much more open discussion now," says Sarah Palin. "We're able to tell Willow, 'See?' And Bristol's always telling her, 'Don't do what I did.'"
For now, her cap and gown aren't even put away yet (Piper is modeling them), and the program from today's graduation is tossed on the sofa, where Bristol is changing Tripp's diaper. Two dozen relatives descend on the house for a pizza and bingo party (Eskimo bingo is played with dice and wrapped prizes), but Bristol moves upstairs to get her baby ready for bed. One friend, fellow grad April Morlock, tiptoes over with a gift, a silver necklace with a mother-and-child charm. "In the Valley teen pregnancy is, like, huge," says April, referring to the Mat-Su Valley where Wasilla sits. "She's the best mom, really. Bristol's amazing. She's the same old Bristol."
Yes and no. "Looking back, when we were in sixth grade, I never in a trillion years would have thought it would happen to me out of all of us," says Bristol, who is quietly rocking Tripp to sleep while her mother wants her downstairs to cut the graduation cake. "This is my reality now."
Contributors:
With reporting by Champ Clark/Los Angeles.
Advertisement
Treat Yourself! 4 Preview Issues
The most buzzed about stars this minute!